Camino de Santiago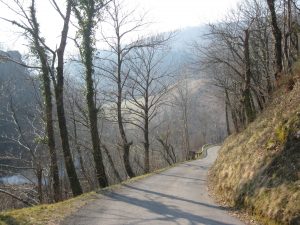 The Camino de Santiago is an ancient pilgrimage in northern Spain. For over a thousand years people have walked the same path I have chosen. Currently up to 100,000 people every year walk this Camino, more in holy years. My walk was mostly quiet as I chose to walk in March, winter in northern Spain, but I arrived at the Cathedral in Santiago in time for Easter so  the crowds began to swell near the end. My route began in St. Jean Pied de Port, France and ended at the Cathedral in Santiago de Compostela in Galicia, Spain, a distance of about 800 k.
Years in the dreaming, months in the planning, its February 26th 2012 and Air Canada Flight 266  departed Winnipeg through a snow storm. I flew into Madrid, where I'd booked a hostel room for a couple of nights and had a Facebook introduction to a girl named Pen, who is here teaching English. I was warned about her.
Madrid
First things first, let's get ridiculously lost in Madrid. I took a bus from the airport and got off when it looked like downtown. Ha Ha – that's so funny – Madrid is a city of over 3 Million people, my hostel is the size of a postage stamp and no one here speaks English.  Three hours later, after the discovery of street names on buildings instead of signs and the bravery to walk into what looked like a shady little back lane, I found my place. With only minutes to freshen up from the long flight, I looked up how to say "Where is the bear statue" (I'm meeting Pen at a bear statue), in Español and was back out on the streets and lost again. It's just possible that's what I came here for – to get really, really lost.
Pen turned out to be a fantastic contact. We were joined by her girlfriend for a very normal glass of wine with tapas this evening, but she left her partner behind and took me pubbing into the underground of Madrid the next evening. I spent my two days in the city exploring, eating, drinking, finding the Metro and visiting the Prado Museum (free after 6 and fun in the line-up that extends around the building at this hour). When it was time to leave, I was ready for anything – including the French train strike that happened to start the day of my departure.
From my journal February 29, 2012: I am sitting on a train looking out at Spain pass by and I feel like freaking Christopher Columbus! It had taken so much to get here.
The Beginning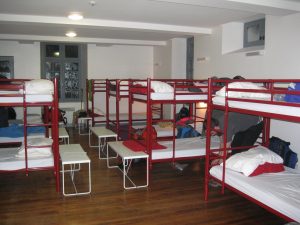 I arrived in St. Jean Pied de Port, in the company of 8 other pilgrims, after a subway, train, subway, train and finally a bus (because of the French train strike). We picked up the first Camino marker at the bus stop, in the dark and followed it to our first alburgue where we were welcomed quietly. Some others had arrived earlier by taxi and were already sleeping. My first night sleeping with strangers in a "dorm room". May the adventure begin!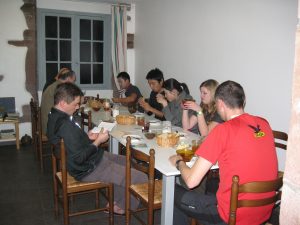 The Camino is a long and amazing journey. For the next 33 days, I mostly just walked. The trip begins in the Pyrenees Mountains – my first day re-routed to an alternate path due to a snow-covered pass. There's a core group of about a dozen people walking with me – almost everyone alone. No one walked together all day, although it was common to meet up for coffee breaks. Many of the alburgues were still closed at this time of year, so at first we all met up at the end of the day, too, to share a pilgrim meal and the sleeping quarters. I made such good friends on this part of the trip that I am still in regular contact with many of them five years later.
There came a time for me when I became too involved with my fellow pilgrims. Slowly our group melded to a wonderfully cohesive group that threatened to derail my own personal journey. There came a day when I found an alburgue open at midday, and decided to separate from my friends by stopping early. It wasn't easy – there was a concerted effort by everyone to convince me to stay with them. I love them all, but it had to be done. In a cheerful bar, with rain just subsiding outside, I said good-bye. It was a very quiet night without them.
The next day, it seems I was punished for this decision. I'd had blisters for days, but this day the alburgue I was heading to, 25 k away, was still closed for the season. I was forced to walk to the next one – 35 k – and by the time I arrived one of my feet had cracked open, my boot full of blood. The pain was incredible. I limped humbly into the shoddy alburgue, which was free to stay in and was helped up the stairs by the owner. When I got to the kitchen, I heard a loud "Donna!" as I entered. There were all my friends, taking turns soaking their feet in a bucket of cold water. Never have I felt more welcome. We cooked in the filthy kitchen that night, somehow I recovered enough to go shopping. I did eventually separate from the party, but not this night.
The Middle
There are two mountain ranges on the Camino, but in between them is the meseta. The meseta is a long stretch of walking through the flattest and most boring landscape I have ever seen. I'm sure in the summer, when fields are growing, farmers are working and stores are open there might be more interest here. In March this part of the Camino is as desolate as it could be. I have left my friends now, and for 11 days I have no one to speak to.
There are some other people around, but not many and no English speakers. One night, in the village Hornillos del Camino, I stayed in the basement of a Gothic church, with a big old wood stove stoked to the max all night long and blocking the only exit. There was no open store or restaurant in town, so no food. My company is a Hungarian (Robert) with terrible knees, a German (Steffan), a Korean girl (June) and two Spanish men – none of whom speak English. With no language in common, we pooled food from our backpacks to make a meagre meal, bought beer from a vending machine, and played some game that Robert taught us, with great theatrics when we did something wrong. Fantastic, albeit quiet, night.
My time of living silently continued in some empty alburgues and in some like this, with people but no one to talk to. One night, in a town called Hospital de Orbega, I was staying in an alburgue with some Germans. This stop was a filthy place, made filthier when the water was turned off before the Germans could clean up from their cooking. Freezing cold and with no blankets were available, I chose a bunk beside the radiator, but the mean alburgue owner turned the heat off at 9 PM. It was as miserable as could be, but when I escaped this place for a while and went for a walk I received a panicked message on my iPod from my sister, "Are you in a Hospital?" It was nice to have an excuse to call her – no, not a Hospital – just a place pretending to be hospitable. This was my first, but not my last place to leave while still dark, because it was so miserable.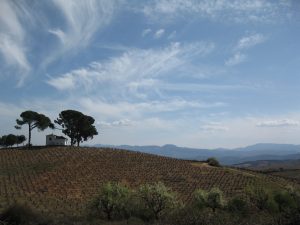 Since the second day of the Camino I had been walking on painful blisters. I had stopped to rest for two days and done everything in my power to try to treat them, but they just migrated around to different spots on my feet.  One day I walked into what seemed to be a ghost town and found a private alburgue open, Las Aguedos in Murias de Rechivaldo. I was the only one here, and the owner was an old man with no teeth but a big smile. He saw my blisters and insisted on helping me. He brought out a syringe, and immediately I wondered why I'd not thought of this yet. He started to drain the huge blister on my heel, load after load of puss. When he was done, he said to me "infección". "Si, si" I say, I had anti-bacterial cream for this, but no, he had a different idea. Before I knew what was happening he had injected my open wound with iodine. I screamed and cried with pain for several minutes while this strange old man massaged my legs, but that was the beginning of the end of my blisters.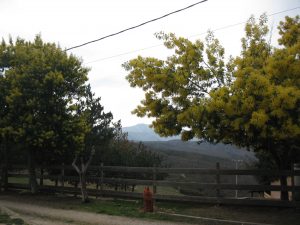 The next day, the mood in my journal flipped a switch – from struggle to joy in just one night. March 25th entry: Today was an absolutely beautiful walk –  just what one needs to get back into the Camino. My breakfast server this morning must have been partially deaf, as he'd cranked up some classical music and was humming loudly to it while working. I left the mesata behind, and with it winter as I descended into a valley that was full of green and blooming fruit trees. At Molinesca I met up with people again – Toby, Susie, Simon and Eric. They all spoke English, were close to my age and we stayed together until almost the end now. My time of silence, of winter and of pain was over.
The End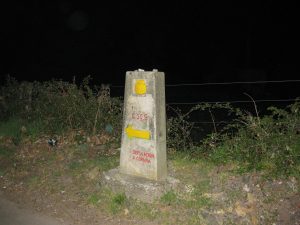 Just when you get the hang of the Camino, you run out of Camino. When I came across the 100 k marker I cried, nowhere near ready to finish.  But Ray was waiting for me at the end, so finish I must. I said good-bye to friends again and promised to meet them in Santiago, and put on the gas – covering the last 100k in just three days. It was fitting to finish alone, the way I started. When I arrived at the Cathedral in Santiago, the reunion with Ray was amazing. I actually managed to snap a picture of him by accident as he hid behind a column.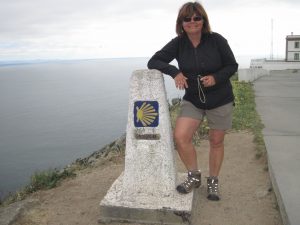 Ray and I enjoyed a few days in Santiago, enjoying meeting up with many pilgrims I'd met along the way, before pushing on 100k further to the coast, to Finistere, the most western point on continental Europe, known as the end of the world and the kilometre 0 mark of the Camino. The Finistere route is meant for those who simply don't know when to stop walking, or can't. Once you get here there is no where else to go.
I bring home with me the joy and courage that only a difficult journey can deliver.  Life is full of difficult but worthy journeys. The Camino is a metaphor for all of them.
These gifts of the Camino will stay with me forever.