Berg Lake Trail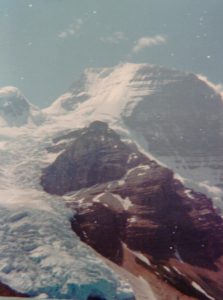 It all began on a hiking trail in British Columbia in 1975, the Berg lake Trail. Why I was there I'll never really know – I thought I knew then, but I grew older and realized I was probably wrong. At the time I was a less than perfect teenager, the youngest of 3 children and the only one my Mother had any control over. I thought I was on this hike as punishment, or for some grand lesson. Many, many years later I realized I was there because she had no one else to go with. I doubt she had any idea how this trip transformed my life.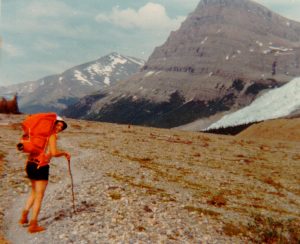 Berg Lake is an 8-10 hour backpacking trip in Mount Robson Provincial Park, which is located in between Jasper and Banff National parks. The trail climbs 800m in 23 k to an elevation of 1650 m. Nothing to it, my immature mind thought. My 47-year-old Mother, on the other hand, took it all a little more seriously. We began our preparations months before our departure. We would pack our backpacks full of books and drive out to hike the Cedar Bog trail in Birds Hill Park after work and school, often finishing in the dark. A unique Mother-daughter bond was already forming.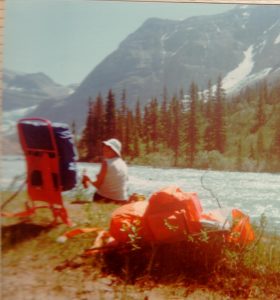 Just the drive out to BC was an adventure for both of us. When it was finally time to go, we loaded our carefully packed backpacks into the back of the Pinto, crossed our fingers that the car would make it and hit the road. I remember my Mom telling me that the only thing that could stop us now would be grizzlies. Wouldn't you know, we saw a couple of grizzlies in the ditch not far from the trail-head – after 3 long days of driving we left anyway.
My Mother made a good choice in choosing this trail. The scenery along the way was absolutely spectacular. The forest was as lush as a rain forest, caused by the shadow of Mount Robson. At one point we were stopped in our tracks by a large porcupine that wouldn't let us pass. From my original journal "The trail begins easy and flat, hiking through the rain forest – the only sound that of the rushing Robson River."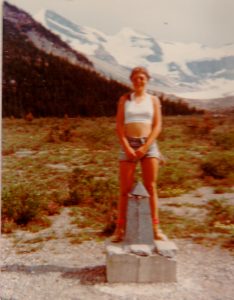 At one point we emerged from the forest to a scene of complete devastation – the result of an avalanche. We were aware of the dangers here and wasted no time. We passed through the "land of a thousand water falls" and drank our water directly from the ice-cold glacial river. (Inexperienced as we were, we both came back with infections. We carried the chlorine pills for disinfecting the water but incorrectly read the instructions on how to use them.) Once the climb began, it was 6 hours of steep switch-backs. I kept getting ahead of my Mother, so many times I doubled back down to check on her. A group on horseback passed us. On our rest day, one of them let me ride their horse down the switch-backs so they could hike, and then I hiked back up. Youth! We made one rather serious miscalculation. The map showed us following a river, so we didn't carry much water. We climbed higher and higher above that river, ran out of water and were thirsty for most of the afternoon.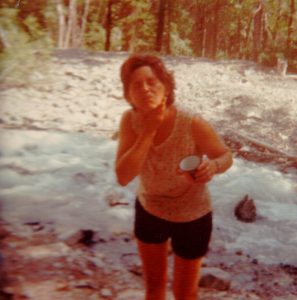 Finally we arrived at our destination for the next three days. We camped on the shore of Berg Lake and spent 3 nights here – exploring the area, hiking to the Great Divide (so named for its the geographical point where water on one side flows to the Pacific Ocean and on the other to the Hudson's Bay), and visiting with other hikers. It is here I learned that one cannot cook potatoes at high elevations – the water boils before it gets hot enough to cook them. We didn't have enough fuel to keep trying. I washed my hair in the icy water.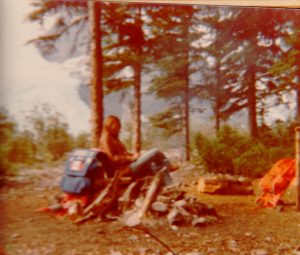 Berg lake is framed magnificently be the Robson glacier. Its apparently rare to see the glacier as its usually enshrouded with clouds, but for us it remained perfectly clear for our entire 3-day stay. The icebergs floating in the lake would come tumbling down that glacier from time to time – smashing into the lake with a loud bang – day and night. At first we didn't know what the noise was. Sometimes the bergs hitting the lake caused the lake to rise and it came close to our camp-spot. My Mother was wise to set us up a ways back from the shoreline. From my journal: "Sleep comes easy to us and our hearts and minds are filled with an indescribable feeling of self-assurance, self-awareness and uttermost content." I was fifteen when I wrote that!
The trip back down was not as easy as I would have guessed. After the hike we spent some time doing the tourist thing, took the tram up the mountain in Jasper and went white water rafting. We hiked around Maligne Lake.  It would take many years before I realized that my Mother was a genius and by then it was too late to tell her. I think she would have liked my blog though.
To hike this trail yourself, visit Parks Canada's website here and register on-line. Berg Lake Trail