Cancun-Belize-Guatemala
When Ray retired in March, 2016 I promised him two things for his retirement trip – a direct flight and snorkeling. While he may have read "resort" or "all-inclusive" into this, that wouldn't have been a reasonable assumption on his part. Considering we had already blown the years travel budget, cost was also going to be a factor. If you are looking for an amazing winter get-away, are budget-minded but not adventure-adverse, read on.
This entire trip began when I found a direct flight with WestJet from Winnipeg to Cancun – return price $955 for both of us. That checked off the first condition of the trip. Cancun itself was not high on my list of places to go, but it's location on the Mayan Riviera and its access to buses does make it an ideal starting point for an adventure. Before we left home, this flight dropped in price to $795. Here's a tip – if you booked directly through an airline, don't be shy about calling them and asking for a price match. WestJet was very accommodating.
Cancun

We began our trip with a couple of nights on the beach in Cancun. Before arriving, my impression of this city is that its been built specifically for tourists, and has no real Mexican culture but only big American-style all-inclusive resorts crammed together along the beach. Some of Cancun is definitely like that, and if you end up in one of those resorts its likely you may never see the real Cancun. I elected to book us into a three-star hotel – on the beach but not all-inclusive, within walking distance of the big resorts but not right beside them. Our little stretch of beach was not the nicest, but the water was warm and the beach chairs comfortable and plentiful. Our balcony faced the ocean with a gorgeous view. We had a restaurant on site but it was kind of pricey. The front desk person told us we should just take the bus downtown for meals. The bus stopped right outside our door. Cancun has an excellent bus service. For the equivalent of 8.5 pesos (about 50 cents) we could get where ever we wanted in minutes. Downtown Cancun proved to be more cultural and interesting than I thought. We spent two days here before …
Belize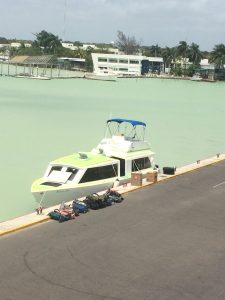 Our real destination was Belize. I'd promised Ray snorkeling and Belize is home to the second largest coral reef in the world. Since I couldn't find any direct flights to the Great Barrier Reef, this was going to have to do. The best way to travel through Mexico has to be by bus. The ADO bus service is fantastic. The buses are clean, efficient and cheap. It cost us $25  each to take the bus from Cancun to Chetumal, Mexico – where a water taxi to Belize could be boarded. As of this reading you cannot buy these bus tickets on-line ahead of time. You must take the early morning bus to connect to the water taxi, so do head off to the bus depot in Cancun and get your ticket as soon as you can. You can even book your seats – there weren't too many tourists aboard so we got the front of the bus. Just lean back and enjoy watching Mexico go by the window, watch a Spanish movie and relax.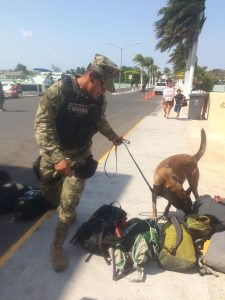 The next leg of the trip is the Belize Water Taxi. You can buy these tickets ahead of time, and the timetable is well-coordinated with the bus from Cancun.  You can walk from the bus station to the dock if you know where you are going or just grab a taxi. We elected to share a taxi with another couple to save money, and then both paid the driver in full, who was gone in a flash.
The boat ride is a steal at $55 US. It's a 90 minute ride on a speedboat through the amazingly beautiful Caribbean Sea. We were heading to the smaller island of Caye Caulker but we had a long stop-over in San Pedro on the way.  There is some scrutiny at the Mexican-Belize border, that includes drug sniffing dogs and armed soldiers. When I looked back at the boat we were about to board in Chetumal, there was not one suitcase (all backpackers) and the dogs were sitting patiently among them, just daring someone to carry drugs. One other surprise is the $40 US entry fee into the country – cash only accepted. There seemed to be people getting through without paying this fee, so many of us decided this was likely a scam and were planning to refuse to pay. I spent a while debating this with the customs official. It is not a scam, but some tourists had paid this fee to the airlines.  Keep all your documentation (and some US cash) handy when crossing this border. Also insist on a receipt, so you don't have to pay again if you are just passing through Belize.
Arriving on Caye Caulker is like arriving in paradise. Our hotel faces the ocean – they all do – and everything on the island is within walking distance. A walk around the entire island took me just over an hour – my morning routine every day. There are no cars on the island, and no banditos either.  Everything and everyone arrives by boat. There's really nothing to do here, except sit on the beach, sit in the water, pick your dinner spot from the plentiful restaurants and book your snorkel or dive tour. Get to the Split before sunset, where you can sip a beverage while floating in the water until the sun disappears.  Can you say chill? A week on Caye Caulker must add 10 years to your lifespan.
Snorkeling Hol Chan Marine Reserve and Shark Alley
Guatemala
While in Guatemala for Christmas, I'd been disappointed than we were unable to visit the great ancient Mayan city of Tikal. We are actually closer to Tikal now than we were at Christmas, so we decided to leave paradise after a week and continue the adventure. We took the hourly water taxi available on Caye Caulker into Belize City and then boarded a bus to Flores. Once in Flores we had to negotiate a taxi into Tikal – a little pricey but we ended up getting into a car that barely made the 90 minute drive up to the park. We left the cab driver looking for some sort of fluid for his car to make it home.
Tikal Ruins
We booked the priciest hotel of the trip, the Tikal Inn because of its location – surrounded by jungle and inside the park. It did not disappoint us.  Tropical birds and monkeys screeched at us while we relaxed at the pool, and a guide met us at the door in the middle of the night to lead us through the ruins in the dark. We watched the sunrise from atop Temple IV – only four of us to witness it before the fog rolled in. At least 50 other tourists arrived too late, having taken a bus here.
Tikal is the largest excavated site in the American continent and contains some of the most fascinating archaeological remains of the ancient Maya civilization.  It is Guatemala's most famous cultural and natural preserve and was declared a national park in 1955 and a World Heritage site by Unesco in 1979.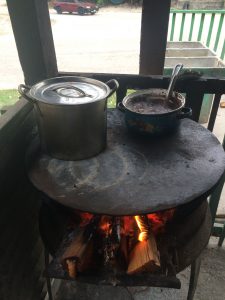 Is There a Bus Coming for Us?
When we were done with Tikal is was just time to go home. We hadn't made any plans for the return trip – I assumed we would figure it out. While in Flores I had bought two tickets that were supposed to be for a bus directly from Flores, Guatemala to Chetumal, Mexico. There were no stops in Belize. By the time I was buying these tickets, I had 5 different currencies in my wallet – CDN, US, Mexican Pesos, Belize dollars and Guatemalan quetzals. I honestly had no idea how much I actually paid for those tickets, nor did I have any idea where and when to catch this "bus". When I bought them I was on my way to Tikal, I thought I'd figure it out when I needed to. We showed these tickets at the Tikal Inn. Several locals gathered around, no one had seen anything like this – oh-oh. They decided they should call a driver – surely he will know.  The driver came, and telephoned someone, and then said "yes, I think I know."  Very early the next morning the driver dropped us off on the corner of some roads in some little town in the middle of no where. He seemed unsure of this spot but was reassuring with his words "yes, I am certain," then racing off with our fare in his hand as quickly as possible. We waited, and waited, and waited. Locals woke up and were looking at us oddly. Several times someone else came and waited and we got encouraged, only for them to catch some other bus. We would show our tickets and the bus drivers would all look quizzically and shake their heads no. We walked across the street and had an amazing local breakfast, causing quite the stir among the women in the kitchen who weren't really expecting anyone.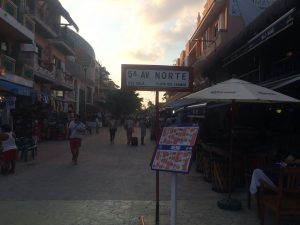 Finally this little van pulled up, not going in the direction we had been anticipating. It had already passed us by and then realized we might be the people the driver was looking for. "Are you going to Mexico?" the driver yelled out the window. Yes, we are and thank goodness. This what not what I expected, it was a small van seating about a dozen people. Unlike the ADO buses of Mexico, this van had no luggage compartment, no air conditioning, just a dozen weary travelers, all trying to avoid Belize City. We spent 14 hours in this van, with these people, passing through two stringent border crossings, coordinating bathroom stops and window openings.
We spent a night in Chetumal, and then our last couple of nights in a downtown boutique hotel in Playa del Carman – eating and shopping on Fifth Avenue and enjoying cocktails on the beach. Give me Caye Caulker any day of the week.
Just a little twist on your standard beach vacation.