Nepal
March 2014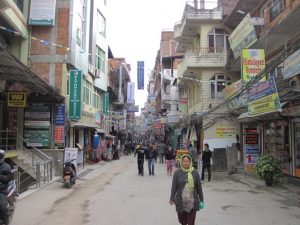 We are here in Nepal to hike the Manaslu Circuit, a 23 day trek that begins in Arughat, about 8 hours north-west (by bus) from Kathmandu. We were uncomfortable sending our passport information to our trekking guide in Nepal ahead of time, so we spend 3 days in Kathmandu waiting for the necessary permits.
How it all came together
I was interested in trekking Nepal, but as usual I'm trying to avoid the most popular routes. Everyone treks to Everest base camp. My second choice,  the Annapurna Circuit, is starting to get pretty busy, too. One day I'm watching a YouTube video posted by Basa Pete, and he is hiking with a fellow named Ram Sharam Upreti. Basa Pete, Barry Peters is his real name, is a Newfie so instantly trustworthy in my books. I contacted him for a reference for a guide in Nepal, and he wrote a glowing one for Ram. Long story made short, Ram planned our entire Nepal adventure for us, and I too give him a five-star reference. Contact me for more info if you ever want to go to Nepal for any reason, not just the trekking.
Kathmandu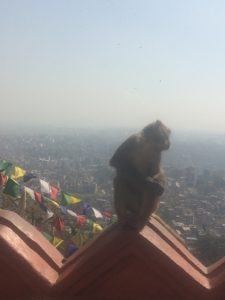 We were excited to spend a few days in the exotic sounding city of Kathmandu. Our first impression was, well, interesting. The airport was just a little third-worldish for a city of 5 million people, and our backpacks were the only luggage coming out on the carousel not protected with several layers of shrink-wrap, bales of twine and other interesting ways to prevent theft. We doubted the possibility that things would be okay, but they were.
I had communicated with Ram over details for many months now. I felt as though we were friends already, and clearly so did he. He was waiting at the airport – no sign with our name required. We knew each other immediately and I was greeted with a big friendly hug. Ram has booked us into a very nice hotel, The Samsara, in the tourist district of Thamel. I was happy to hear this hotel survived the earthquake of 2015.
We spent the next three days exploring the city of Kathmandu, waiting for our trekking permits and staging for the hike. Kathmandu is a city of over 5 million people, yet electricity is only available about half of the time. Everywhere in the city has scheduled power outages twice a day. This means that this city does not generally have refrigeration!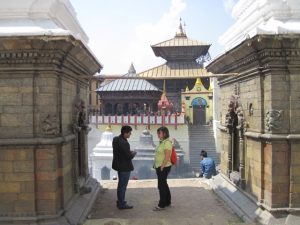 To compensate for the lack of power, our hotel and many other businesses, use diesel generators when the power goes out. Our hotel has a diesel generator available to run our air conditioning. It's not particularly hot here, we need the air conditioning because the air is so polluted it is difficult to breathe. One of the sources of pollution is that diesel generator, that is running right outside our window. Another source of the terrible air pollution here are the cars and motorcycles that clog the roadways. Kathmandu is in a valley, so the pollution just settles itself over the city. I notice many people wear a buff over their mouth and nose, and eventually I get the idea, but not until I get sick. I read on-line that trekkers should try to limit their stay in Kathmandu to one day to avoid illness before trekking – and that is good advice.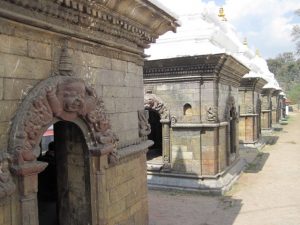 One day while we are waiting for permits Ram arranged a Kathmandu Valley tour, and thus begins my education into eastern religions. Our first stop was at Monkey Temple or Swayambhunath Stupa.  There is both a Hindu Temple and a Buddhist Stupa here. Non-Hindus cannot enter the temple, but we are free to explore the Stupa. Our guide tells us the grey cloud over the city here is fog, but it's really not.
80% of people in Nepal are Hindu, and the rest Buddhists. This is not a great country to be a woman in. Your fate rests with who you marry, and its wise to keep that husband alive, for when he dies you lose all your status. If you are a single woman and lead a loose life, like say traveling to the next town or something, you may find yourself less desirable as a wife. Our male guide, however, was 26 years old and living the good life, just waiting for his family to arrange his marriage.
Our next stop was in an area known as Lalitpur, or Patan as its sometimes known. This is a district full of art and history. When we think of history in the west we think of hundreds of years, this city has been here for 2300 years and there is much history that pre-dates the city. We watch a Collywood film being shot in the Palace. We've all heard of Bollywood films in India, but in Nepal the have Collywood.  Patan is a half hour drive through the city, and by now the pollution has made me quite sick. I pull the buff over my face and it helps somewhat.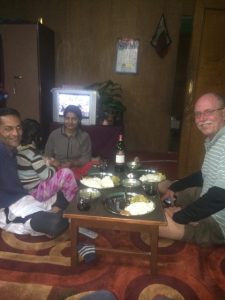 Our final stop of this tour was Pashupatnath Temple. The circle of life takes place here. This is where Hindus come to cremate  the dead, and to pray for good sex and fertility. Located on the banks of the Bagmati River, which eventually flows into the Ganges, the air here is thick with the smoke of burning bodies. The river is thick and barely flowing from the ashes from all the cremations. One is not allowed to take photos, but we were welcome to watch from a respectful distance. There are people standing in the sludge that was the river, searching for gold from teeth and jewellery. It is customary to cremate people with their jewellery on. Beside the cremation area were a long row of temples meant to pray for fertility. The circle of life.
We are staying on the edge of the chaotic area of the city known as Thamel. Thamel has been the tourist district of the city for at least 40 years. This would be where the hippies of the 1960's would have hung out. It's an area of narrow streets crowded with shops, restaurants, pedestrians, tuk-tuks, motorcycles and even the odd car that tries to muscle its way through. The air pollution here is not as intense as the main part of the city. We have a lot of fun just giving ourselves up in here and wandering around lost every day. Eventually we started to recognize landmarks and find our way home.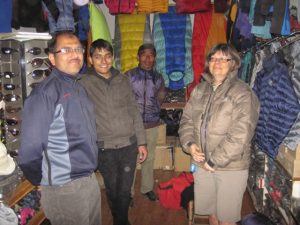 Our final evening in Kathmandu was very special. Ram invited us to his home to have dinner and meet his wife and son. It was fantastic to meet them, and see how people live here. In honour of our visit, they have purchased a chicken. Ram's wife cooks that chicken for hours! Ram also told us we could bring wine, insisted on it even. Ram enjoyed both the chicken and the wine but his wife did not partake.
Ram and his family live in a three room apartment in what looks to me like a nice neighbourhood. There is a kitchen, a living room that also has a bed and one other room. The running water consists of a hose through the window. The cooking is done on the floor, with a series of buckets of water for washing, cooking and drinking. They own a fridge but can't use it because there is no power for 13 hours of every 24. I briefly tried to discuss feminism with Ram's wife, but we come from vastly different worlds. We cooked without power, and ate without power but when the lights came on so did that TV and the cartoons for Ram's son. Some things are the same as the west.
Manaslu Circuit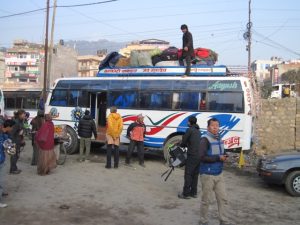 It's finally time to leave the city behind and head up into the mountains. A guide is a legal requirement for hiking the Manaslu Circuit, but it's also the custom. We have met our guide Pawan and our porter Bidur. We didn't have much to give Bidur but he insisted so we gave him some of our weight. He is carrying a big red duffel bag that holds almost all of Pawans stuff, much of mine and very little of Ray's.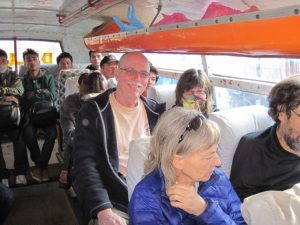 We are picked up at the hotel and taken to the "bus depot".  Do not expect a modern world here in Nepal. The bus depot is a muddy mess and don't even think about needing a bathroom before boarding. We have an 8 hour trip to our starting point of Arughat. Our driver looks like a teenager to me, and he has two children as assistants. The driver is continually playing with the stereo, making sure we have loud Chinese rock music blaring the entire trip. His assistants do things like ride on the roof and manage luggage, hang out the windows on the narrow cliffs we are careening around, possibly telling the driver whether or not we are falling off. They also negotiate with other trucks and buses that we meet head on and need to pass, on roads I didn't think had room for even us. All in all it should have terrified me, but since there's nothing we can do, I feel strangely relaxed. We stop for lunch in a bustling little city along the way, and anywhere else there is a bathroom. Once we stopped to buy ice cream through the windows.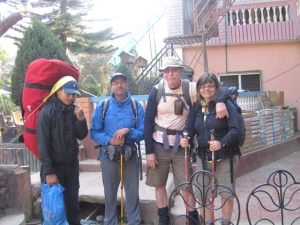 The Manaslu Circuit is a tea-house trek, meaning we will be staying in guest houses along the way. March is usually a good month to hike here, but this year was a heavy snow year. As we are leaving Arughat, the Larkya La pass that we need to cross in a couple of weeks is still closed. We plan to make a detour into the even more remote Tsum Valley for a few days, waiting for the snow to subside and for some more experienced trekkers to open the pass for us. Our first day of trekking is on a road, we could have driven one more day. We start by walking through the Arughat Bazaar, where just as an afterthought we stop at a "drug store" and buy some antibiotics and diamox (for elevation sickness). Turns out I'll need them both. Our first night at the guest house in Soti Khola (710m) is shared with a group of Korean hikers, who arrive by jeep late in the evening. They will be camping their way up and the support they have is comical. There are 3 hikers and at least 20 support staff. Camping in Nepal is an expensive endeavour. Pawan takes us to a nice little waterfall that we swim in this evening.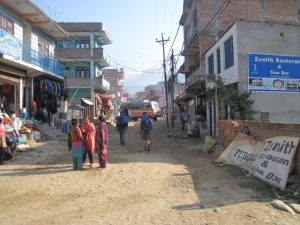 To leave Soti Khola we cross the first of many suspension bridges, but this one effectively marks the end of the road, although a few motorcycles do brave the crossing. By Day 2 I'm very sick, with both stomach issues and fever. By day 3 we hike only half a day and I take to a bed in the town of Doban. I have a wild dream in my feverish state. I dream that I am in an exotic world of mountains. Outside my door I hear shouting in a strange language, a fight breaking out. I dream I hear Ray's voice.  In my feverish state I can't tell dream from reality, but the next morning I hear the story. Ray discovered raksi last night, the homemade liquor up here. A young man came into town and talked Ray into buying him a drink (or two or three). One thing led to another, a fight broke out, Pawan and Ray were involved somehow and the young man got locked up somewhere for the night. I'm feeling a little better today so we leave.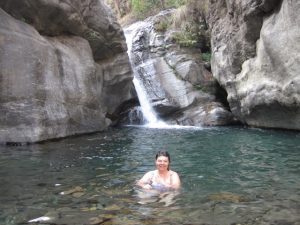 The Manaslu Circuit trail is the only access route to all the villages up here, so we are hardly alone. We are joined daily by children commuting to school, people  carrying in supplies and mule trains supplying the towns up here with everything they need. The trail is a cultural joy all day long. We are greeted by all with folded hands and "Namaste", the respectful greeting that becomes "Tashi Dele" as we get closer to Tibet. The children are the best. This trail is still relatively new for white people, and the Tsum Valley is even newer. The children are so excited to see us, they come running and shouting "Namaste" over and over. Everyone loves having their photo taken, especially since we can show them the photo afterwards.
I read that we should expect to have electricity available most of the time. Several years ago, the Budhi Gandaki River that we are following had been dammed to harness power. Three years ago something broke and there has been no power here since. The people up here had not really become accustomed to power yet, so they don't seem to miss it too much. There were lots of innovative solar solutions, necessity being the mother of invention.
Suspension Bridges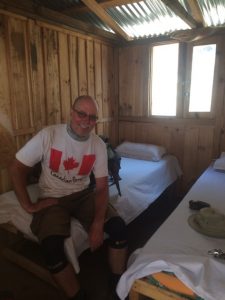 Each night we stayed in guesthouses. Each guesthouse has rooms with two single beds for us, and provides us with a meal. Almost always the meal is dal baht, rice with lentil soup and whatever vegetables are in season. Since I was sick, I was eating very little and they often offered me chicken soup – from a package. At lower elevations, every village grew their own vegetables. As we climb higher this becomes more difficult. The bathrooms are something to write home about. In 23 days we found one shower, and it was cold. Some times there is one bathroom per town, usually one per guest house facility.  One evening we bought a bucket of hot water and found a private "wash room". We spent half an hour washing each other, carefully pouring the hot water so it ran back into the bucket. That was a memorable night.
If the Manaslu Circuit was exotic, the Tsum Valley was wild. We spent three nights in the Tsum Valley. I got the impression we surprised the first guesthouse when we showed up. The children we met up here were excited to see us. There is a remote Buddhist monastery and nunnery up here run only by women, and the longest mani wall I've ever seen.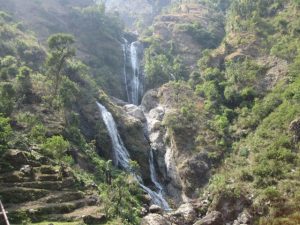 You can hike to Tibet through the Tsum valley, and one can feel the difference here. It is easier to physically reach this valley from Tibet. The labels on the food served in the guest houses are in Tibetan now, we are greeted with Tashi Dele instead of Namaste. We are surrounded by magnificent Buddhist structures, huge mani walls and temples.
Religion seems to be related to elevation up here. At the bottom of the mountain the majority of people are Hindu, but as we climb that changes to Buddhist. The people look different, greet us differently, dress differently and even herd their mules differently.
People of the Manaslu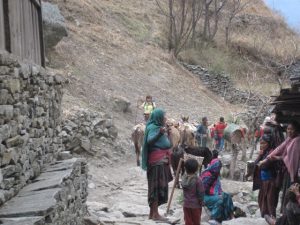 One day we meet two men walking down carrying a puppy. Since they speak English, a very rare occurrence up here, we stop to chat. Turns out these guys are Internet installers – and they are using the exact same Motorola equipment that I used with Granite Internet. I'd read about the solar options, and here it was in operation. They'd found the puppy in a village and were adopting it. Tonight there was a laptop for hire with Internet service. I paid for it and updated my Facebook status that we were safe and then gave the rest of my hour to Bidur.
The rumour on the trail is that the pass is still closed.  Ray and Pawan have already decided not to try it anyway, mainly because of my poor performance so far, but suddenly I'm not sick anymore. I'm still hopeful. The Larkya La pass will take us to 5235 mtrs elevation and is a long and difficult day. We would have to wake up in the dark and push through the pass as quickly as possible. The men don't think I can do it.
Children of the Manaslu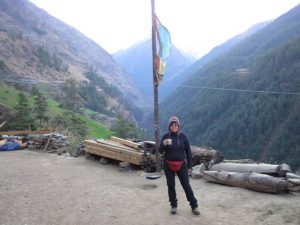 Day after day we climb higher. The air becomes thinner and the temperature drops. As we reach our highest elevation, in Loh at 3180 mtrs, we hike first in freezing rain and then into snow. It is colder here than one can believe. There is no heat at all in the guest houses. There is usually a wood stove for cooking, and the guides, porters and cooks all seem to be enjoying the warmth of the kitchen, but we western "clients" are not allowed in there. The sleeping rooms have cracks in the wall where the wind blows through. The down jackets are pulled out at night more often than during the day. In Loh it is so cold the water at the one tap has frozen into a skating rink. One morning a mule comes by to drink and shoves Ray out of the way while he is trying to brush his teeth, making him slip on the ice.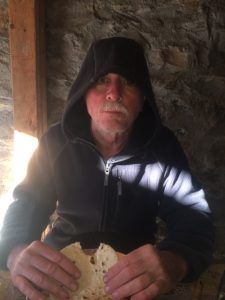 There are many trekkers up here at Loh, all waiting for the pass to open. We have given up. Our plan now is to spend a day up here exploring and turn around. It would be a difficult crossing even if it opens, and Ray is adamantly opposed to trying it. We met two Swiss girls who are going to attempt the pass. They have mountain experience and a team of staff with them. We hike up even higher, to Shyla where we shared a marsala tea in the snow with them and then wished them luck. They went up and we headed down.
There is a beautiful Buddhist monastery up here in Loh. While sight-seeing we took a hike up to it. This one is for men and boys. The monastery is at the top of a hill carved out of mani walls.  There is a drummer drumming at the bottom and another drummer at the top of the hill. As we climbed the switchbacks, the sound of one drummer faded while the next got louder. The monastery sits high above the village of Loh, affording a beautiful view. When we arrived a classroom of boys were busy chanting, but we stole their attention. You would think we would be unwelcome because of this, but it was the opposite – we were welcomed as guests and allowed to wander in and out of the temples and classrooms.
Buddhist Structures
With the decision about the pass made, we woke up the next morning and began the descent back to Arughat. I can't say I wasn't disappointed, but we made the right decision. Just a week after our descent there was a terrible avalanche on Everest mountain that killed many Sherpas. Later this same year another avalanche hit the Annapurna circuit and killed and stranded many people. This years unusual snowfall became deadly.
The next year, the devastating earthquake that hit Nepal had its epicentre very close to the Manaslu Circuit. Our guide Pawan had been out here and been missing for several days.
Without doubt, the Manaslu Circuit was our most adventurous adventure so far. The beauty of the Himalayan mountains, the exotic culture of the people and the physical exertion of the climb was exhilarating and addictive. If you feel the itch, let me know. You need a good contact in Nepal.