South East Asia
There is no better place to pack your passport, a credit card and a pair of hiking sandals to set off for a few weeks (or months) of freedom travel than southeast Asia. This trip took us through Thailand, Vietnam and Cambodia. I planned our itinerary by looking at where those guided tours take you,  removing the annoying shopping trips and adding a few off the beaten track stops.  We were on the road for six weeks, as long as my dog sitter would tolerate.
I spent Chinese New Years at the Grand Palace, Bangkok in January,2020. Just me and 10,000 coughing, Covid-infected Chinese tourists. After that I too coughed my way through northern Thailand and much of Vietnam. It was to be my last journey for a while.
Thailand
I looked with distrust at every lone male traveler I passed in the Bangkok airport, perverts every one of them.  This is the sex tourism mecca of the world. I was pleasantly surprised to find you had to really look for the red light district. You're more likely to run into monks than lady boys, but neither are particularly threatening.
Bangkok is a cheap but long flight from Canada.  We traveled for 36 hours from Victoria, BC but air fare for two came in under $1800.00 CDN. Once you're there life is cheap as borscht.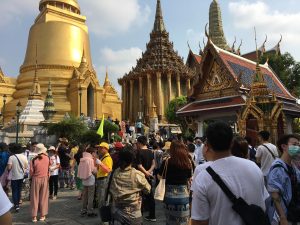 In Bangkok we perfected the off-line Google map app, but not before getting helplessly lost.  A serious case of jet lag didn't help our learning curve any. There's a famous scam in Bangkok where a man professing to be a teacher offers to give you directions. Eventually you will end up in a shopping mall somewhere. For us a policeman made us the offer. I refused to go, tired and crabby and aware of the scam. "But he's the police", said Ray. He could not be swayed. The only thing to do was visit the shopping mall, but at least I got to smirk.
Villa Cha Cha was our home in Bangkok and it was in the heart of the party zone, on Khao San Road. Our room was pretty quiet with the door closed, but the window in the bathroom was broken. Open the bathroom door and the music was blaring, close it and it was quiet.  There was no sneaking a pee in the middle of the night.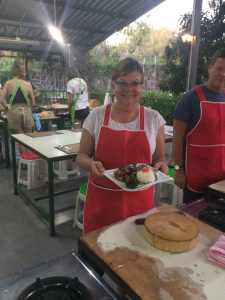 We took an overnight train to the stunning city of Chang Mai. Every single traveler I met told me to take a cooking class here. It turned out to be a highlight. We also visited an elephant sanctuary,  and that was a lowlight. The Thai story is that elephants are being rescued from a life of working in the logging industry. It seems to me they've just traded jobs, and now they entertain tourists for a living. I fed my elephant some unhealthy sugar cane, washed him in a muddy pond for the fifth time that day and listened to our drunk guide tell me how happy my leg-ironed plaything was now that he'd been "rescued".  There may be better sanctuaries than the one I chose. We ended our Chang Mai visit with a day long trek on the highest mountain of Thailand, Doi Inthanon, another highlight.
Vietnam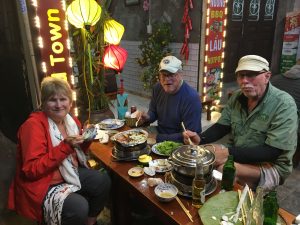 The fastest and cheapest way to get around southeast Asia is by air. It's also my least favourite way to travel.  We avoided airports as much as possible but did catch a short direct flight to Hanoi, and I'm glad we did. It gave us more time to explore this fabulous city. When in Hanoi make sure you take a seat at one of the hundreds of small plastic tables on the street and cook yourself a hot pot or a BBQ .
The Vietnam war is the overarching theme of travel through this country. Vietname has been at war with someone for a very long time, and it's relationship with the US has shaped its personality. I became a war museum junkie.
In Hanoi the communists rule, and the museums and monuments tell their story. As you travel south in the country, the victors remain the same but the perspective of the story changes imperceptibly. In Hoi An, a small city close to de Nang we met an old man who had fought on the wrong side, with the Americans. We rented a motorcycle and spent a day following him around, seeing things we wouldn't ordinarily see. I can't tell you his name because he's still afraid of government repercussions.
By the time we got to Saigon / Ho Chi Minh City the mood and the story had changed considerably. A visit to the war museum there is hardly a victorious tour. US soldiers that tried to stop the atrocities are heralded here. John Lennon's Imagine plays on a loop throughout the building. It's hard to keep a dry eye. This is where US vets, and their families hang out.
Cambodia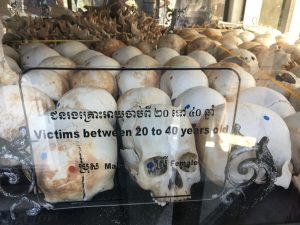 And then for something completely different. We took a little tourist van from Saigon to Phnom Penn. By now we were joined by some Covid refugees. Vietnam and Bangkok had blocked travel to and from China, and any Chinese people still here were trying to catch flights out of Cambodia. The border between the two countries is remarkable, one side beautiful and clean, Cambodia's poverty stark, obvious and immediate.
I debated with myself on whether the Killing Fields was anything I ever needed to see. I knew a bit about the genocide that took place at the hands of the Khmer Rouge. I didn't know enough. We opted for the self guided headphone tour of the site, and walked alone slowly through the site near Phnom Penn, listening to horrific first hand accounts, data and statistics. The depravity of mankind is a sobering truth.
The sprawling temples and structures of Angkor Wat could take a week to explore. Usually it's crawling with tourists, but covid is taking hold and it is pleasantly empty. We hired a tuk tuk driver to spend the day with us. He drove us from site to site, scoring ice cold water for us every time we came back for him. Our friends paid extra and hired an air-conditioned taxi.  Siem Reap is a beautiful city, catering to the temple-junkie tourists. A visit to Pub Street now was pretty quiet, but you could feel the party that once was (and will be again).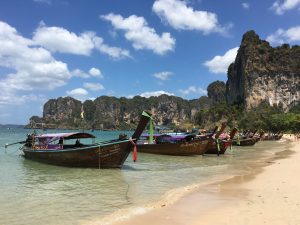 Our visit to the region wrapped up on the beaches of southern Thailand. A week on Koh Lanta, one of the largest islands in the archipelago off the coast was a much needed rest from the rigours of travel. Take a long boat snorkel tour if you're adventurous. We had rough seas, and half of us loved it (my half) the other half not at all. Railey Beach was our final stop, very quiet now because of Covid. At sunset on Railey Beach an amazing thing happens. A black cloud can be seen on the horizon every night, slowly advancing to the beach. When it gets close enough, you realize they are bats, thousands and thousands of bats. It seems ominous now.
We flew into Canada on February 26, 2020 – masked and temperature checked at every stop along the way. When we arrived in Vancouver, it was as if Covid did not exist. We tore off the masks and threw them in the trash. I called the public health line to confirm, but no isolation, nothing to do but go right back into normal life, for the last time in a very long time.