Hoi An, I don't want to leave you yet. Thank you for your hospitality. Ho Chi Minh is calling, but only because I have flights booked.
Even our arrival here is something to write about. We got off the train in de Nang dirty and tired and hopped on the back of a couple of old Hondas, our backpacks strapped to the back. On a coffee break we got to know Minh, a war vet from the side of the south, and decided we'd like to know more. Discovery Villa welcomed us, and an elegant dinner at the Silent Garden around the corner was the backdrop for almost a week in this beautiful little city.
Hoi An is a small city of 150,000 located on the Pacific Coast in mid Vietnam. It's about a half hour drive from de Nang, the nearest airport or train station. Like everywhere else in this country, there are tons of sites to see, but take my advice, skip the tours and settle into the Hoi An lifestyle for a few days.
Bicycles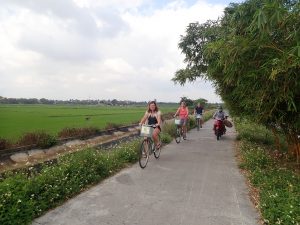 An Bang beach is a 20 minute bike ride from our hotel along the road, or as long as you want on the paved trails through the rice paddies. Who has not wanted to cycle through rice paddies in Vietnam. Fantastic! The hotel has free bicycles, enough for everyone staying here.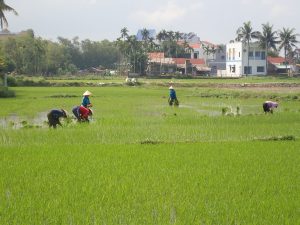 The town is a 20 minute bike ride in the other direction. Cycling through town is a hoot. We compete with scooters, the odd car and tour buses for space on the road. Sounds stressful, but it isn't. One day we cycled right through the heart of the busy market, just like the locals. I fell in love with my simple, belt driven no-gear bicycle.
There are no locks on the bikes. Instead we've been  asked to use the paid parking. The first time we used it at the beach it cost us 50,000 ($3) – seemed a little pricey. After that we paid 10,000. Live and learn. For that price an attendant gives you a ticket, writes the ticket number on the seat of your bike with chalk and then presumably makes sure no one steals it. Winnipeg should consider this system.
Beaches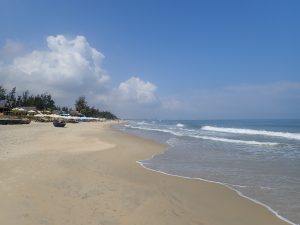 We spent most of our time on busy An Bang Beach, just because it's so gorgeous. The clientele is young, beautiful and international, Ray and I fit right in. The waves are a hoot, but not quite a surfers mecca, at least while we were there.
We had to learn a few ropes here, too. We paid 80,000 to rent beach chairs for a couple of hours, when all we really needed to do was order beer. From then on we ordered beer, of course.
We cycled down to Cua Dai Beach but it was sandbagged for some reason, and maybe it was high tide? Anyway, not very nice. From there Ken led us down a trail we had to get off and walk the bikes on to what very well might have been Hidden Beach. We spent the better part of the morning here, until some enterprising woman came to collect money for our chairs.
If it's snorkelling you want, there are tours to islands you can book.
Shopping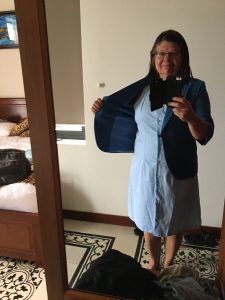 Hoi An is famous for its tailors, and they are everywhere. I was kidnapped by Cam Ly on my first morning walk before I even got near the shopping district. She literally grabbed me by the arm and dragged me down a lane for one minute  that was way more. My helpless husband just followed. Somehow, by the time I was released I'd been fitted for a dress and a jacket, and felt somehow like I'd negotiated a great price for something I have no use for. They are brilliant here.
I lost my sunglasses in Thailand, my very expensive prescription sunglasses. I have weeks of beaches and motorcycles without them yet. But no, there are eyeglass shops on every corner. I picked one that also sold sight seeing tours and exchanged money. There might have been a laundry in the back, I'm not sure. They took my existing glasses and quickly came up with my prescription. With an ancient box of old lenses, they confirmed it and the next day I was back in action.
The rusty old bike Ray picked to ride ripped his cheap bargain store sandals, so he had a pair made for him here. Custom made leather sandals for a size 14 foot. I'm even bringing home one of those beautiful lanterns Hoi An is famous for, for the gazebo in Pinawa.
Food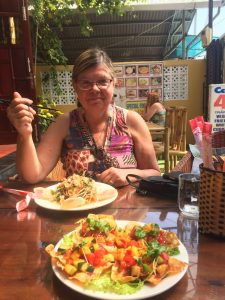 No doubt about it, the best food in Vietnam is right here in Hoi An. Every evening we head out to the old town district and hunt for dinner. There must be a thousand restaurants here. Every night we end up at Cafe 43.  We ate the famous Cao Loa noodles this region is famous for. Papaya salad was my staple. Dish after dish of beautifully presented, delicious Vietnamese food.  And the prices! One night Ken, Louise, Ray and I dined out at Cafe 43. We shared 2 bottles of wine and each shared a set meal. We ate and drank all evening. When the bill came we split it down the middle, about $15 for each couple.
Motorbiking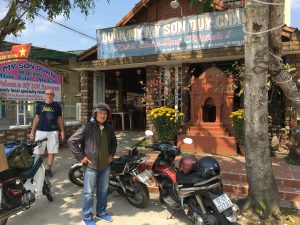 Don't come to Hoi An without renting a scooter. They can be had for $6 a day. If you want to find a few hidden gems, you can hire a guide like we did.
Our last full day here was spent exploring the region on a 150 cc Honda scooter. My driver, who has driven me around the world (Ray) expertly swerved in and out of the chaotic traffic of Hoi An and off into the the countryside. We were following our guide, Minh.
Agriculture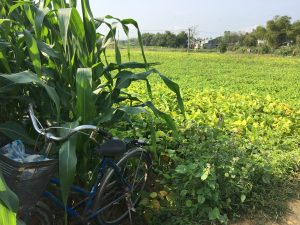 Minh took us to visit a farm. All of the agriculture here is still performed by hand. After the war, people did not own the land but rather worked on it as employees of the government. With no incentive, the farms suffered and famine continued. In 1986 the government recognized the situation was unsustainable and implemented the Doi Moi Policy, a socialist-oriented system. People were given their land to farm, the amount based on the size of the family. Although today some farmers have acquired the use of others land for a better economy of scale, the plots are fenced and prevent the use of heavy equipment.
Factories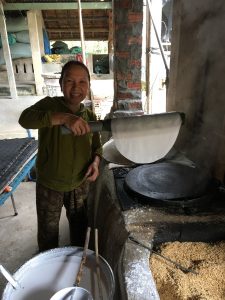 We stopped to visit a woman in a rice paper factory, and she laughed while we inexpertly created holy replicas of her perfect paper. They still tasted good, but I think that was just the soy sauce.
Incense is big business in this country. The people burn it while praying because they believe the smoke will help carry their prayers up to the Gods. We stopped in on an incense factory, an aromatic stop.
Lunch was local, Mi Quang and green tea. The restaurant needed no menu, this was all it served. Mi Quang is the pho here made from the famous Cua Loa noodles.
My Son Sanctuary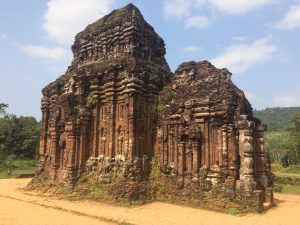 My Son Sanctuary is said to be the Angkor Wat of Vietnam. These are the ruins of an ancient Hindu site. We left Minh behind here as he's not a licensed guide and went off to explore on our own.
Judging by the parking lot, this is usually a popular site. I don't know that I've mentioned yet the effect the coronavirus has had on our trip. Sites like this are virtually empty right now, one bus in the parking lot meant for hundreds. The Chinese tourists are all staying home. It's hurting the tourism industry here terribly.
We paid our admission and boarded an electric tram for a ride 2 kilometres into the Vietnamese jungle. The My Son Sanctuary ruins are viewed by walking along a paved trail carved through the wild forest. The venue is as dramatic as the ruins.
The volume of spectacular, but largely incomplete ancient art, dating back to the early 5th to 11th centuries is amazing. As you walk through the jungle, the craters beside you are labelled as bomb craters.
The heat drove us out after an hour and a half of exploring, and we relieved Minh of his duties at the coffee shop.
War Sites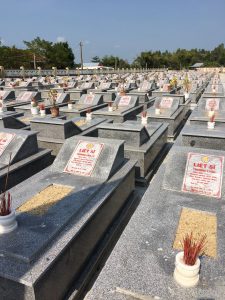 We stopped at a war martyr cemetery, where hundreds of Vietcong soldiers are buried. I tried to find the ages, but many of the graves had scant information. Some don't even have a name. Most had a year of death, 1971, 1972 but very few had birth dates.
Minh took us to Thuy Bo, a mass grave site for 145 Vietnamese people. The true story of Thuy Bo may never be known, but Minh told us American soldiers rounded up all of the villagers here, women and babies included and shot them all. Why? Someone knows, maybe they were hiding the enemy. It was a sobering stop.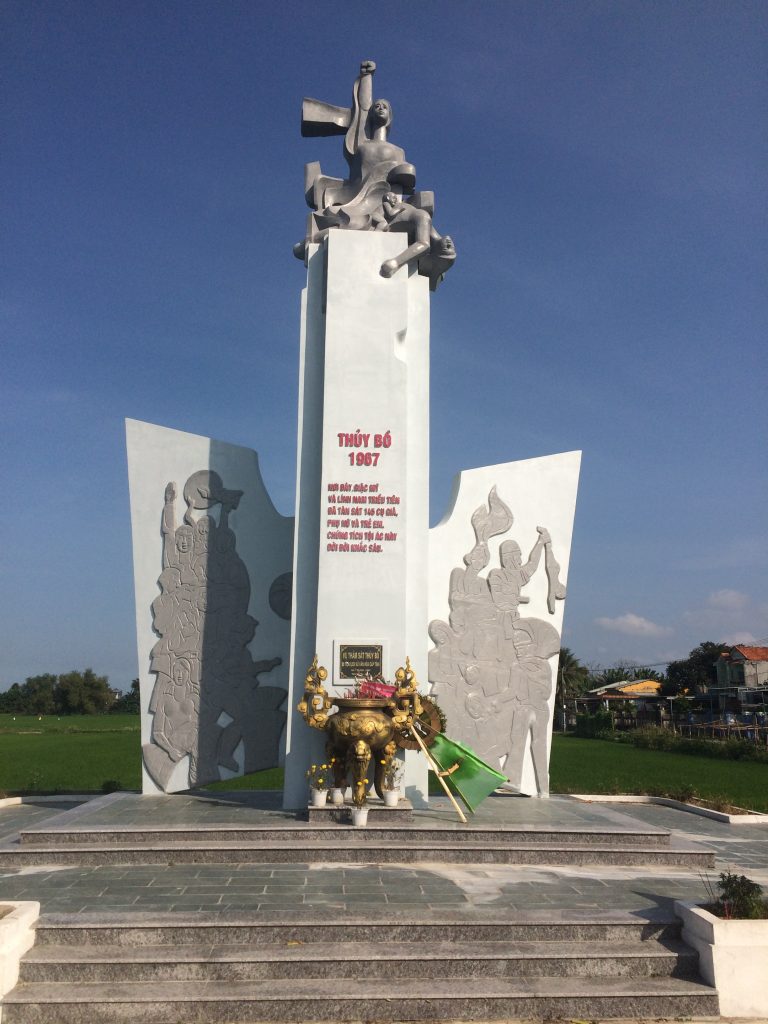 We dropped in for a second at Marble Mountain, but by then we were tired and uninterested. A 30 minute jaunt home completed our scooter day.
Time to move on, but Hoi An was a really great stop.