Peru
April 2015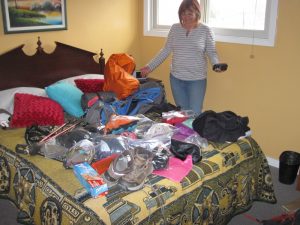 Peru is a country of rich history, cold and inhospitable mountains and hot, sweaty jungles – all rolled into one three-week adventure. Its the hardest trip ever to pack for.
Our trip to Peru begins with news of a tragedy – a devastating earthquake has just hit Nepal, the epicentre is in the middle of the Manaslu Circuit, the trail we hiked last year. Our guide Pawan is missing, his boss, our friend Ram is starving and living on the street in Kathmandu with his family. The couple beside us in the security line at the airport had been on their way to hike there, and changed their flight to Peru this morning.
Lima
Our first stop is Lima where we have an on-line introduction to Pierina, a friend of a friend who will show us around the city. We arrive a day late due to flight problems. Pierina proves to be a great source of information. Our first stop is the Lima Cathedral and the attached museum. The violence of the Spanish in the early 1500's unfolds here. On display are the excavated bones of thousands of victims, bizarrely arranged artistically by bone type. No photos are allowed in the catacombs so I really must describe it. One tomb contained the tibiae of over 25,000 victims, arrange in an artistic pattern that was 6 metres deep. The next tomb contained skulls and the next some other bone. It was chilling.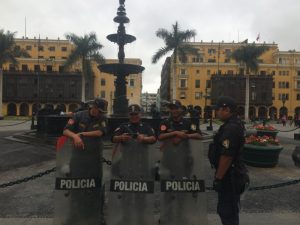 There are three main tourist areas in Lima – the old town, with its Cathedral and museum, Mira Flores, the tourist area and the more Bohemian art district of Barranco. We are staying in a boutique hotel in Barranco. We also briefly visit Mira Flores, which looks generally meant for American tourists who don't want anything to look too different. Mira Flores has the shopping mall along the Malecon. From our vantage point at El Beso (The Kiss), a large statue of two fat lovers, we can count 6 chain restaurants, places like Tony Romas and Fridays, but nothing unique to Peru. We don't spend much time here. Pierina ends our tour with a visit to a buffet restaurant that highlights all the food of Peru, including the signature Pisco Sour cocktail. We strolled the Malacon in Barranco until sunset, then quickly retire to our hotel as it's not safe to be out after dark.
Puno
We are back on an airplane this morning, flying to Puno – a city of about 140,000 on the shores of Lake Titicaca. Puno sits at an elevation of over 3800 metres and is a popular destination for people looking to acclimatize for a hike in the Andes, and that's generally why we're here. Unlike Lima, we are now in real Peru. Most people are wearing traditional clothes and are indigenous – Quechua and Aymara being the most common languages spoken. It is cold and harsh. I can't catch my breath when we arrive. We asked our hostel to pick us up at the airport but they didn't, so we took the bus.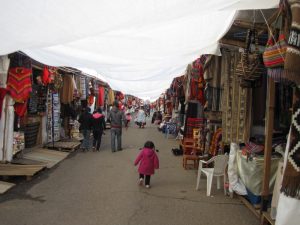 Our room at Pacha Hostel is well located, just 2 blocks from the main square and close to the many, many blocks of street markets. Not only is it safe to walk after dark, there's a party going on with bands, children playing and the most entertaining buskers I've ever seen.  These guys Ah si si si – were a highlight. Imagine a brass band doing this at this elevation (and in the cold). It's not May 5 yet, but it's close and this town is just gearing up for the big Cinco de Mayo party. We are immersed in Peruvian culture.
Lake Titicaca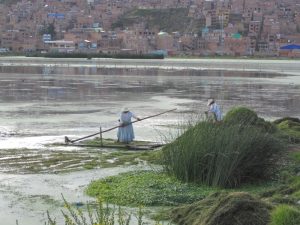 The largest lake in South America, and the highest lake of it's size in the world, many cultures have adopted islands on Lake Titicaca as their home.  There are boat services at the Puno harbour where you can easily go for a ride and visit some of the more interesting cultures, and we even spent the night on one magnificent island. There are reed islands, man-made and maintained by the residents. We visited the island of Uros, where they have set up a special place for tourists (presumably so we don't invade their privacy elsewhere). Here they demonstrate how they made and maintain their island and do a great job of describing their culture to us.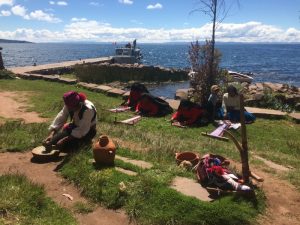 From there we head off to the island of weavers, Taquile, where we watch a demonstration of both weaving and soap making. The people on this island are almost completely self-sufficient. The only money they bring in are from these two activities and the odd tourist that spends the night here. We were wishing we had planned that.  They grow all of their food and make all of their clothes. Our last stop, and our home for the night, was Isla Suasi. This is a beautiful, but very small island at the far side of the lake – almost in Bolivia. Apparently smugglers use this route to bring cheap electronics in from Bolivia to Peru. Anyone need a new cell phone? We spent the night in a beautiful hotel here, our room heated with a wood stove. We hiked to the top of the island at sunset and then enjoyed the most amazing sauna.

The Andean Explorer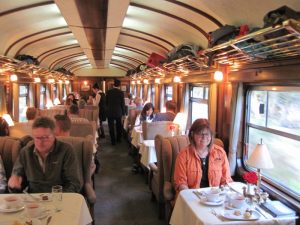 Listed as one of the top ten train rides in the world, we decided to travel by rail from Puno down to Cuzco. We were not disappointed. You board the train in Puno in time for an elegant breakfast, and arrive 10 hours later in Cuzco at 6 PM, just as the sun is setting. In between you travel through the most stunning scenery Peru has to offer. The train first climbs to an altitude of over 4300 metres before it starts to slowly and steadily descend to Cuzco, still high in the mountains at about 3400 metres. The train delivers constant luxury and entertainment. As it passes through communities, locals run after us, trying to sell us trinkets. There as an open air car at the back of the train that is perfect for this. There are several "cocktail hours", dancers, meals – even a fashion show. The train is full of international travelers. For those on a tighter budget there is a wonderful bus route for this leg of the trip as well.
Cuzco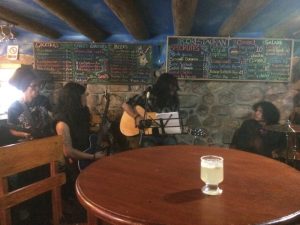 Cuzco is the Inca capital of the world,  with a population of about 350,000 people and a first language of Quechua. When the Spaniards invaded Peru, Cuzco was able to preserve most of their buildings, temples and culture. We are staying at a fantastic hostel here, the Backpackers, just one block from the main square. When we arrive, grimy and tired from the train, a Doors cover band is playing in the bar and we are given a complimentary pisco sour coupon. It becomes generally believed later that these cocktails make everyone sick, there are raw eggs in them. This comes from a doctor staying at this same hostel.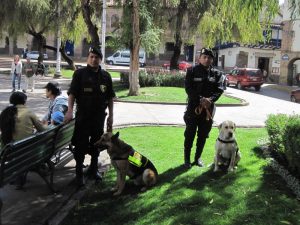 Our first morning in Cuzco starts off rather bizarrely. It's Sunday morning so we expect a nice quiet morning and we head out early for some sight-seeing. The first thing we see are several policemen with dogs, looking quite menacing and guarding the main square, the Plaza de Armas. Soon a group of soldiers come marching in. We're starting to get the idea that maybe we might be getting caught up in something. When thousands of soldiers came marching in, and I'm not exaggerating the number, some with uniforms, some in fatigues and even some with camouflage rags hung all over them, I got pretty concerned. The only thing that seemed odd were the locals, who didn't seem all that concerned and were actually taking photographs and lifting children up to see better.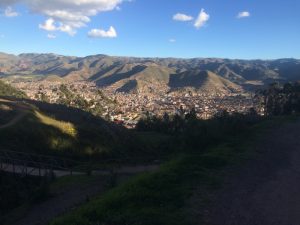 Every Sunday, in the main square Plaza de Armas, there is a huge parade that goes on for many hours. Vendors sell treats and water because the parade goes on so long that some people are getting sick in the sun and the heat. The parade is led by what looks like the entire Peruvian army, is followed by thousands of women in mini-skirts with suit jackets and the highest of heels (all marching along the uneven cobblestones) – the civil servants, and then finally followed up by thousands more in various traditional costumes, stopping frequently to dance or otherwise entertain the crowds. After the parade, there are traditional family chicken dinners served all over the place. The remainder of Sunday afternoon in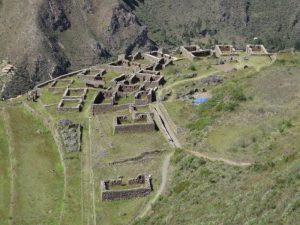 Cuzco is consumed by families out eating, drinking, playing soccer and otherwise just enjoying each others company. This is Sunday in Cuzco, family day and its fantastic. We spend the rest of our afternoon climbing a billion stairs, all the way up to the gaudy Cristo Blanco statue that stands atop of Cuzco and lights up at night. We are preparing for our hike.
The next day I wake up sick. We have planned to visit the Sacred Valley, a visit to three different ruins near Cuzco. I am disappointed but Ray goes by himself, and comes back with stories of an amazing day.
Salkantay Trail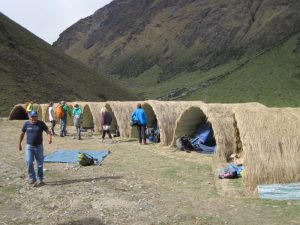 Everyone hikes to Machu Picchu along the ancient Inca Trail, but in fact there are six ancient trails that lead there and the Salkantay is a lesser known and therefore less busy one.  The Salkantay trail can be hiked independently, but we joined an organized group hike. Packed and waiting for for our bus outside the hostel door at 5:30 am, the bus was almost an hour late. Our hostel was last on the pick-up list and I guess there were some dawdlers in the group. We all met yesterday for a pre-meeting and I'm incredibly intimidated. I have a hard enough time with elevation, now I am in the company of a group of very fit young athletes. We will have horse support for our equipment and food, so all I need to carry is my personal clothing.
Day 1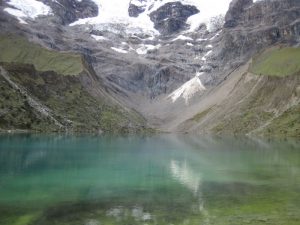 Right from the beginning I am struggling. With all of the acclimatization and stair climbing in Cuzco, I still can't catch my breath. Myself and Jeremy, a young fellow from Quebec, keep the back of the line occupied. By the time I reach our first camp sight, at Soyrococha, I can barely breath. It is, however, absolutely stunning! We are camped in tents that have been erected inside grass huts. The backdrop for our camp-sight are two beautiful snow-covered glaciers, the Salkantay and Humantay glaciers. The staff arrived ahead of us so by the time we arrived our tents were set up and a gourmet lunch was prepared. Most of the group went on an acclimatization hike up to Humantay Lake, at over 4200 metres, but there were a few of us that clearly couldn't make it.  I laid in my tent and found myself panting just to roll over. The bathroom was down a small hill (very small) and I had difficulty even with that. I want to be friends with the mountain, but mountains don't like me.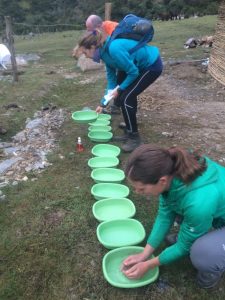 We had a very special evening up here. When it got dark an amazing sky appeared. It was very cold but very clear, and for the first time in my life I got to view the southern cross. I made the mistake of commenting, in the company of Australians, that it was smaller than I would have thought. I managed to offend an entire nation, who apparently all have southern cross tattoos on their bodies somewhere. At one point, as we all stood out in the cold admiring the sky, the moon rose from behind one of the glaciers, lighting the entire valley up like a black light poster. It was amazing and we all just drank it in.
I slept fitfully, from the thin air and the worry of hiking over the pass tomorrow – 4600 metres.
Day 2
I was not alone with my elevation problems and the guides found everyone with problems horses to ride over the pass. There were four of us from our group and a couple from another group of hikers that rode that day – thank goodness. Everyone, except our guide Carlos (who chews cocoa leaves with some kind of ash constantly), found this day difficult – including our horses. At one point we decided to dismount and lead the horses up for a while, but I could barely get back on afterwards. As we ascended it got colder and colder, my fingers frozen in my mittens by the top. When I finally arrived at the pass I was sick to my stomach and completely disoriented. We dismounted and the horses were led back down immediately. I wasted no time in starting my descent. Jeremy, who rode up with me, actually ran down the other side of the pass.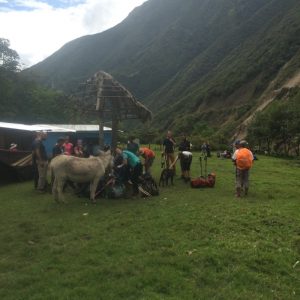 The other side of the mountain was a surreal hike. We walked through the cloud forest, literally walking inside a cloud. From the barren cold pass at the summit, the trail passes through the wet and foggy cloud. Not only does it get warmer and wetter on this side, but the vegetation turns from completely barren to jungle and orchids and vines and flowering trees. Carlos constantly stops us to point out the exotic flora and fauna. By the time we reach our next camp everyone is exhausted. Ray, who hiked the pass on his own steam (quite easily by the look of it but he too was partaking in the cocoa leaf and ash ritual) was so sore he could barely climb the few stairs to dinner. It's warmer here now, but still not balmy.
Day 3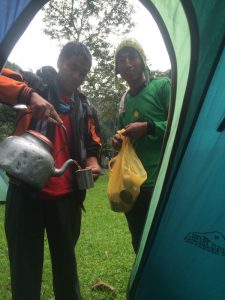 Every morning on trail we are awoken by our cooks with a hot cup of cocoa tea. They call at the tent door and pass it into us. The cooks prepare gourmet meals for us. Breakfast is porridge AND pancakes with fresh fruit and juices. Lunch is the biggest meal of the day, followed by an evening tea. Today we hike an easy 18 kms and finish by lunch time. We are done with high elevation and end up lunching at a restaurant – that serves beer and wine. I bought a bottle of wine for later.
This evening we slept in an orchard on soft grass. A bus came and took us to the Santa Theresa hot springs, where we whiled away the afternoon and evening. By dinner time, the wine was open and dancing happened. It was a wonderful day. It's now warm and green.
Day 4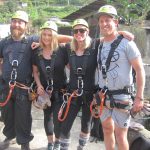 Today we are offered a choice – would we like to hike along the road, go by bus zip-lining or take a crazy high-altitude alternative hike. We all split up and agree to meet at the train station, to hike along the train tracks to Aguas Caliente, the town at the base of Machu Picchu, together.  The hike along the train track is busy with hikers and hippies. We all split up in Aguas Caliente, everyone sleeping in different hostels. Ray and I decided to sleep in the basic one, no upgrade and it turned out to be the nicest of the lot. We spent the evening exploring this very interesting and touristy town.
Machu Picchu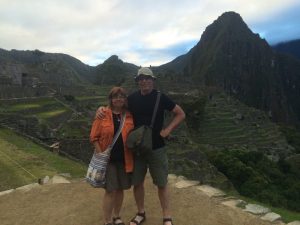 The next morning we woke up at 4 AM. The goal today is to be on the first bus up to Machu Picchu, to see the ruins without masses of tourists. Even at this hour, we are not first in line or on the first bus but we're close. When we arrive at the ruins we get to see the sunrise with almost no other tourists. Carlos gives us an extensive tour of the whole place, then bids adieu and we are on our own for the rest of the day.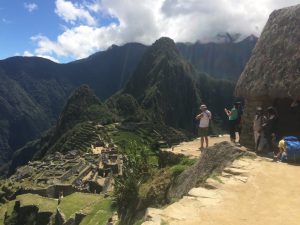 Machu Picchu is a mystery. Built in the 15th century by the Incas, but abandoned after only about 100 years of use, it is the mystery that adds to the allure of this place. No one knows for sure why it was abandoned. Was there some disease, or a drought? Was there some invasion that no one knows about? It's easy to wander through Machu Picchu and imagine life here, the terraced gardens, the sacrificial areas and the southern cross monument. The odd llama spits at us as we explore.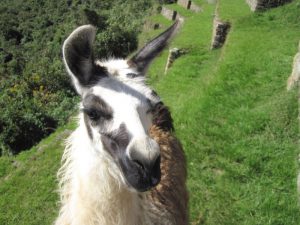 The Spaniards never found Machu Picchu, it was "discovered" by an American archeologist Hiram Bingham in 1911. I've read that he stumbled upon it, but in fact its believed the local people knew about Machu Picchu all along and someone brought him here. There is the famous Inca Trail that thousands of people hike each year, but there are many other ancient trails that also lead here, the Salkantay that we took being one of them.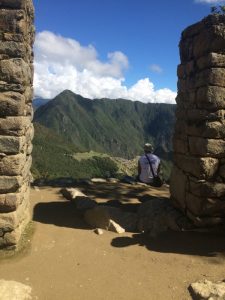 We found ourselves at the Sun Gate by the end of the day, just sitting and watching the world of Machu Picchu, with all it's tourists and beauty, go by below us. We sat with another couple we'd just hiked with, quietly drinking in the entire experience. This is one of the seven wonders of the world and a UNESCO world heritage sight. We took the stairs, all the way down to Aguas Caliente. After dinner in town we boarded a late night train back to Cuzco.
The Amazon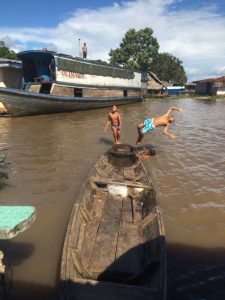 It's hard to believe we are still in the same country when we get into the speed boat in Iquitos and head deep into the Amazon jungle. We flew here from Cuzco, the only way to get to Iquitos (one can take a boat but it takes a week – there are no roads). It takes us four hours to get to our jungle lodge, located on the Tahuayo River, a tributary of the Amazon. Its flood season now, and this is an especially bad flood year. We are booked with Amazonia Expeditions, and they told us we could cancel – it's just so difficult this year, but we've come any way. It's a strange and watery world that we arrive too.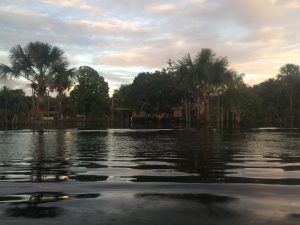 We pass by many flooded homes and even entire communities. The water is right up to the roofs of most of the places we pass – the only sign of life a canoe tied up to the rafters. Its hard to believe people can survive this. We've been warned that our lodge is also flooded.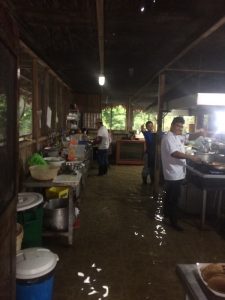 We arrive to find the dining area has been moved to a floating raft, and we must balance along boards set on top of walkways that we are told are 3 metres off the "ground".  The staff are preparing dinner in knee-deep water in the kitchen. Twice a cobra snake is attracted by the food scraps and causes quite a commotion. Half of the sleeping quarters are closed and under water. Only the hardiest of guests have not canceled and they are an odd lot, people with safari clothes and notebooks, camera and binoculars.  It is very, very strange.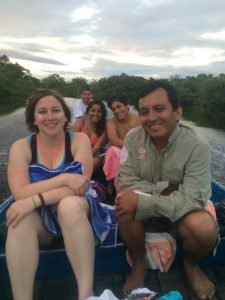 We are shown to our accommodations, a large floating "cabin" with six beds. We assume we will have company, but this is all for us. The bathroom is down the "hall" – which is now a submerged walkway with planks to balance on. There is no ground anywhere for miles and miles. A boa constrictor lives in the ceiling just outside of the bathroom, it's exact location the subject of our regular evening report. At night, as you lie in bed, you can hear fish jumping and things swimming underneath us. We are here for seven days.
In the jungle my ankles swelled up to a painful size. A guest, who was a doctor suggested it was the drastic elevation change and not to worry. Sure enough by morning the swelling had subsided.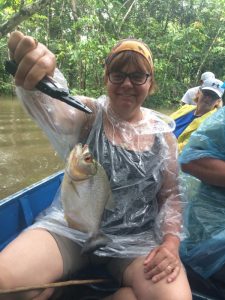 Our private guide is Christian and he is incredibly well-qualified for the job. Christian has formal training as a biologist, jungle survival and even a shaman. Every evening there is a meeting in the dining hall, where all the guests and guides discuss what they would like to do the next day. There are night paddles, one hike to something the guides call terra firma – a chance to find land and walk on it, a zip line, a trip to an even more remote lodge that is currently under even more water and other trips to search for the wide variation of flora and fauna of the area. Before I came here I'd read a book, The Journey of the Pink Dolphin, recommended by the owner of Amazonia Expeditions because this is one of the only places on earth one might see this creature. We agree to go looking for these one day.
On our way into the lodge, we traveled with two young women – both traveling alone, that we befriended – Nora from Boston and Gunjan, Indian from Dubai. For some reason, a very special bond developed between us, and we planned a lot of our excursions together.
Over the next week we fell into a rhythm and our surroundings became less strange. Much to Christian's dismay, we took over the paddling of the canoe from him. The custom was for tourists to sit and watch while the guide paddled, but eventually, and amid much teasing by the other guides, Christian finally even relinquished the machete to me so we could cut our way through the jungle. Each day we would head out on a new adventure, and even sometimes at night. We hiked at terra firma, and found poisonous dart frogs, walking trees, bats of all shapes and sizes and many other exotic plants and animals. We found woolly monkeys and spotted sloths. One day we paddled out to the zipline, along what should have been a trail and a hike this time of year. Much to my amazement, we even swam with the pink dolphins in Lake Charo, a widening of the Tahauyo River.
One day we visited the neighbouring community of Chino, where we visited a shaman and had a closer look at a village surviving this flood. Much to the chagrin of the village dogs, they shared floating rafts with the chickens. How the chickens survived this is a mystery to me. Small children paddled from home to home in dug-out canoes, their school closed and under water.
Iquitos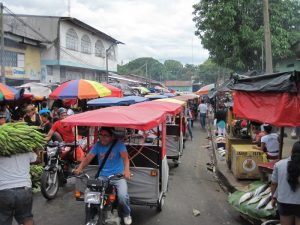 Founded as a rubber town, Iquitos and has a bit of a wild west reputation and we spent our last night in Peru here. There are no roads here and so almost no cars, instead everyone drives different and interesting forms of tuk tuks. It's a rather dirty port city, with a population of 350,000 and amazing markets full of every fruit, vegetable and meat you can imagine, with no refrigeration in sight. Every day the many blocks of markets fold up and disappear, only to reappear the next morning.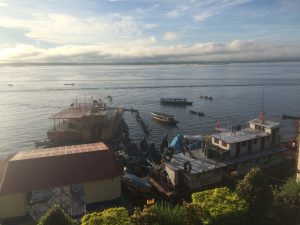 I apologize for the length of this account, but Peru has been the most diverse countries we have visited so far. From the height of the Salkantay pass, the mystery of Machu Picchu and the oxygen-rich dense flooded jungle of the Amazon, Peru was an amazing adventure.