Africa
As usual it all started with the Germans.  We met a couple of them in a flooded lodge in the middle of the Amazon jungle of Peru, where they seemed unimpressed with the adventure. They'd just arrived from a six month road trip through Africa in a camper van and could not stop talking about it. I was intrigued; Ray pretended he was too.
When I got home I immediately started planning the African camping trip. Ray said "what???" Apparently he was just being polite in the jungle and he adamantly refused the job of driver for my next expedition. As all good husbands do he eventually relented and my planning resumed.
this time for Africa
The Vehicle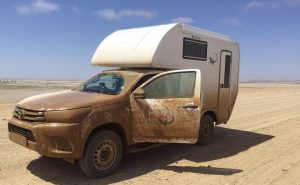 We settled on Britzy as our mode of transportation. Britz is a camper rental company that operates out of Australia, Africa and the US. The vehicle looked great on the computer, brand new, a small camper built onto a tough 4X4 Toyota chassis.  It even had a bathroom, a little cassette toilet that could save me from the bandits and the lions.  For two months Britzy was to be our home, our safaris and our transportation. We grew to love her.
The Itinerary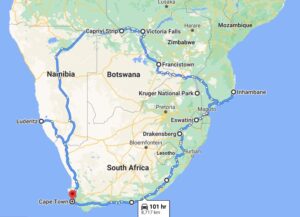 Our itinerary was set by the Britz people themselves, as they restricted how far we could travel. For safety reasons we were not allowed to travel after sundown, and the furthest north we could go were the beaches of Mozambique. There's a bit of crime in Africa, so we could accept help from noone but Britz. If we broke down we were to call them, and only them. We had no cell phone so we just crossed our fingers and hit the road. We went as far as we were allowed.
This epic 11,400 km African road trip begins and ends in Cape Town, circling clockwise through Namibia, Botswana, Zimbabwe, Mozambique, Swaziland and finally back to South Africa. We camped every night, almost always in gated protected campgrounds. We chose to start in Namibia so Ray could get used to driving on the left hand side of the road in our right hand vehicle on the wide open empty gravel highways.
When to go
Canadians plan a lot of trips based more on the weather we want to escape in our own country than the conditions in our destination. That was a factor for us. We spent the months of March and April in Africa, which is near the end of the wet season. The temperatures were perfect, maybe a tad warm in Namibia. I don't recall a single rainy day. We shared Kruger Park with South African families on their summer holiday break.  The watering holes on safari were not as popular as during the dry season, so we had to go to the wildlife. Since we were living in a safari truck, that was not a problem.
Of all of the travels and all of the adventures, Africa tops them all. Take some time to read through some of the blog posts I wrote from the road. Some of them are a little rough. WiFi was scarce, my iPad was mini but the best stories are the ones written in the moment. The blogs from the road are linked on the right side of this page. Enjoy!