We've been on the road for a long time now and feeling road weary. There are days that all we'd like is a transporter machine to get us home.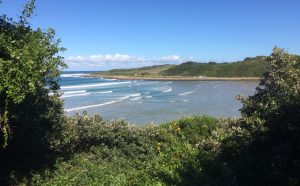 We've arrived on the eastern shore of South Africa now – to an area inexplicably called The Wild Coast. We were heading to Gonubie Beach because some Jews in Mozambique told us this was our best chance of some good snorkeling. At the 11th hour of the day I found a slightly different spot, a little bay with a river and a campground with great reviews, so we're staying just beside Gonubie Beach.
Our spot at the Yellow Sands Resort was just what two road weary travelers need to refuel. Our camp spot is perched on a cliff above the beach, with a temperate climate of 25 degrees all day dropping to 18 at night. The water is 24 degrees. What a relief from the frigid mountains, but also from the extreme heat of Namibia and Mozambique. We are camped on grass and there are NO bugs. The sound of the ocean lulls us into sleep at night.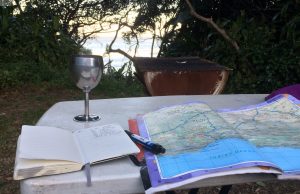 During the day there is nothing to do here but go to the beach. Our first snorkel into the mouth of the river was disappointing to say the least – nothing but murky, sandy water. While we were swimming the tide began to come in. You could feel the pull on your body, it was like swimming in a current pool. Right before my eyes, the water cleared and the fish arrived. Twice a day here for about an hour and a half the snorkeling is amazing – the rest of the time – nothing.
We spent the day snorkeling when the tide was right, and reading and watching surfers when it was not. We got up early the next morning for an hour more of snorkeling before leaving.
As much as we'd like to stay, we have to press on. We're on the last leg of the journey now and Britzy is due back in Cape Town on May 1, as are we. Next stop – Addo Elephant Park.