Last week of travel and it looks like we're going out in style. We've reached the "Garden Route" of South Africa.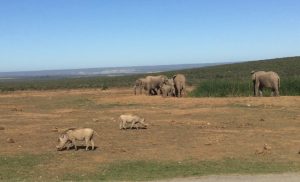 If Namibia was Africa light, Botswana Africa wild and Mozambique Africa crazy, the Garden Route is Africa civilized (Ray says soft but I disagree). We are skipping from one phenomenal National Park to the next right now, with just a couple hours drive in between. One day we are on safari roads in Addo National Park, surrounded by wild elephants, zebras, kudus and then, as if sending us off in style, three beautiful lionesses who just narrowly missed bagging a warthog. The next day we're enjoying a brutal coastal hike (the start of the 5 day Otter Trail that I couldn't get a booking for) in Storms River National Park, along the Indian Ocean. Tonight we are in Wilderness Park, on the shores of a lazy river – quiet except for the sound of birds, frogs and crickets.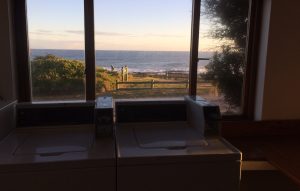 Ray was most worried about this part of the trip. On the crime map, we've hit the red zone. From Durban all the way down the coast to Cape Town has the highest crime rate of anywhere we've been so far. After 7 weeks on the road with no problems, and the appearance of utter colonial civilization all around us, it's easy to become complacent, but the signs are everywhere and not all that subtle.
We've driven through some beautiful cities the last few days – Port Elizabeth, East London, Knysna. There are lovely homes with beautifully landscaped yards – surrounded by tall, usually concrete fences and topped with razor wire. As we passed by these beautiful homes on one side of the highway, the other side were townships. The contrast is remarkable.
Hiking the Otter Trail
Razor wire is everywhere, around every one of our campgrounds, even on the side of a bridge we hiked over. They are no longer meant to keep out lions. When we read reviews of campsites, security is almost always mentioned – as in "security not what was advertised", or "was the victim of crime here".
We've met many South Africans, all of whom live in gated communities and couldn't imagine it any other way. We've met a young man whose mother was murdered in a robbery, a farmer whose neighbours were murdered just recently. The dark side of this paradise.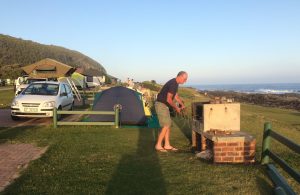 Dark side aside, South Africa may just be the most beautiful country in the world – with the most beautiful climate. We're here in late fall, short days and cool evenings and yet it's just about perfect weather.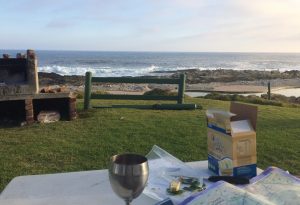 They could use some rain, I hear – Cape Town is nearing the end of it's water reservoir, but there doesn't seem to be any in our forecast. The worst that happens here is the need to don a sweat shirt after dark, but there's almost always a braai (fire) started anyway.
With our last week looming time seems to be speeding up. So much to see yet, so little time left.