All those places that were just names on the map are coming alive to me now.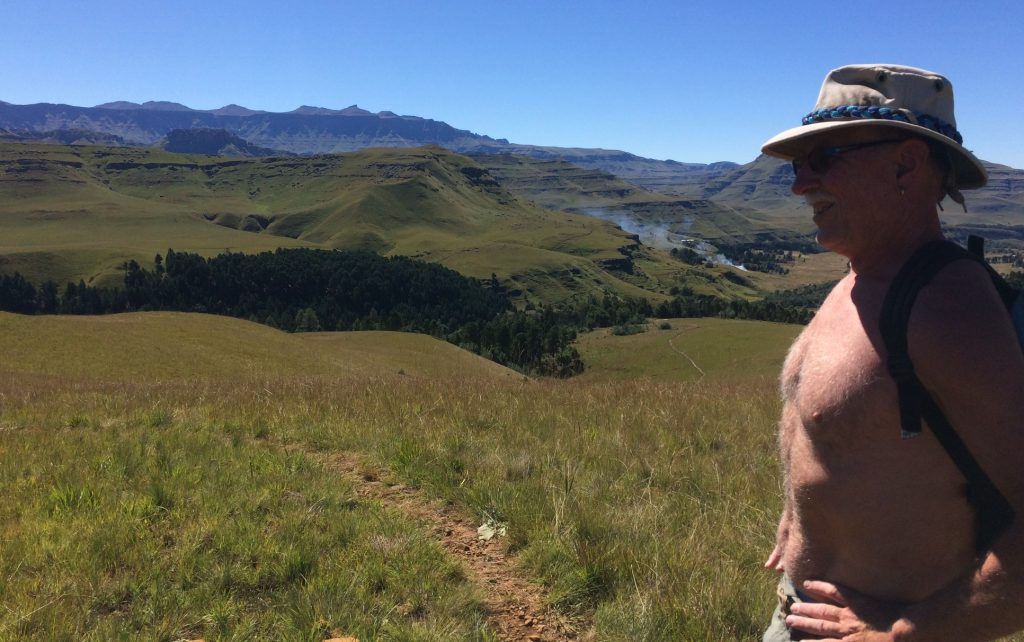 Since we're in the neighbourhood, we decided to check out some world heritage site hiking in the Drakensberg Mountains. We got out the maps and asked some advice, and landed ourselves at the Garden Golf and Spa resort in the southern Drakensbergs, just an hour away from Splashy Fen. On the way we stopped at the Underberg Cheese Farm for some great selections of local food.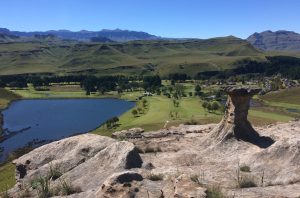 For 300 Rand a night (or $30 CDN) we camped at a resort that had every amenity you could possible imagine. Go ahead, pick something a resort should have… I'll likely miss something on this list: swimming pools (three), squash, tennis, restaurants (three), bars (not sure how many), zip-line, petting zoo, climbing wall, mountain bikes and trails, BMX bikes and trails, trampolines, golf course, spa,  lawn bowling, wildlife and hiking trails. All we did was hike.
We showed up at the resort tired and dirty from the music fest and found the campground almost full to capacity – of people packing up to go home. We decided to park and go on one of three hikes while everyone else got going, and climbed high above the resort for an hour of much-needed leg-stretching.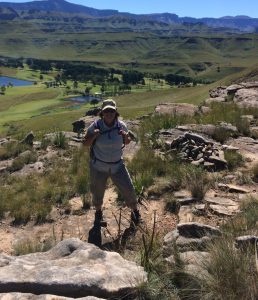 By the time we'd visited reception the place was virtually empty and we picked a wonderful spot beside the babbling creek. We both took off to have a warm bath – yes campgrounds here have bathtubs, and in case you're worried about cleanliness they also have doting attendants to clean up after you, that you hardly ever see. We had our usual braai,  this time of steak and baked potato, before turning in early. Sleep eluded us both even in our exhausted state because of the cold. Yes, we're still in the mountains and it's still really, really cold at night – below zero I think.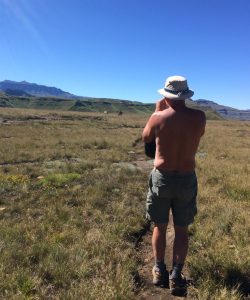 In the morning we decided to combine hikes 2 and 3 to make for a 3 hour hike. The trail was spectacular, climbing high over the resort and the beautiful green gentle Drakensberg mountains. It warms up significantly during the day and we worked up a good sweat. We unexpectedly walked into a couple of elands, an animal we'd yet to cross off our list. We also spotted a few baboons playing on the golf course – looked like a mother teaching her baby how to putt on the green. We packed a lunch and ate it at the hippo pool, cooling our feet off in the water. That's a South African joke – there are no hippos here (apparently), just rocks that look like them. We were told to bring our "cozzies" (South African for bathing suits).
A braai is essential here in the mountains, if only to stay warm. As the sky darkened, at 5:30 PM now, we lit the fire and threw on some South African sausages. The highlight of the evening was getting a skype call through to my sister, who is hiking the Camino right now and another to my son. Killed all the cell data, but it was worth it.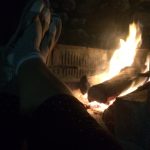 There's a drive up here called the Sani Pass that climbs up to about 3000 metres, into the country of Lesotho that is apparently not to be missed. 4X4 is required but there's no doubt Britzie could make it. There are Sani Pass tours available from the resort it's so popular. As we lay in our freezing bed we decided we were going to take a pass (pun intended) on this one and head to a beach – enough with the cold already. We set Garmen to Gonubie Beach, on the wild coast, and the alarm to 5 AM because the beach is 8 hours away and shivered through the night.