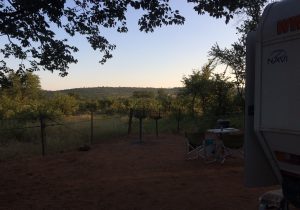 A week in Kruger Park, a week of great campgrounds, amazing wildlife and South African families kicking off their three-week school holiday.
Honestly, we've entered a completely different world now in Mozambique and Kruger seems like it was weeks ago. One thing I'll say about Africa, its diverse. Blink and everything changes.
It just happened that we came to Kruger just as the school holiday started. African kids don't get 2 months off like our kids, they get three weeks now and then other holidays throughout the year. I guess they have no cold, harsh winter to recover from.  We were warned that we would have trouble getting camp-spots because of the crowds, but we got lucky.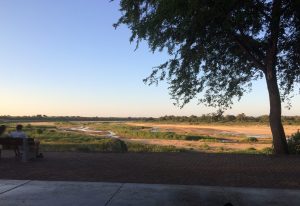 We entered the park at the quieter, northern end. Our first campsite, Punda Maria  was nowhere near full, and the staff here booked the rest of our spots so we always knew where we would be going. In Punda Maria we camped right on the edge of the water hole. I was woken twice during the night by elephants coming to drink. I just rolled out of bed in my pajamas, watched the spectacle and then went back to bed. At 6 am I was woken again by horrendous screaming. I was sure something was being eaten, but apparently it was just baboons and monkeys have a squabble.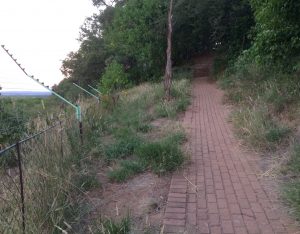 Every day we would pack up Britzie and drive safari roads to the next campsite, always heading south to the next campground.  You have never seen so much elephant poo on the roads. We would drive slowly, like everyone else and stop for any wildlife viewing. Once we came upon a big traffic jam, all stopped to look at a turtle. We saw herds of elephants, cape buffalo and giraffes. We saw rare sightings, two jackals, kudu and others I can't even remember. Ray was bold. One day he took a crazy drive right down to a lake. It seemed not to have been worth the risk, until every rock in the lake suddenly stood up, and the young hippos started swimming right towards us, to get a better look.
I feel quite privileged to have shared Kruger with all the South African families. We think we're pretty good campers in Canada, but I have to say I think SA might have us beat. We kept talking about the business we could start importing the cool SA camping equipment – from stoves to trailers and so many other useful gadgets.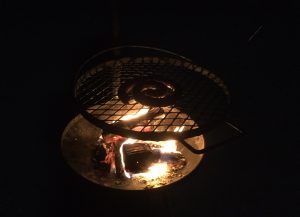 Every campground in Kruger is incredible well-appointed. There's always a pool, kitchen facilities, ablutions (what we call washrooms) and a shop. Most of our spots had a restaurant but everyone had a braai each night. A braai is a BBQ over wood or charcoal or usually a mix. When in Africa… we had our own braai every night but one in Kruger.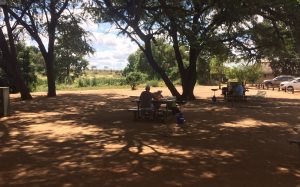 There are no park patrols or for that matter anyone instituting any rules in the campgrounds. It's completely unnecessary. The gates open at sunrise and close at sunset. No one except professional safari drivers are allowed on the roads after dark. If sunset is 6 PM everyone is out game viewing until then, fires starting shortly after. There are children playing and fathers grilling until about 9, when silence prevails. You don't want to be sleeping in here. Diesel engines are ticking by 6 am, and the SA families have been cooking and eating and packing long before. It's all about the wildlife.
By the time we finished Kruger I was feeling a little claustrophobic. Each campsite is protected by razor wire and electric fences. You can walk around inside the camp but you're not going anywhere. While driving you can't get out of your car for anything. There are wonderful picnic spots along the way where they rent out these cool gas stoves, and ALL the SA families show up here ready to cook and eat some more. If you're like us, unprepared, there's sometimes a restaurant.
Kruger Park will undoubtedly be one of the highlights of this road trip, but it was time to move on, find a beach and go looking for ocean animals. We left Kruger through the border to Mozambique.
And now for something completely different, again.