I apologize for any spelling, grammar or other errors in this post. I'm trying to upload it at a Wimpy's in some obscure South African town and we have a music fest to try and get to before dark.
What the heck is going on in this country? Insanity mixed with paradise – lost opportunities, greed and corruption, a recent devastating cyclone and one of our best stops on the trip so far. Was it worth it? Since we survived I'll say yes.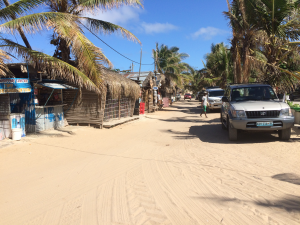 Every South African we met told us Mozambique was not worth it. In fact the country has seen a 30% drop in tourists recently, and I know why. When your GPS tells you that a less that 500 km trip is going to take you 11.5 hours, you should pay attention.
Our first taste of Mozambique starts right at the border. Some guy wanted to "help us" get through, someone else warned us about dealing with him. Chaos right from the start. The $90 CDN visa fee per person was not particularly welcoming either, though in true Mozzie style, they were friendly as could be while collecting it.
One thing we've learned is don't put your papers away too fast at any African border. You go through this check point and that one and then, when it looks clear and you've stashed the passports, there's always another check. This time the soldier was so impressed with Britzie he forgot to look at what was in her. The bathroom really wowed him.
It's greed and corruption that's killing this country – I have no doubt about that. There is one main road that runs up the country from north to south. It's a colourful, slow highway, a village every 5 or 10 kilometres and a speed reduction through each one. I don't know where everyone is going, but everyone is going somewhere all the time, and most of them are walking along side the highway. Women carrying baskets of bananas or bundles of firewood on their heads, wearing bright beautiful dresses, children walking to school and from school – sometimes at the same time. Men carrying machetes, off to work in the fields, or so we assume. The people that aren't walking are cramming themselves into little white van/buses – that usually have trailers overloaded with goods towed behind. It's chaotic for sure, but it's beautiful and lively.
The villages hug this highway because, as of only a few years ago, it wasn't safe to drive off it because of land minds. Our slightly dated guidebook still warns not to drive the side roads.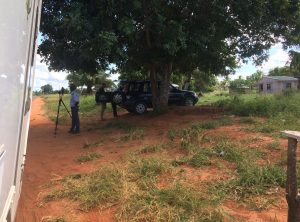 What is ridiculous are the stupid police. They actually have a check point at almost every village – more than 50 that we had to pass through – each way. They used to blatantly request bribes, but now there's a hotline you can call to report them, so they've changed it up a bit. Each village has a speed limit of 60 through it that changes to 100 once you leave town. Their game is that they remove the 100 sign at the end of the town, then set radar up to catch you. Our GPS tells us what the speed limit should be, but when we got caught they just said "show us the sign". We got stopped once for a checkpoint, we didn't do anything wrong yet so we were just harassed a bit, and then again for doing 67 in a 60. That got us a 1000 metacais fine (or $20 CDN). Pay right here, in cash. I suggested we would pay at the next police station, and they suggested that would be fine. We could come back with the receipt to collect Ray's driver license, that they had actually wrestled right out of his tight grip, because we'd heard of this game to.
So if that's not bad enough, everyone had to drive within this game of theirs. They only fine out of country plates, so Britzie is a target, as is everyone from South Africa. Hello, can you say tourism industry? We pretty much had to do 55 kph all the time. The locals are rightly pissed off at this and just scream around us, narrow roads, blind corners and crowds of people walking no matter. The poor buses are still in the bribery loop. They get stopped all the time, and just hand a little cash over with their license. It made the drive horrible, and South Africans were right to warn us not to come. It's also made the beautiful resorts and beaches virtually empty. What a shame for Mozambique.
We heard the story of an entire resort town here that lived off of the visit of a cruise ship once each week. There was a large resort that employed many people, and of course all of the hawkers and support businesses. Well, one day the government said they needed to get a cut and decided to charge the ship $50 US per passenger. That was the end of the cruise ship, the resort and eventually the town. Greed and corruption.
Our plan was to drive to the resort city of Inhambane, the most northern point we are allowed to take Britzie, and have a little rest on the beach. We hit on a place called Tofo Beach only because the guy at the border needed to write down a destination, and that's where he assumed we were going. It's about 450 Kms from the border, a longish drive but not too bad, we thought.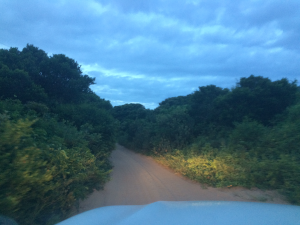 That's how we ended up driving a long sand road, along a beautiful beach in the dark, hoping our ancient GPS was truly steering us towards a campground. She was and we spent a couple of night in Xai-Xai (pronounced shy shy). Xai-Xai is a good example of what's going wrong in Mozambique. We stayed at a little resort that had huts and camping and a nice little restaurant, right on a beautiful stretch of coastline on the Indian Ocean. The shore was lined with these kinds of resorts, and there's even a little resort town with a bar and dance floor built right on the beach. It's spring break in South Africa, Kruger Park is booked solid, but there's nobody here.
We did have second thoughts about continuing up to Inhambane, but obviously in the end we decided to go. The drive was painful and we just hoped it would be worth it. When we drove into the little resort town, if that's what you want to call it, it was completely underwhelming. The roads are deep sand – 4X4 or foolhardy required just to drive in. We found the campsite/hostel I'd emailed from Xai-Xai right away. I thought it looked rather awful, but Ray looked relieved, and happy.
Tofo Beach, and our little peace of paradise at Pariango "Resort" might just go down as one of this trips best highlights. I know I've said it before but sometimes paradise is hard to get to.
Our little hostel had all sorts of different lodging options, from tents to huts and dorm rooms, and one spot just big enough for Britzie. It had been hit with a cyclone just 3 weeks before we arrived so it looked messy, which is what I saw, but before the storm it had won awards for its gardens. I still find that a little hard to believe, but it was full of the most interesting people. Lynette and BJ were two South African women about our age, there with Lynette's daughter and visiting her son who was a dive instructor. Glen grew up in Zimbabwe but fled to New Zealand with his parents when he was a teenager due to unrest in that country. He and his Canadian girlfriend Chelsea were going to rent a car and tour Namibia, after this little beach stop. Three Israelis and a South African were camped in tents in the back. On Passover the whole hostel joined in a braai together, and ate late in the evening on the beach, to the light of candles and the full moon. Our first evening the owner apologized but there was live entertainment until midnight in the restaurant, promising us it would be quieter after that.
The town of Tofo is a lively little market full of (not that great) restaurants, markets and shops. There's a large fresh market where the pineapple and avocados were the best I've ever had. The market was aggressive – "How much is this wine?" "400 I can give it to you for 350 ". You know you're only starting.
Then there's the reason we're all here – the beach. The water is beautiful. If you can imagine, when a large wave is about to crash over your head and give you a great body surf, you can actually see right through it. It's that clear. The temperature of the water is perfect. The temperature of the sand at midday, not so much. Ray kept forgetting his flip flops. The waves were our entertainment. Surfers love this beach too. We even went out on an ocean safari looking for whale sharks, but saw dolphins and snorkeled with the fish instead.
Our place was right on the beach. When I woke up early, I took long walks on the sand, watching the fishermen sorting out their nets, and the locals all walking to work. The sunrise was dramatic every morning. We sat on the beach one day and fried like lobsters, but we realized the thing to do was swim and then sit at our hostel, in the shade, fridge full of drinks and a cool outdoor shower. We, and everyone else here did just this all day. Once the sun went down we lit the fires and the communal cooking began. It really was our little paradise.
When it was time to leave, Lynette and BJ had to be off by 4 AM to try and make that horrible drive in one day, but we found a caravan park in the GPS that was just before Maputo and decided to make for that for the night. I'm not going to say that by the time we got off that highway, and the Garmen said "prepare to board ferry", that we weren't a little snippy with each other. When we started following different campground signs that both needed the 4X4, I won't say that we weren't a tad crabby. When we did "arrive" it was to beautiful resort on a beach, huge – big enough to accommodate at least 100 holidaying families, with huts and chalets, a beautiful big swimming pool, restaurant and bar – all completely empty but for the staff and the owner. The only problem, they didn't have a campground. They were not about to turn us away. I suggested we camp outside an empty hut, plug in and spend the night in Britzie. Instead he sent his staff out to build us a campsite. They raked and cleaned and even installed power and a light, but it didn't work so we plugged into a nearby hut.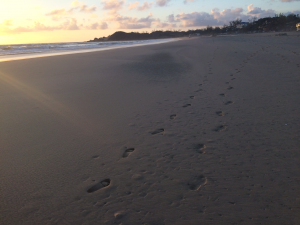 After the party on the beach and the crazy ride, this empty resort turned out to be the perfect rest stop. We cooked a simple meal of South African sausage and salad with that fabulous avocado and other fresh vegetables from the market. Ray even talked me into an early morning skinny dip in the pool.
I've learned something about Ray on this trip. I've always felt safe driving with him, even on long trips in the Westie, but he's never been tested like this. I see him boldly following local traditions and turning 2 lanes into 3 (or more), swerving pot holes in unison with truckers and engaging 4X4 at every interesting side road. I never expected that. He calls me Miss Donna and he is my private safari driver, that never says no. This has been the most romantic trip we've ever taken.
So we survived that stupid highway and had our beach holiday. Thankfully we made it back without more fines or death and crossed into civilized, and beautiful in a whole new way, Swaziland.