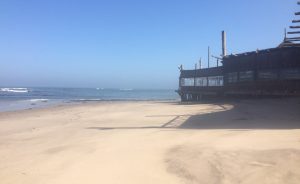 Five hundred dusty gravel kilometres from Soussevlei lies the unlikely German seaside city of Swankopmund. 50,000 people call this home, and many of them seem to have traveled the world before settling here. The Danish couple that sold us vegetables from their farm had tried to settle in Canada first, but found it too regulated. Peter from Holland came 16 years ago, and forgot to leave. It's easy to see the allure.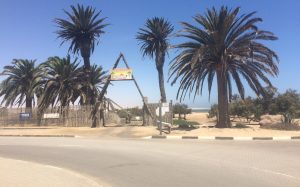 I tried to walk the beach today. Our home, the Tiger Reef campsite is at one end of the beach. Around 10 I started walking, and walking. Around every point I thought I'd see the end, but instead I saw another beach. The shores are underpopulated, with a smattering of tourists and a few fishermen. I saw hordes of mussels that I really considered collecting for dinner. I asked a man if he knew if they were good, but he didn't understand me. I saw black dolphins playing in the waves. Eventually I stopped walking at the modern mall, complete with book store and food court.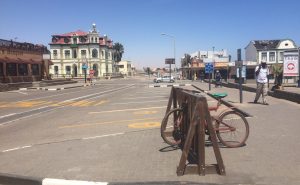 The city of Swankopmund is adorable. It's an old German town but now really geared up for tourism. The streets are lined with beautiful old heritage buildings and restaurants and antique stores. We spent one entire day just walking around town.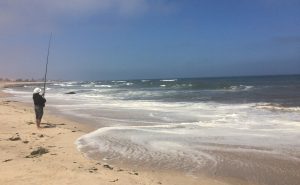 Remember when I said, last blog, if we meet our friends Susan and Mike again we're in trouble? Well, guess who is showing up for dinner tonight. Yes, we lolly-gagged here long enough for them to catch us. I suspect they too will have a good long rest here.
Ray was out fixing our tire while I walked. Turned out, after everything we'd put Britzy through, it was a screw that was causing the leak. It cost 100 Nam to fix (or 10 bucks). We have filled up with water, food, gas and money – washed our clothes and ourselves. We are ready to head back into the wilds.