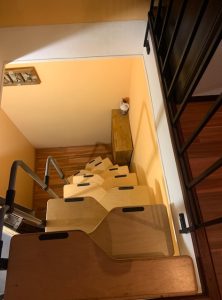 For the first time on this trip I have failed to impress Ray with my booking in Split. We are not in old town, our balcony has a view of an old stone wall and the stairs up to the bedroom are terrifying. "You're going downhill," he tells me. First impressions are sometimes accurate, but not this time. We grew to love Apartments Kovacic_Grubisic.
After a week and a half on the road we need to take care of a few things. There's a washing machine in the kitchen and a wonderful clothesline off that view-less balcony. I throw in a load of laundry and head off to the nearby grocery store for some dinner supplies.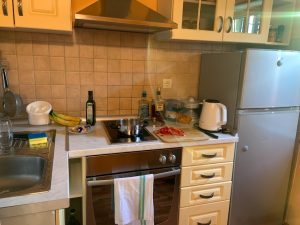 We cook the traditional Croatian sausages called Cevape for dinner and accompany them with a nice big salad, something we've both been craving. The fridge is now homey with leftovers. As we sit on the very private balcony, undies hanging out to dry our neighbour below us plays traditional Croatian music all day long. Beautiful!
The stairs are still terrifying.
About Split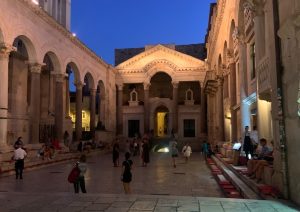 Split is the second largest city in Croatia. Only Zagreb, the capital is larger. We arrive by high-speed ferry from Hvar with Ken and Louise. Google maps in hand, we four head down the waterfront and out of old town to find our respective homes. We are both staying just a few minutes walk away.
Diocletian's Palace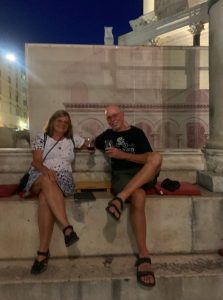 Half of downtown Split is dominated by the ancient Diocletian's Palace. Built for the Roman emperor Diocletian in the third century AD, today it is a lively place.  A natural meeting spot, the palace is usually crowded with tourists. We watched more than one wedding. Roman soldiers pose for photos for tips. A glass of wine costs 10 euros, but buys you the privilege of sitting on a cushion on the stone stairs. We are celebrating our 43rd wedding anniversary tonight so we spring for the wine.
There is a constant stream of entertainment in the streets of Split. We enjoyed singers, dancers and one night a full symphony orchestra.
One evening we sat down for a beverage in the plaza. Suddenly a group of women at the next table, wearing traditional dresses began singing. Their voices rose up the ancient walls, attracting a small audience. They sang several songs, for their drinks? Or were they a choir warming up the main act in the palace? It was a special treat. This is a city worth hanging out in.
The rest of the old town is cobble stone streets, restaurants and shops. Split is famous for it's nightclubs, but we need to face reality. We are all too old for that kind of frivolity.
Green Market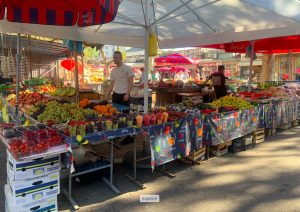 Passing through Diocletian's Palace, there is a wonderful green market. I visited early one morning while Ray was still snoozing in search of something to tie my hair back. The Adriatic Sea has stolen my scrunchie. There are free samples of exotic foods and some oily, fishy spinach breakfast bread that is somehow Unesco protected. I'm not sure I should be eating it or not.  When I use my limited Croation greetings, "dobra jutro" or "Hvala", I get rewarded with big smiles, or maybe laughter at my poor pronunciation. It's hard to tell.
Marjan Park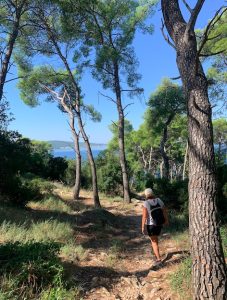 Our beautiful little apartment may not be in old town, but it is just 2 blocks from the entrance to Marjan Forest Park, and that is a way better place to be.  After a week of walking around the history and culture of old towns, it is refreshing to get out on a hiking trail. We spent two full days hiking this beautiful park. https://www.marjan-parksuma.hr/
There are several beautiful beaches in Marjan Park. If hiking is not your thing you can uber, bus or cycle to several of them, each with it's own flavour. My phone tells me I hiked 27,000 and 29,000 steps in the two days we explored Marjan.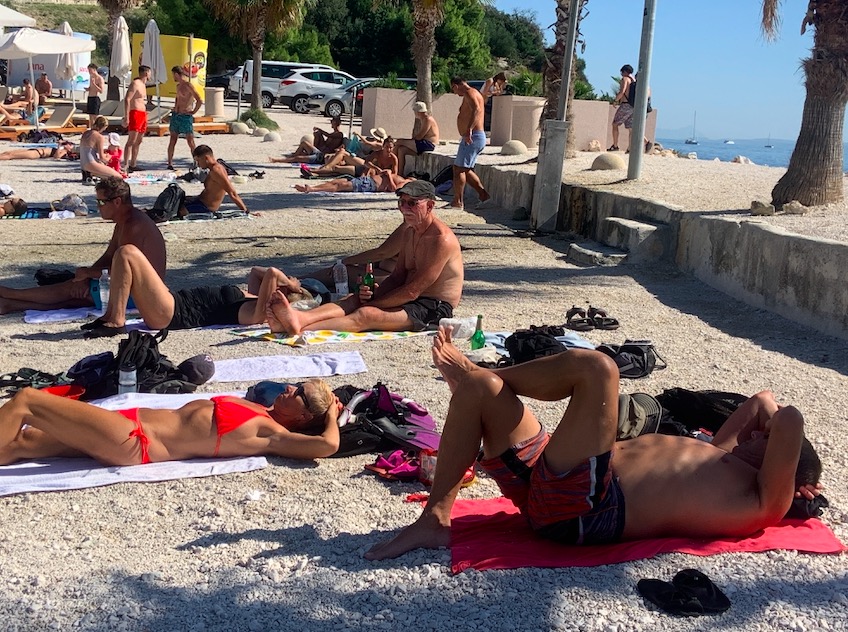 And then there were 12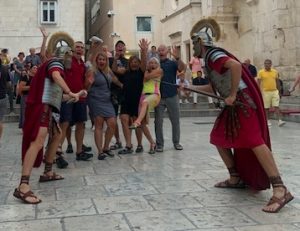 We are not in Split just to sight-see. We have pressing business here. Months ago our crazy Pinawa gang of friends started planning a cycling trip through Europe. After much debate, but not as much as you might expect, six couples agreed on a boat and cycle tour in Croatia. We catch the boat here.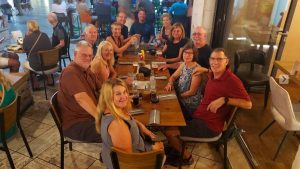 Ken and Louise arrived with us on the ferry from Hvar on September 27th. On the 28th Ken and Barb drive in from Trogir, Croatia; Christine and Danny fly in from Greece and Kim and Eleanor end their Croatian road trip here. Finally on the 29th our last couple, Dale and Adele fly in from Canada. The cast of characters have amassed.
We have the requisite group dinner and get a sneak peak at the boat we will spend the next week living on. The excitement is palpable. An afternoon on a beach together is followed by a potluck dinner on the Young's beautiful terrace. Ray and I jettison the bag of rice, olive oil and spices we have been carrying around Croatia. We won't be cooking any more.
We are ready for the main event.