Posh. My first impression of Hvar as the ferry pulls up to a marina full of fancy yachts is that it's going to be too posh for me. After the low-key experience of Korčula I'm not ready for an episode of Lifestyles of the Rich and Famous.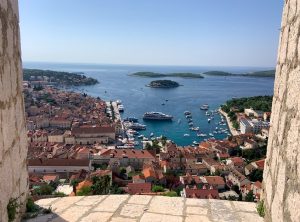 We've a message to meet our accommodations hostess at the Cathedral. A sweep of the harbour reveals two churches, one on either side of the town, but she has sent a map. Croatia has proven to be very pedestrian. We walk off the ferry, past the multitude of waterfront restaurants, cafes and shops to find a large lively plaza graced on one end by the beautiful St. Stephen Cathedral. It's gothic architecture dates back to the 1600's. Our hostess is no where to be seen so we doff our backpacks and wait in the shade of this beautiful church.  She's only a few minutes late, and she guides us through yet another Croatian labyrinth to our home for two nights, the old town apartment Mare.
About Hvar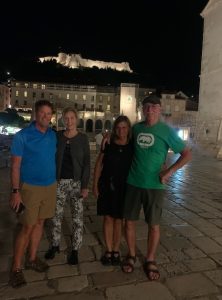 Just 68 km long and about 10 km wide, Hvar is yet another Croatian island playground in the Adriatic Sea. There are two main towns, Hvar City where we are staying and Stari Grad a few kilometres south.
Hvar City is an ancient walled city that has been inhabited since the neolithic era. It is guarded by a beautiful Fortress high on the hill on the outskirts of town. Stari Grad is even older, taking claim of one of the oldest towns in all of Europe.
Have I mentioned that Croatia is just dripping in history and culture?
Things to Do
A walk along the waterfront features tour operators every few metres. At least in September you do not need to plan ahead to take in any of them. There are island hoppers, wine tasters, Stari Grad tours, walking tours, history tours and more.
Beaches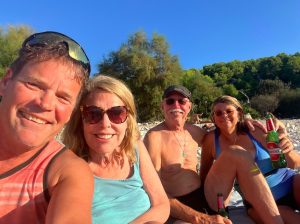 Our friends Ken and Louise are here when we arrive, sitting on the beach. After a couple of cold beers on our new patio we set out in search of them. It's Pokonji dol Beach we are looking for and google takes us through town along busy streets to get there. The best route is to follow the waterfront, we discovered on the way home.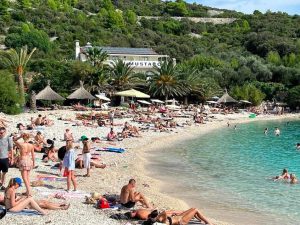 Hvar island, and a myriad of smaller islands nearby are drenched with beautiful beaches. With no exceptions as far as we found, none of them are sandy. Most are fine pebbly beaches but some are pretty rocky. Do pack your water shoes and use them everywhere. This in no way detracts from the beauty of the beaches, the gorgeous Adriatic Sea that we are swimming and snorkeling in, nor the  fabulous warm, sunny weather we have been graced with every day but one. It's actually refreshing not to get sand all over the place.
There are two good ways to go beach hopping here, by water taxi or by car. I'd opt for the water taxi personally so you can get onto some of those smaller islands.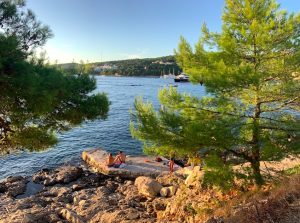 One of the coolest things I've found in Croatia is how people don't seem to need any beach at all to swim. As we walked along the waterfront just north of town, the entire coastline is full of people sunbathing and swimming off the rocks. If you look closer you'll see that there are ladders bolted onto these rocks to help one get out of the water. I imagine the locals have their spots, just like we have the canoe bay here in Pinawa.
History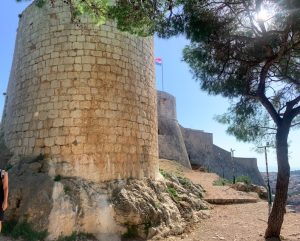 Rising high above the city and dominating the skyline is the Fortica, the Town Fortress of Hvar. For centuries this fortress has protected the town. The hike up to it is quite beautiful. From the main plaza the walk starts with a series of shallow stairs through narrow streets lined with shops. The main climb up is a long, gradual switchback trail with plenty of opportunities to sit and enjoy the view, purchase drinks, snacks and souvenirs and enjoy the unique trees and cacti of the region.  The view from the top is spectacular – do not forget your camera.
The Cathedral of St. Stephen dominates one end of the plaza and dates back to the 15th century. Don't expect to sleep late, the church bells of the bell tower will wake you up.
Just an uber ride away, the ancient town of Stari Grad remains unexplored by me (sigh). Everyone we met said it's a must-see so I guess I'll have to come back. This is Croatia's oldest city, and one of the oldest in all of Europe. I've been told it's the quaint smaller cousin of Hvar City, and I think I might have liked that.
For more information on the history of Hvar visit https://www.hvarheritage.com/en/cultural-heritage.
Dining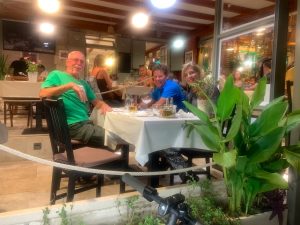 There is a restaurant every 2 metres in all of Hvar's waterfront. Your only problem will be choosing which of the thousands of tables with a view you plan to sit at.
There is one place I'd recommend for your sunset drinks though, the Hvar Brewing company. The tables are on the waterfront, about halfway between the city centre and the beach, so it's an excellent stop after a day of swimming. Ray and I shared a pulled pork poutine here that was to die for, and I am not usually a french fry fan. They had a hazy ale that reminded me of some of the best craft beers we have in British Columbia. We lingered here through sunset and into the dark.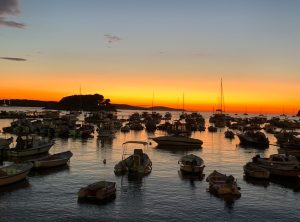 Judging by the yachts, Hvar is definitely on the rich and famous tour, but it turns out it wasn't too posh for me at all.  Just like Korčula, Hvar cannot adequately be explored in a day. Take 3 nights here and if there's time another in Stari Grad would be my recommendation.
For now it's time to move on. We catch the high speed ferry to Split in the morning.