"We regret to inform you that your ferry has been cancelled due to inclement weather. You will receive a full refund."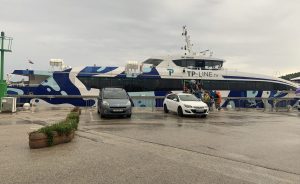 This email is received just as we are walking out the door of our beautiful Antunini Apartments in Dubrovnik, cleaning lady at the door. We have no where to go and it's windy and wet outside.
We were traveling to the island of Korčula this afternoon, by walk-on ferry, but now we are homeless. It's only 11 AM but the situation requires a drink. It's Dubrovnik, so we found a cozy table tucked under an awning to keep us dry and ordered beers. Long story short, we booked tickets on a later ferry for twice the price.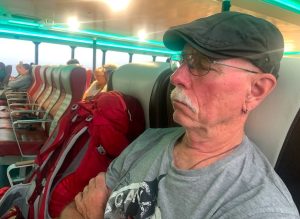 Passengers debarking the ferry were literally green; some even carrying full barf bags. "Okay, baby here's our test," we had been wondering whether either of us suffer from sea sickness. We crashed through the waves all the way to the island, both of us sleeping like babes in the cozy catamaran cabin. I guess we'll be okay next week, when we will be living on a boat for seven days.
Kor
č

ula History

The island of Korčula has been populated for over 3000 years, but was colonized by the Greeks in the 4th century BC. It has since been occupied by the Romans, Goths, Slavs, Byzantines and Genoese. Royalty from Hungary, Croatia and Bosnia have resided here. In the past it has been held by Russia, France, Britain and the Austro-Hungarian empire.
About Kor
č

ula

Korčula is a small Croatian island in the Adriatic Sea, just 47 kms long and 8 kms wide. One can explore the entire length of the island in a day. One could, but apparently not us. We could have used more time.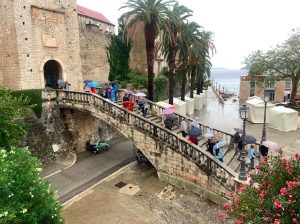 Today Korčula is famous for it's wine, olive oil, beaches and excellent old town restaurants and bars. It's a  major tourist destination, but we are arriving in the off season amid a dramatic storm. We were lucky to get here.
Our beautiful Apartment Punat overlooks the bridged entry into old town, just 150 metres from the ferry.  The owner, Nicholas met us at the dock with an umbrella. He's left cake and apple juice in the fridge as a welcome. The apartment is perfect in every way.
Exploring Old Town Kor
čula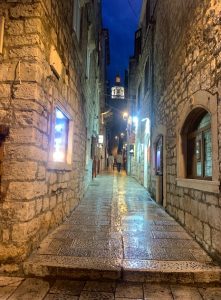 Walk across the bridge, through the main gate and enter the Croatian labyrinth that is Korčula old town.
.Tonight it is raining lightly but we have Nicholas' umbrella to cuddle under. Despite the rain, there's a lively wedding going on. The sound of music and partying wafts through the narrow old town streets on this cool, dreary night.
Most restaurants are shuttered because they only have tables outside. We find an open one that's almost full, so we end up sharing our table with a young couple from Portland, Oregon. My pasta with truffle sauce is fantastic, the house wine not as good as the local beer, and the company lively. At some point Ray and Helena get into shots of local hootch called rakija.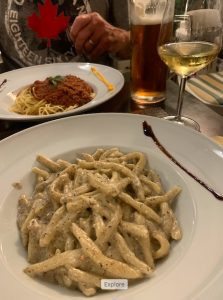 As we eat the weather outside degrades, rain pouring down, thunder crashing and the sky dramatic with lightening. At some point, fireworks from the wedding mix with natures light show and we all step out of the restaurant to watch in the pouring rain.
Thunderstorms are a special treat in Manitoba, but never have a experienced a storm like this. The sky rumbled and crashed for over 24 hours continuously. By the time the storm was over, water was running down the cobblestone streets like a river.
Exploring Kor
č

ula

Light rain is still falling when I set out by myself to explore the neighbourhood, but it doesn't last long. Soon it's hot and humid and I'm regretting the rain jacket and umbrella I have to carry.

In typical trail lady fashion, I found a hiking trail that climbs up a hill beside town. There's a little forested park beside old town that features an old fort and even a Westfalia parked discreetly on the side of the road. The world is lousy with boon-docking Volkswagons.

On the outskirts of the park is a surprisingly modern mall. I picked up a package of the local sausages, called cevapi to cook for dinner as well as some fruit and a pastry. I'm packing a bag of rice, garlic, ginger and a bottle of olive oil so we can cook our own meals any time.

Ray might be waking up and wondering where I am now so it's time to head back.
Kor
č

ula by scooter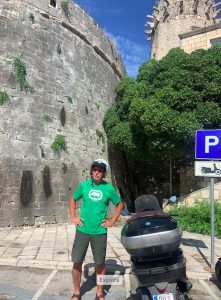 It took a bit of arm twisting, but I convinced Ray we should rent a scooter and by mid morning we found ourselves straddling a 350 cc Piaggio and heading out to the country side, snorkels and bathing suits in the packs. Korčula is a fabulous island to explore by road.
We drove through villages and vineyards and olive trees, past beaches and farm stands. Stopping for a swim and snorkel, Ray swam naked as a baby because he saw two other naked people on the beach and couldn't resist. A farm-stand was selling the famous local olive oil. We bought enough for the whole family back home. We have now decisively given up any opportunity to fly home with carry-on, and the backpacks are weighed down by 5 bottles of oil for the rest of the trip. A dinner of the best burger and thinly sliced fried potatoes ended the day and we returned the scooter in the dark.
A day is not enough time to explore this beautiful island. If you're going to Korčula I highly recommend booking at least three nights so you can have two full days. We could have gone on a wine and olive oil tour, and we would have enjoyed more beach time but we have to move on too soon. The ferry to Hvar leaves in the morning.