When I booked three nights in Dubrovnik, I hoped it wasn't too long a stay. We are leaving today and I wish we linger a little longer.  This is one seriously fabulous city.  
Dubrovnik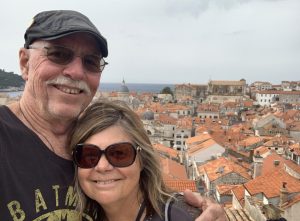 Located on the Adriatic Sea, in southern Croatia, Dubrovnik is an ancient walled city built sometime around the 7th century. Today it is a major tourism destination in Europe. "Come in September", we were told, when the main throng of tourists have subsided. I can not imagine how crowded this city would be during high season. Even now the streets are crowded with visitors.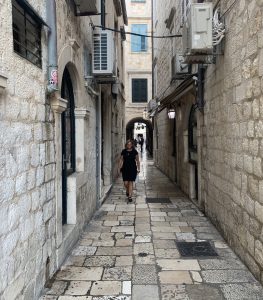 The main past time here is drinking, with eating as a close second. Look up any of the narrow streets in old town and tables line the alleys. Live music wafts out of some of the establishments. Your biggest problem in Dubrovnik might very well be choosing which one of the hundreds of restaurants you will dine at tonight. For some reason (Ray) all we ate here was pizza, but it was great pizza.

This may not be the place for you if you don't like stairs. Nothing is flat here, we climbed thousands of stairs every day. Even Ken, the athlete had sore thighs tonight but he did run up Mt. Srd this morning before the rest of us were even awake.
Getting here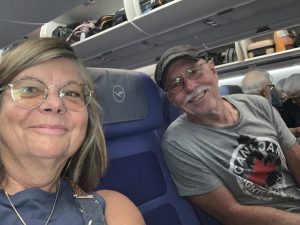 Unless you can afford a private jet, flying to Europe from Canada is a long and arduous journey. It's well worth it, of course but it is such a long trip.  Our path took us from Winnipeg to Montreal to Munich and finally Dubrovnik. Lufthansa airlines did their best to make our long flight overseas as comfortable as possible but it's still a solid 22 hours of traveling.
We pulled the trick of booking aisle and window seats, hoping no one would want the middle and lucked out on the long overseas flight.  The extra space, pillow and blanket added to our comfort and still it was a long flight.
When we finally debarked in Dubrovnik I used Uber for the ride into town. It proved faster than the bus and cheaper than a taxi, even though it was a well marked taxi that we rode in. Oli dropped us off at Pile Gate, there are no cars inside the old city so we walked the last couple of hundred metres.
Where to stay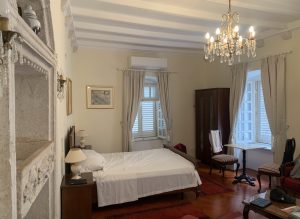 Old town! Seriously this is no time for frugality. Our room here is ridiculously expensive for our budget, $600 for three nights. I looked and looked for something cheaper, but for me it was important to stay in the heart of the city.
We walked down the narrow cobblestone lane, squeezing past diners, then climbing stairs. My google maps said we had arrived at Antunini studio apartment, yet there was no marking on the door. Luckily, the proprietor was right behind us. Our accommodations here are stunningly beautiful. Character and charm, with a little balcony hanging right over the action on the street, it's comfortable, noisy and steps away from everything. We cooked dinner for friends here one night, had a bit of a party another evening. We just loved the place!
Walking the Historic City Wall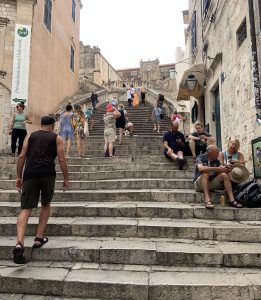 You enter Dubrovnik walking over the ancient drawbridge at either Pile Gate or Ploce Gate. Remnants of the old moat are still here. The city wall is now a major draw and thousands of tourists walk the approximately 2 kilometre walk every day. The cost to get on is 35 euros, and the beeping of the scanner taking your money is just constant. We were in a throng of tourists the day we walked but don't let that deter you. We are all here for the same experience.
It takes a solid couple of hours to walk the wall, mostly because of the photo ops. I was wishing I had my fit bit, just to count how many hundreds of stairs I climbed up there.
Consider buying the Dubrovnik pass, 35 euro for one day or 45 euro for a three day pass. It gets you onto the wall as well as other museums and forts in the city. It saved us a few euros but more importantly it encouraged us to explore more than we might have without it.
Fort Lovrijenac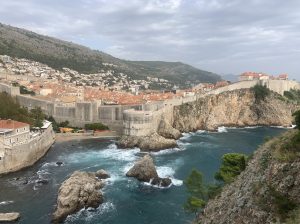 Looming over the city just outside of the walls is the majestic fortress of Lovrijenac.  A visit here requires some serious stair climbing (again) but rewards you with a fabulous view of the city, the sea and the beaches. Your Dubrovnik pass will save you the 15 euro admission.

The churches of Dubrovnik
There are so many beautiful ancient churches to explore within the town walls. We spent an entire afternoon just roaming though them.  In between the churches one can wander through a monastery and several museums. Usually the Dubrovnik pass allowed free passage, or at least reduced entry fees.
The Beaches of Dubrovnik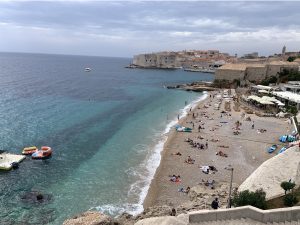 Did I mention that we didn't have enough time here?  As if the history, the food and the friends weren't enough, Dubrovnik is surrounded by little beaches. The Adriatic Sea is wonderfully warm. The beaches are pebbly, bring water shoes.
The most famous beach, and the one located just steps outside of Ploce Gate is Banje beach.  Although the sea was rough during our visit I was determined to swim. I emerged from the water triumphant and a little battered.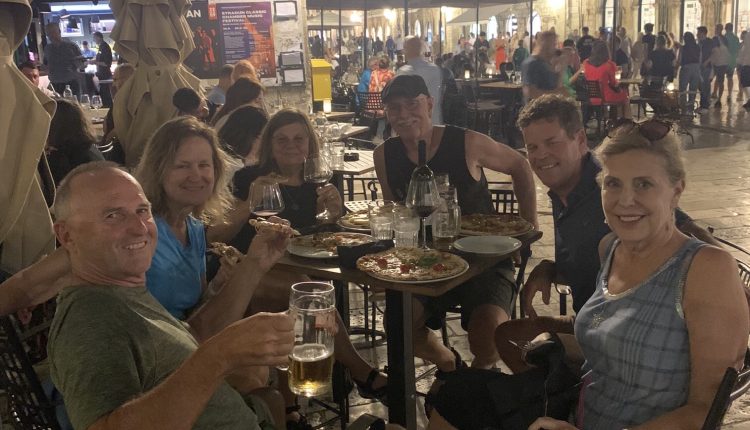 We are off today to catch a ferry to Korcula. I wish we could linger a little longer.
If this blog post looks a little odd I am writing on a beat up old iPad, cracked screen, broken keyboard. I'll fix it all up when I get home.