March 14, 2017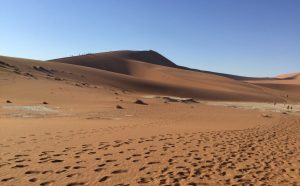 The alarm on the cell rang at 4:30 AM. By 4:45 the camp had been dismantled and we were lined up at the gate. Last night the park attendant told us it was not possible to see the sunrise from the top of "big daddy", the largest dune at Sossusvlei, the oldest living sand dunes in the world.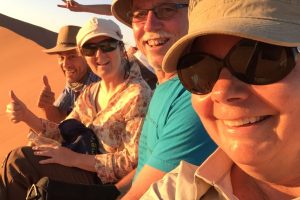 We are now determined to be first in line at the gate when it opens at 5:45. We are third. Britzy is completely self-sufficient, so we make our morning coffee while we wait. When the gate opens, its a 60 k sprint down a paved road lined with sand dunes, and then 5 more k 4X4'ing through the deepest, softest sand I've ever seen – think talcum powder. The full moon is lighting our way through the darkness. First one, then another vehicle gets stuck but we get around them both. It's a sprint up the dune and that's not an easy climb. There's about 10 of us that actually make it. Good morning March 14th.

Namibia has been one surprise after another. The population density is lower than Canada, but obviously doesn't include the wildlife. There a few "Please don't litter" signs at rest stops, this country is clean. It's also touted as the safest country in Africa. Good place to start.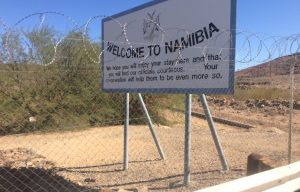 Right from the border, Namibia had a nice vibe. The border crossing was easy and friendly. They are used to seeing the Germans and Dutch here, but Canadians are a rarer occurrence. The guard at the border wanted to know more about Canada.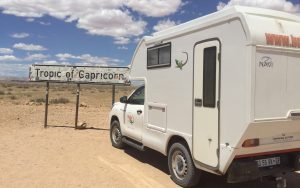 We are not roughing it  – far from it. Our Toyota is incredibly comfortable, with a nice stereo system when we get reception, air conditioning and comfortable seats. When the gravel roads get bumpy we let some air out of the tires to smooth it out, and then use our compressor to inflate them again for the highway. Our bed is at least a queen size, and our fridge is always well stocked with ice-cold beer, wine, soft drinks and food. We've cooked every night. Most of the time we have a pool. Unlike the bus and truck tours, we stop EVERYWHERE – and for as long as we want. We are traveling between 200 and 400 k a day.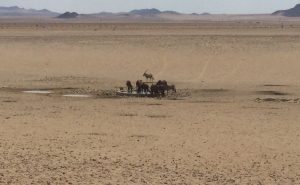 In Aus, a very nice little town in the heart of the Namibian desert, we celebrated Ray's birthday, enjoying a very nice schnitzel and beer dinner with our new friends Susanne and Mike. The wild horses came into camp in the evening, looking for beer apparently. We all took selfies with them, not their first time I'm guessing.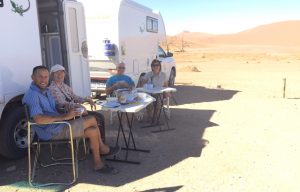 We traveled with new friends Mike and Susanne for several days and amazing evenings. One evening we enjoyed wild oryx cooked over an open fire in the desert, just the 4 of us with no one else for miles around. This morning we parted ways, having breakfast together at dune 45, the spot the less adventurous watch the sunrise from at Sossusvlei. If we see them again it will mean trouble for us, as we've gone ahead.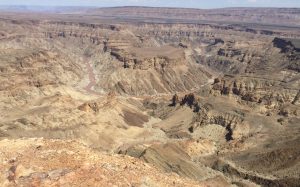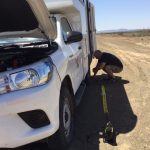 So far we've enjoyed hot springs and canyons, sand dunes and desert. The roads have mostly been gravel, some pavement and even some sand. We've spotted springbok, oryx, baboons, ostrich, zebra, seals, wild horses, flamingos and one lonely wildebeest.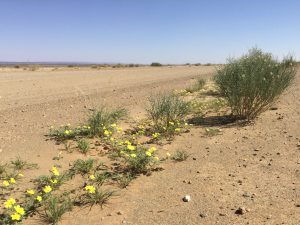 We explored an abandoned diamond mine in Luderitz, where our English-speaking guide brought the place back to life for us. She told us stories of the outlandish ways people tried to smuggle diamonds out, and the lengths the management took to catching them. 800 Namibian men would be hired for a 2-year contract. They would hunt diamonds on their bellies, with their mouths covered so they couldn't swallow them. A week before dismissal they would be quarantined with laxatives and forced to poop through a screen. They began to hide diamonds in wounds instead, and let the skin heal over.
To borrow Ray's term, we have taken the glitz out of Britz. Today we will be cleaning sand out of the air cleaner, repairing one tire and cleaning out the mess made when vinegar, coffee and garlic powder all spill at once. We are now taking our first breather, in the seaside resort town of Swakopmund, where there are plenty of services to help us and a beautiful beach.