March 7, 2017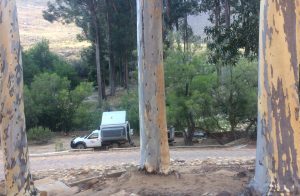 Well, we are finally on the road, and not without a few surprises. Our first surprise was that our rental camper was not available on the day they picked us up in Cape Town. It had been in an accident and another one was on route from Johannesburg, scheduled to arrive too late in the day for us to set out. They wanted us to take an older model and promised to deliver the new one the next day to our campground. Since we're used to the old Westie, we had no issues with the older Nissan they gave us, and the camping was quite comfortable too. We headed off to our first destination – the Cederberg Wilderness Park.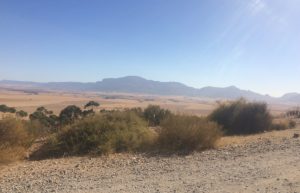 The second surprise of the road trip was the condition of the highway we are on. We are taking a main highway along the western cape, and it's just beautiful. The scenery reminds us of Saskatchewan or Alberta. It's pristine here, both in the city of Cape Town and out here on the highways. This is not really what we're used to when traveling. It's like they've yet to discover plastic and fast food. We got a bit lost and did, on our first day, what we said we'd try never to do – pull into our campsite at dusk. We are not allowed to be on the road after sunset, nor are we insured. All turned out ok, of course.
Ray did an excellent job of driving, hardly ever turning into oncoming traffic. We are driving on the left hand side in a right hand drive vehicle. His biggest issue turns out to be with the signal lights and windshield wipers that are in reverse position. We have the cleanest windows.
Ray was not up for driving through Cape Town to shop for supplies, so we headed out with no supplies. We stopped about two hours later in a nice smaller community of Pikketberg, found a great grocery store and stocked up. I bought a 5L box of wine for 111 R (or $11 CDN) – and then saw it on sale for 96R at the liquor store next door. I know what you're thinking – swill – but you would be wrong. We'd pay $20 a bottle for this quality in Canada.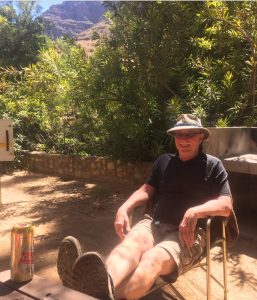 The Cederberg area is famous for it's hiking trails – over 500 kms of trails in the region.  The brochure says: "This is a wilderness area of 72,000 hectares. To cherish the wilderness experience, all trails are unmarked and hikers are encouraged to wander off the beaten track." We are not in Canada any more.
Unfortunately we end up waiting in our campsite for the new vehicle all morning and didn't get a chance to hike, but it's a beautiful spot and we're actually in need of a down day. We enjoyed a swim in the river in the afternoon, floating lazily among schools of small fish we could not identify. There were other people here earlier, so we assume they won't eat us.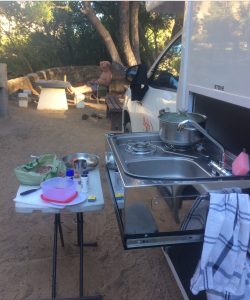 The new vehicle is fabulous and delivered by a man and his family out for a Sunday drive. We're finally packed and settled into our new home for the next 7 weeks or so.
The drive from Cape Town to Namibia is usually described as long and boring, exactly what we newbies need to settle in. We stopped at a caravan park in Springbok for the night on the way to the border. We met a nice South African couple in Springbok camping in a huge camper they imported from the US. Jorrie was baking bread on a small little braai – that's BBQ over here. I MUST get one of these for the Westie. She brought us fresh bread when it was done and then told us exactly where we need to go for the next month or so. I took notes. We've also found a good map book.
Day 4 I woke up super early and actually got out of bed. I was showered and dressed and off for a walk before 7 AM. There were three men camping down below us with bicycles and they were just packing up. I had to find out where they were going – holy cow its Cape Town to Cairo! They've just begun a six month journey. We passed them a few hours later, 36 K down the highway where one fellow was changing his flat tire in the hot African sun. The other two had cycled up the mountain to find shade and wait. They have a Facebook page Cycle Africa Trio.
The road doesn't change until we reach the Namibian border, but when it does it's rather dramatic.
Now if we ever get WiFi you might see this blog post. We really are way off the beaten path.