None of my research prepared me for the amazing Cape Town, South Africa. This is so far the most beautiful city I have ever visited. The spectacular beaches framed by the ominous mountains, Table Mountain being only one of many, makes for a startling natural beauty. The friendliness of the people, the cleanliness – I can often see 4 garbage cans ahead on the streets – and the ease of getting around makes this city a great tourist destination.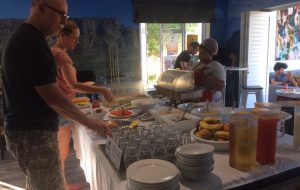 We are staying at The Ashanti Gardens hostel, one block off of Kloof street which turns into the iconic Long Street, the most famous tourist district of Cape Town. Both Long and Kloof are saturated with restaurants, coffee shops and bars – with a girlie place thrown in for good measure.  The hostel accommodates all sorts, from tent camping, mixed dorms, unmixed dorms, private rooms and ours – a private little cottage. We have a pool, restaurant, bar and tourist desk. We also have a wide assortment of international travelers staying with us. They don't recommend hiking in the mountains alone, so today we hooked up with two solo travelers, Eli from Holland and Eddie from Australia for a brutal hike down Table Mountain.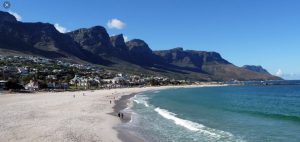 Yesterday we bought a 2 day bus ticket on the double-decker tourist bus. We get to hop on and hop off wherever we want, and it included a harbour tour. We went to the beaches and walked for hours. The beaches here are amazing, on the Atlantic so the water is cool – or cold if you are South African. There's Camp Bay and the beaches 1 through 4.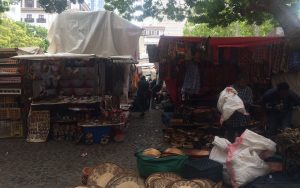 We walked along the sea wall, where South African's play. People are walking, running, skateboarding and even wind surfing all along the sea. We briefly explored the waterfront, with its hundreds of shops and rather pricey restaurants. We found some great fish and chips just off the main drag. We also visited the waiting cell for Robben Island prisoners and visitors. We don't have time to visit Robben Island – maybe before we come home.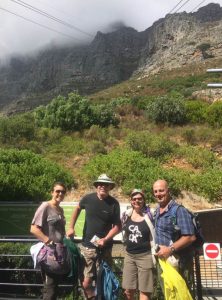 Ray and I were planning to hike up Table Mountain and then take the cable car down. Eddie really wanted to do it the other way around. It's a pretty good workout either way. My knees are a little sore now,  but we had so much fun with this group that I wouldn't have it any other way. We had heat, sun, cold and rain all in a 3-hour hike. It's not a 3 hour hike, we just stopped often for photos and chatting.
You can't write about South Africa without mentioning the  crime. It's completely obvious everywhere – no subtlety at all. Every home is surrounded with razor wire and most are electrified. Our hostel has a 24 hour guard as well as all the fencing. Every street has a car guard working. We spoke to one today, the price is 10 Rand per hour, or about a dollar. We visited the market for about 20 minutes today, and Ray is minus his camera, snatched out of his knapsack. Just a moments mistake, but a good lesson learned. His camera was old, he has another and there's only 2 days of photos on it. It could have been much worse.
So that's our 2 days in Cape Town. Tomorrow morning our care-free ways are over. We will be collected at 10 am – or about, the traffic here can be incredible – and taken to pick up the camper.