Ahhhh…. After a month of trains, planes, buses, boats and scooters through 3 countries, it's time for a little vacation.  A week on the beach is just what the husband ordered.
Koh Lanta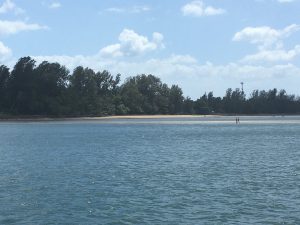 Koh means island in Thai. Lanta is in the middle of the Andaman Sea, accessible only by boat. It's a relatively large island, 30 kms long by 10 kms wide. Of the 30,000 people that live here, 70% are of Muslim faith.  A mosque beside our resort broadcasts prayers five times a day. One traveller we met seemed to think that's why Thailand's sex trade has no presence here. Could be. The clientele is European with lots of families. We are the only English speaking people at our resort.
I picked the middle of the island for no particular reason. There seemed to be some streets and businesses on the map. I booked 7 nights in a bungalow at the Lanta Palace.
Lanta Palace
We arrived a week ago in the nick of time for a fabulous sunset, bone weary tired. Our day was long. A flight from Cambodia, an hour long wait for a taxi, several hours on two boats finally ended here on the back of a truck in a Songthaew.
They assigned us a bungalow with a view of the parking lot. We went for a swim and the beach left a lot to be desired, rocks everywhere, hard to walk in and out and nothing to see underwater with the masks. The pool had a filtration issue that a loud portable pump was noisily trying to correct. Dinner was the worst papaya salad we'd had in this country. How disappointing.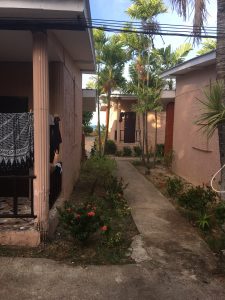 But then I asked for a new cabin and got a sweet garden location just off the beach. We had a great nights sleep and I got up early for a walk. Turns out our little private beach is just on the edge of beautiful Klong Nin beach. I could cross a little bridge and walk for an hour. The beach is full of restaurants and bars, without a single tout selling anything.
After my walk I tried the beach again. What a difference a tide makes! There was nothing but sand underfoot, but when I put on my mask and snorkel the ocean came alive. I've never seen anything like it from a beach. I swam through schools of small silver fish, thousands of them. Sardines, maybe? Ray found a rope full of squid. I saw eels and sea snakes. This was the state of our beach every morning.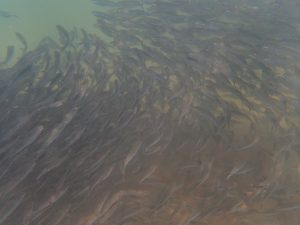 The pool filtration must have worked because the portable pump was gone. Lunch at the restaurant was the best Pad Thai in this country so far. The sunset swim was fabulous, now that we knew how to get into the ocean. The restaurant on the beach played reggae music all evening long. Our disappointment has turned into heaven.
Activities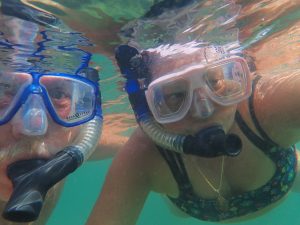 Koh Lanta is big enough to offer lots of activities. Check out their website for more info:  https://www.kolanta.net/koh-lanta-beaches-areas/. We actually had a hard time getting off the beach.
We did spend a day snorkelling, a trip you may already have read about: https://traillady.com/adventure-on-the-andaman-sea/Another day we rented a scooter and toured around the island.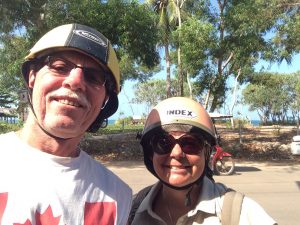 You have to rent a scooter here, everyone does. Tourists with babies are driving around on them. There are medical clinics every few kilometres, and tourists sporting various sorts of bandages from all the scooter accidents. No one cares If you have a drivers license (I saw kids driving) or what condition the scooter is in. The roads are pot-holed and sandy, perfect for wipe-outs. They ride on the left hand side here too. Our scooter had a warning light problem and a wheel bearing that clanked and clattered loudly, but it didn't break down.
This is a great island to explore. There's a National Park on the south end of the island, with beaches and nature trails. Old Town on the east side is a great little tourist stop. Saladin on the north is the largest town, and also the port you'll arrive at by boat.
7 days seemed too long to me, but it went by so fast. My skin has turned brown and my gait has slowed to a stroll. We're not done with Thailand yet. One more beach to explore.