Adventure on the Andaman Sea
Snorkeling Thailand
"Sometimes the only difference between an adventure and an ordeal is your state of mind."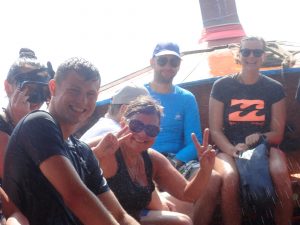 Not everyone enjoyed crossing the wild Andaman Sea on a long-tail boat as much as I did. The wild rocking and rolling of the old wooden boat and the walls of water pouring over the side and over our heads was more adventure than we'd paid for. Some of us, maybe 6 of us were grateful for the extra adrenaline, the other 25, not so much.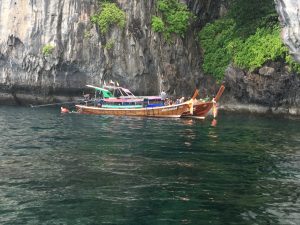 No trip to Thailand's southern beaches would be complete without a snorkeling tour. To save a few dollars, and because the clientele is usually more fun, we booked onto a traditional long tail-boat. The other choice was a modern speed boat, but that was 200 baht more ($8).
Booking Your Tour
Every tour operator on the island books a four-island snorkel tour, but in reality there's only two choices: speed boat or long-tail boat. After our hair-raising long-tail boat adventure I was ready to recommend the more expensive speed boat, but I've since discovered the latter is even worse in rough seas. Your only choice is how much you want to pay. Our hotel charged 1000 baht pp for the tour. We walked across the street and paid 800 baht. Most other people on our boat only paid 600. Obvious advice is shop around and negotiate.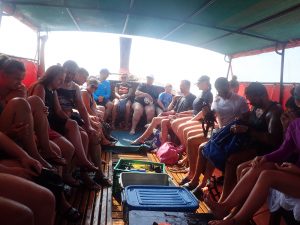 Checking the Weather
Ray checked the weather for sun so the coral would be bright, and that nasty wind symbol showed up. Didn't feel too bad here on the beach. I'm sure they'd cancel if conditions got dangerous. This is Thailand after all.
We were picked up by a songthaew at our hotel. As predicted, we'd found a fun group. Jesse and Joel, a couple of kids from England and 4 Spanish girls completed the group in the back of the truck. The front was also crammed with people. We bumped our way over the broken roads to Koh Lanta Old Town pier.
A long tail boat is a traditional Thai vessel that uses a (very noisy) regular automobile type engine for power with a small propeller on the end of a long steel shaft. It holds about 30 people comfortably. On first glance, our boat looked wholly unprofessional, life jackets well hidden, no snorkel fins and a crew of three. Not all the passengers were quite ready for the adventure that followed.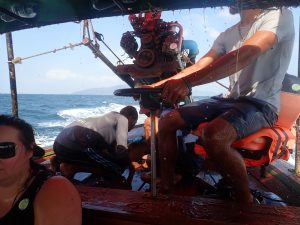 Did I mention that wind warning? It's hard to tell what's normal when you only do something once, but it seemed that our ride was rougher from the very start. Once we got into the open ocean it began to feel more like a survival mission. The sea was tremendously rough, and the long boat rocked and rolled furiously through the high waves. Huge walls of water would pour over the side of the boat, soaking everyone in the front, where I was. It got so bad Jesse put on her googles so she could see. I took my dry clothes off and sat in my bathing suit. The crew worked furiously to keep the boat upright, the captain steering this way and that to keep us in the trough of the largest waves. When he failed, we tipped perilously left or right. The crossing took an hour and a half.
Koh Chuek
When we finally arrived at our first island stop, Koh Chuek all was forgotten. There are no flippers on board, but enough masks and snorkels for those that don't have their own. Without mentioning the death defying last hour and a half we all just jumped into the ocean. The life under the sea was amazing.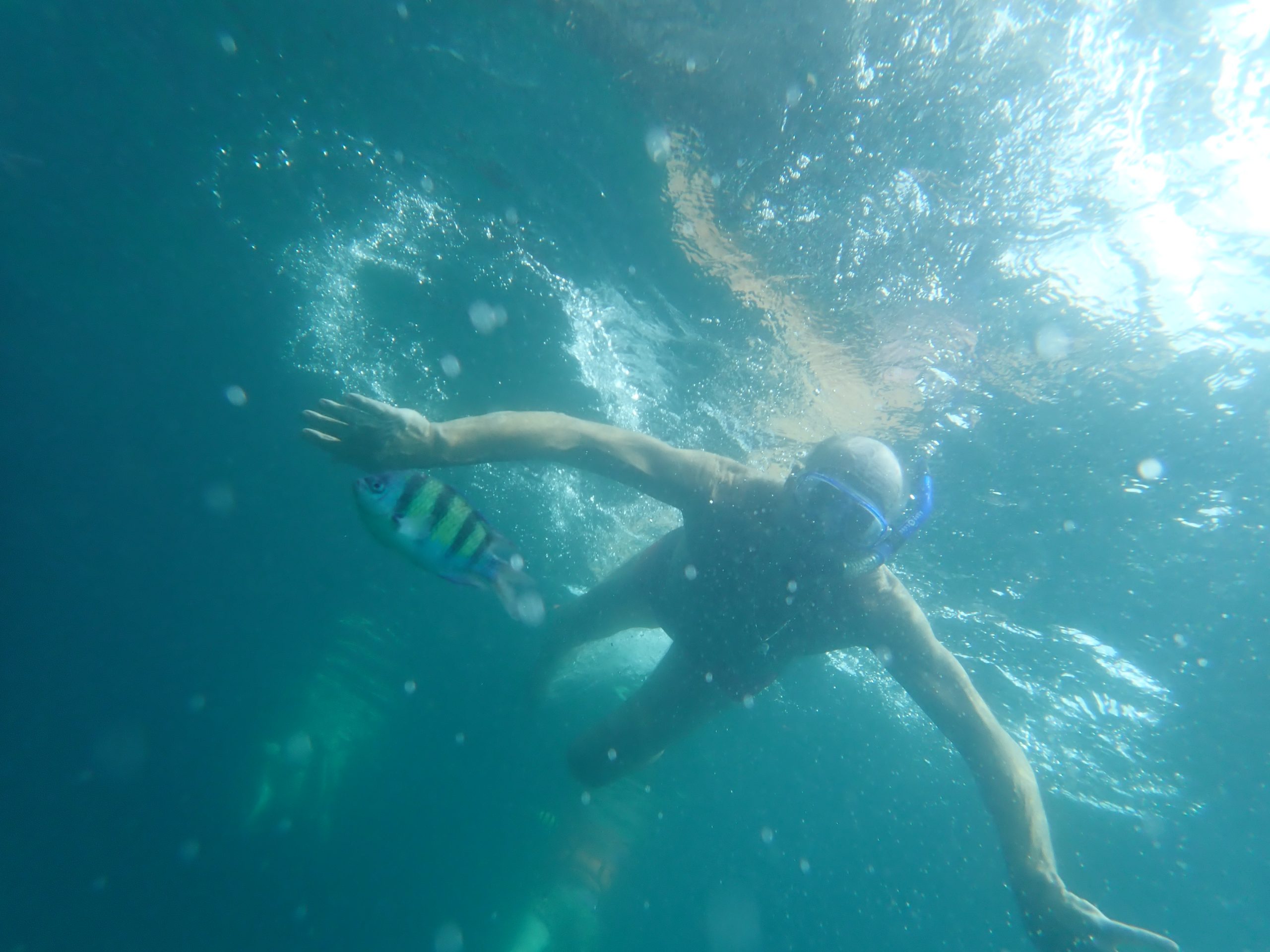 Koh Maa
Koh Maa was supposed to be our last stop, but our now much more professional-seeming crew decided to switch it up. The clouds were rolling in and they wanted us to see the coral in the sunshine. The brochure describes the reef here as soft and colourful. Simply, it was wow inspiring. I swam as long as I could but the jellyfish were stinging. The only person that didn't notice was Ray, and we almost left him in the ocean here.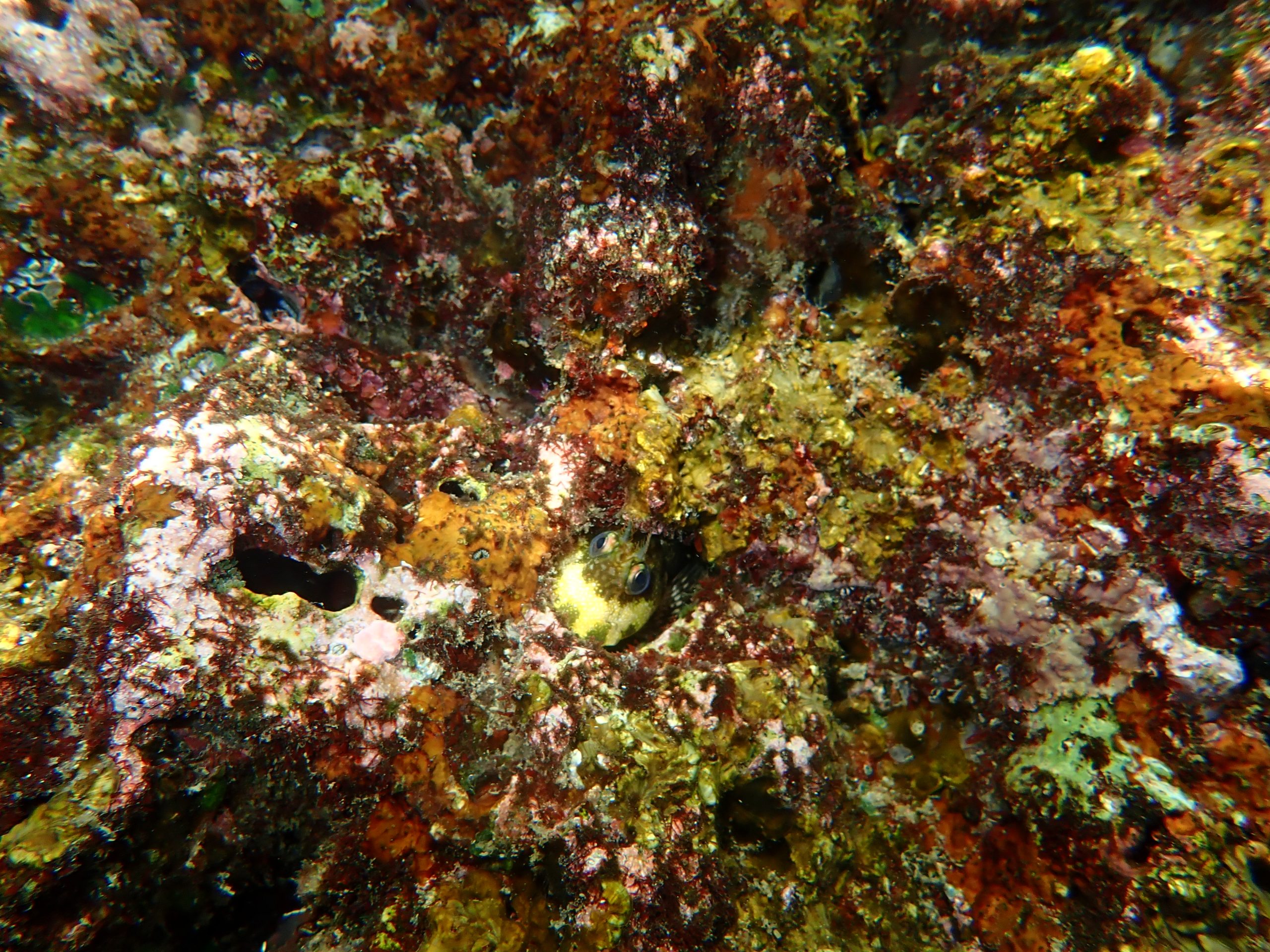 Emerald Cave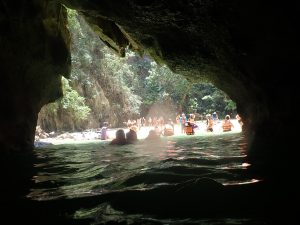 There's this cave out here, 80 metres long and pitch dark that you can swim into. The brochure says this will be the highlight of our trip. Our now very professional crew insists we all where life jackets. Not only are there enough to go around, they are all in perfect condition. We swim into the cave, with hoards of other long-tail boat passengers. Someone has a flash light so we can see the eery walls and ceiling of the cave as we swim. Miraculously, when we emerge at the other side we are on a beautiful white sand beach surrounded by tall cliffs and beautiful forest. It was so cool!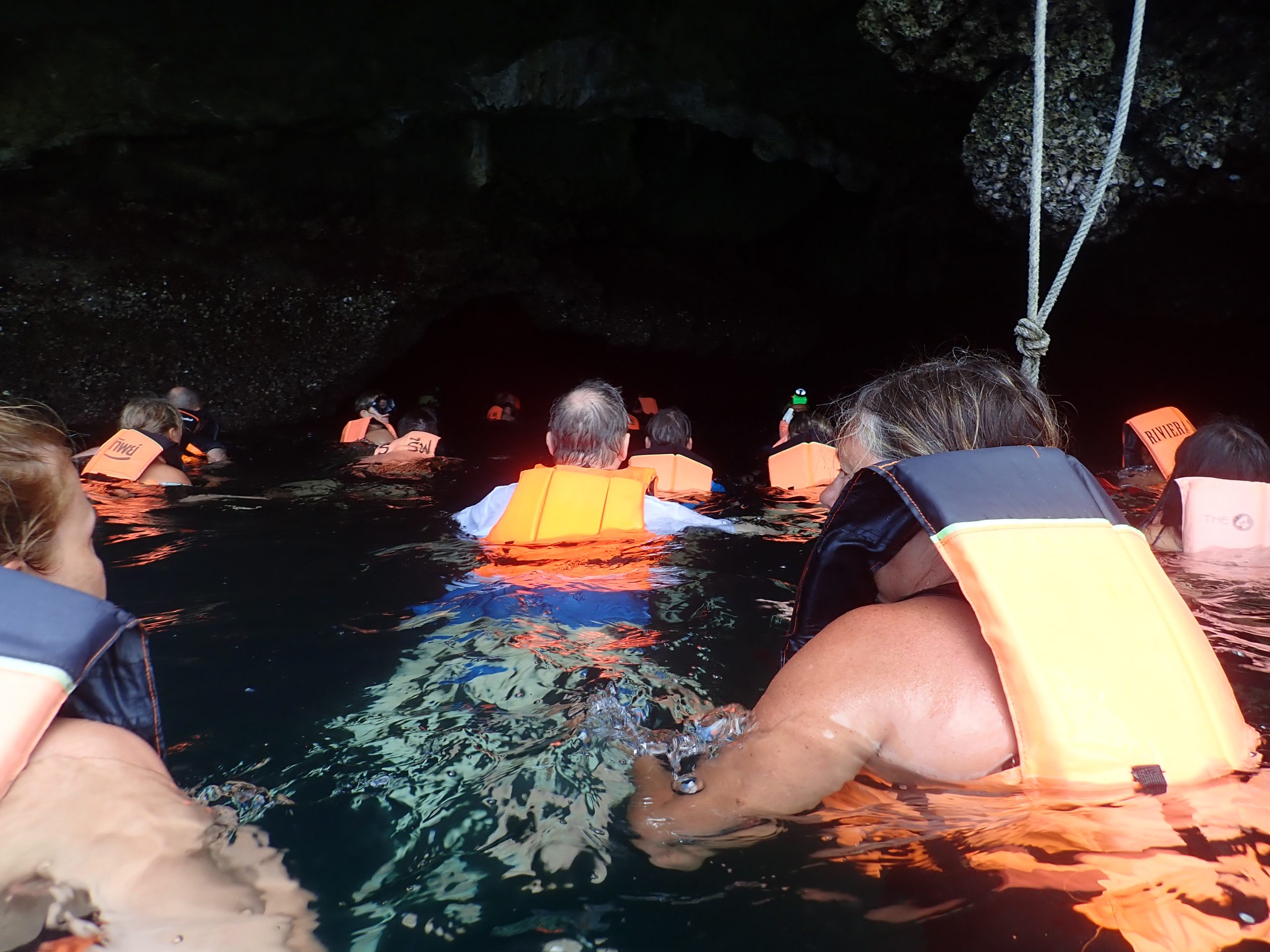 Koh Ngai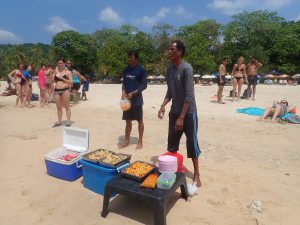 Our last stop is lunch on a paradise island. The meal was rice with three delicious Thai dishes, more than we could possibly eat. The beach was truly paradise. The water is crystal clear, with fish swimming around you as you wade into the water. Masks and snorkels are not required. We sat cross legged on the sand and ate lunch, then swam and relaxed for a couple of hours. We got to know our new Brit friends, met a girl from Alberta and found cold beer at a stand up the beach.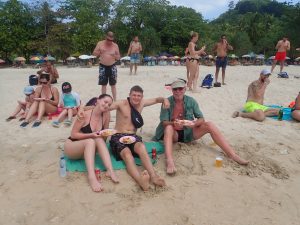 When we finally had to board the ship to go home I bet it was going to be better, that the wind had died down. I lost the bet.  We rocked and rolled over the wild seas all the way home. The crew battled furiously to keep us afloat while passengers turned greener and greener. I sat in the front with the Dutch and the Brits, laughing every time a wave poured over us. It was insensitive, I know but we couldn't help it.
While we waited in a queue to dock I asked the captain if this kind of sea was unusual. Yes, it's very windy he said. One more day of this and it will calm down. That's good because we have a two hour ride to Railley Beach on Sunday, and we've saved a couple bucks by booking the long-tails.