Thai Cooking Class – in Changmai, Thailand
"When you get to Changmai, take a cooking class", said everyone who has ever been here. To me this sounds way too touristy, but everyone raved about it. I thought I'd give it a shot.
Booking Your Class
If you google cooking classes in Changmai, over a hundred choices pop up. Even the hotel we're saying in offers one. They all cost exactly the same, 800 baht ($34 CDN) and I dare you to find a better deal. They aren't all the same, though.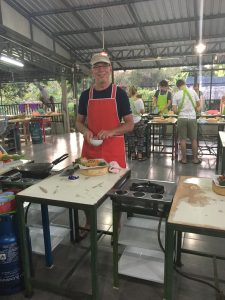 I booked mine by walking into the first tourism office on 6th street in old town Changmai, a place called House #11. I told Nick I wanted to book three things, a cooking class, a visit to an elephant sanctuary and a trek in Doi Inthanon National Park, and I was going to book all three at the same place when I got a good deal. We all liked Nick, and he gave us a pretty good deal on the other two tours, but there was no negotiating that cooking class. "It includes a farm visit", he said, "the best class in Changmai." He wasn't lying. Our experience was truly outstanding.
Smile Organic Farm Cooking School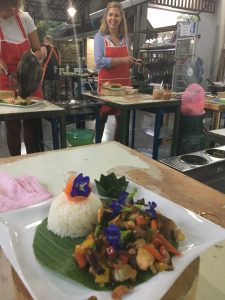 Lili picked us up at our hotel at 3 PM. There were 8 of us in the class, Ken, Louise, Ray and myself, a British couple and 2 Dutch girls. Our first stop was the market, where Lili gave us a tour, teaching us about all of the exotic foods we've never seen before. Don't buy anything to eat here. We made the big mistake of buying a few tasters. You want to show up at the farm as hungry as possible.
From the market we drove out to a beautiful organic farm. Lili showed us a spot where we could nap, which seems odd don't you think? We got it later, after all the eating. After a few minutes strolling around wondering what everything was, Lili came out to give us a tour. Some of the food we cooked came right out of the garden; peppers, lime leaves, lemon grass and beautiful purple bean flowers (I think) for garnish.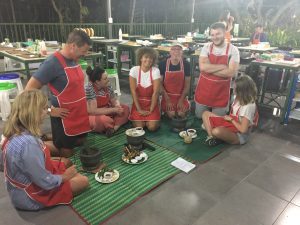 We had a brochure with 16 menu items and everyone assumed we'd be cooking one of them. Nope. We each got to pick a curry, a stir fry, and a soup and we made spring rolls as a group. We even ground the spices and herbs by hand for the curry paste. It was fabulous! We cooked and ate, cooked and ate – all evening long. Like it spicy? Make it spicy – like it sour, here's some limes. We had our own cooking stations, woks a sizzling while Lili shouted, "add the garlic, now the peppers." This could be the highlight of our trip.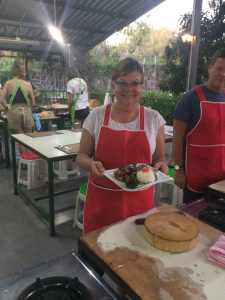 By the time we'd finished, we understood the lounge chairs for napping. Our table was littered with empty dishes and Singha cans. We all came away with a cookbook, so when I get home I can treat all of you to a traditional home-cooked Thai meal.
I give ours a 5 star rating. Check them out on line at www.smileorganicfarmcookingschool.com