Arriving in Bangkok at midnight is just about perfect. No worries about wondering how to sleep with jet lag, why would you want to? This is peak time.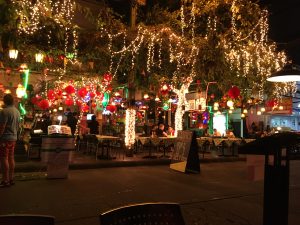 Villa Cha Cha is our home for the next few days and it's in the heart of the action, just off Khao San Road. With no bearings to help us that first night, we plunked our butts into two comfy chairs on the strip, ordered a jug of Singha and watched the party walk by.
This has been an intense introduction to Thailand. By day we walk in the heat among throngs of tourists. 36 degrees and humid but we're wearing long pants and closed-toe shoes so we can visit the temples. By night it's a party. No humility required now. The streets transform from ordinary to extraordinary every day. My first morning here was confusing, did I walk out of the wrong door?
Day 1 – The Walk About
Strap on your walking shoes, this is going to be a long exhausting day. We picked up a tourist map, downloaded a google map and headed  out into the streets of Bangkok. We were completely lost for the next 7 hours. Asking for directions was just inviting trouble from scammers.
Beware of scams, and traveling with polite and gullible husbands. We were right across the street from the Grand Palace when a policeman approached us. I tried to walk away, but Ray engaged the fellow in conversation. The Grand Palace is closed. This is how every Bangkok scam starts. The monuments are not closed! The nice policeman suggested we take a tuk tuk to two other monuments, only 40 baht – a heck of a great deal. He even showed us right to the driver we should use. I begged Ray not to go, but the only way to prove him wrong was to go along. An hour later and only 40 baht down, we'd visited a jewellery store and were back where we started. We avoided another similar scam the next day, and finally got to see the Grand Palace, but Ray would have surely gone for another joy ride.
There was a bit of truth to some of the temples being closed today. The monks were worshipping and needed some space. We visited many temples (only one closed) but don't ask me where or which ones, just none of the ones we were looking for.  We met monks and watched ceremonies and ate street food and walked, often in circles.
Street Food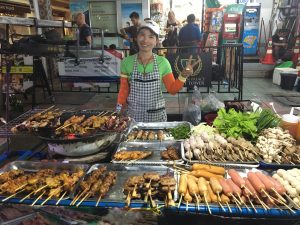 As we walked, we ate. I ate Pad Thai once, and a skewer of chicken with a sweet hot sauce for dipping. For the rest I have no idea. I had one bite out of some deep fried green veggie thing, and threw away the rest. We had soup with things that looked like little fish penises in it. At the end of the night we had some sweet crepe with cream that was to die for. We took all chances, this is what antibiotics were invented for. We washed all of it down with cold beer. Fantastic!
The street food in Bangkok is famous, but it's also cheap and plentiful. The only meal I had that wasn't really top notch was in a restaurant.  It's been three days and I'm not sick so go for it – I'm always sick in India.
The Temples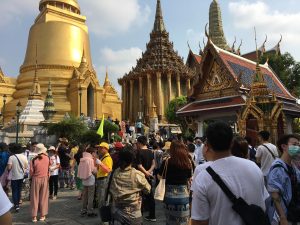 You can't walk down a street without bumping into a temple: Wat Phra Kaew and the Grand Palace, Wat Pho the reclining Buddha, Wat Arun, Wat Traimit, Wat Saket, Wat Suthat and hundreds more. It doesn't get long for Buddha fatigue to set in.
For me these are all fabulous monuments, but for the Buddhists making pilgrimage to the city they are sacred sights. Among the throngs of tourists wearing lavish elephant pants  to satisfy the dress code, are true worshippers trying to pray and meditate amid the mayhem. Please, if you visit show true respect.
Exploring by Water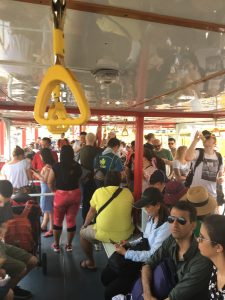 You must absolutely explore the Chao Phraya River by boat when you visit Bangkok. There's a hop on hop off boat that takes you all over the city. Tickets are 120 baht for the day (about $7). The river is as busy with boats as the streets are with scooters. Don't think about safety, just enjoy the ride. If you're brave use the local ferries to cross the river, $4 baht per person, The boat is loaded to capacity, standing room only and then leap frogs across the river between all the other boat traffic (and against their wakes).  600 baht will get you a tour of the canals, but we were too cheap for that.
We say good bye to Bangkok today, heading north to Chang Mai on the overnight train. Three nights was perfect, Bangkok has exhausted me. It's time for some mountains.