Hiking Doi Inthanon National Park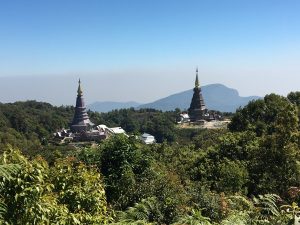 Nicknamed the rooftop of Thailand, Doi Inthanon National Park is a 2 hour drive south east of Chang Mai. No trip to Thailand could be complete without a little trail action. The tour we bought included sight-seeing stops along the way at the Twin Pagodas, Wachirathan waterfall and lunch at the White Karen Hill tribal village.
Ken did some research and read that it could be cold up on the mountain, even as cold as Canada! For some reason, Ray took this seriously and wore pants and long underwear. We're not sure why, he never wears pants in Canada. His attire was a source of great hilarity all day.
We got to see a little tour guide aggression on this trip, a chick fight no less. Our tour guide had picked up the wrong people at our hotel, leaving us waiting for an hour with someone else's tour guide. When the error was finally figured out, the ladies got mighty angry with each other. A slap fest ensued and some tourists had to pull the girls off each other. When our tour guide got back in the bus she was steaming hot. She got on the phone, and since we don't understand the language we had Ken quietly translate for us.No, Ken doesn't understand Thai, he just hilariously pretends he does and makes up stories.
Kew Mae Pan Trail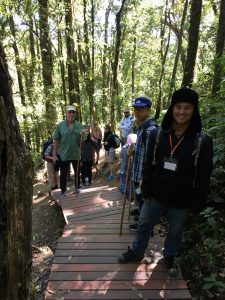 The highlight of the day, and the reason for the tour was a hike along the Kew Mae Pan trail. 3.5 kms long, the trail hits the highest point in the country at 2,565 metres. There's enough climbing, up and down a few times to be a good work out. The scenery is absolutely stunning. At one point veered off to a viewpoint and could see the twin pagodas sticking out of the jungle way below us. Distance never tells the story in the mountains. The trail took us 2 hours to hike.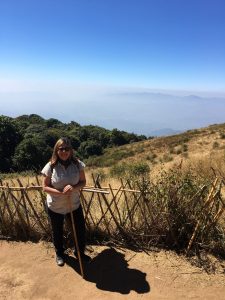 After the trail, we were taken to the monks market. The Italian sitting beside me leaned over to say quietly "my least favourite part of any tour", and usually it's mine too. This monks market, however was a wine tasting stop – who would have guessed. Besides lots of free samples of exotic wines, like mango, blueberry and passion fruit, they'd used all the same fruits to make vodka. While Louise and I enjoyed the wine stall, the guys were just naturally guided to the vodka.
This is the last time I member seeing my expensive prescription sunglasses. Sadly I think I may have left them on the bus.