Hiking the longest trail in the world
Mel Vogel becomes the first woman to walk the entire Trans Canada Trail
28,000 kilometres, 3 oceans, 5 1/2 years; Melanie Vogel became the first woman to walk the entire length of the Trans Canada Trail on Saturday, November 12 2022.
This epic journey caught the hearts and minds of adventurers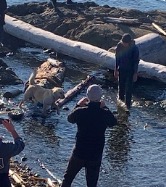 Mel graciously shared the last 6 kilometres of her journey with those of us lucky to be in Victoria. I feel privileged to have been here to see her dip her feet in the Pacific Ocean at Clover Point in Victoria, BC – Point 0 of the Trans Canada Trail. Her sidekick Malo, the yellow lab who adopted her while walking through Manitoba beat her to it.
The Trans Canada Trail
The Trans Canada Trail is the worlds longest recreational trail, spanning Canada from coast to coast to coast. It is made up of a series of connected multi-use trails, roadways and waterways from Cape Spear, Newfoundland in the east, Tuktoyaktuk, North West Territories in the north and Victoria, British Columbia in the west. Mel has joined a very small alumni of people who have traversed its entire length, but has earned the distinction of being the first woman to hike it all.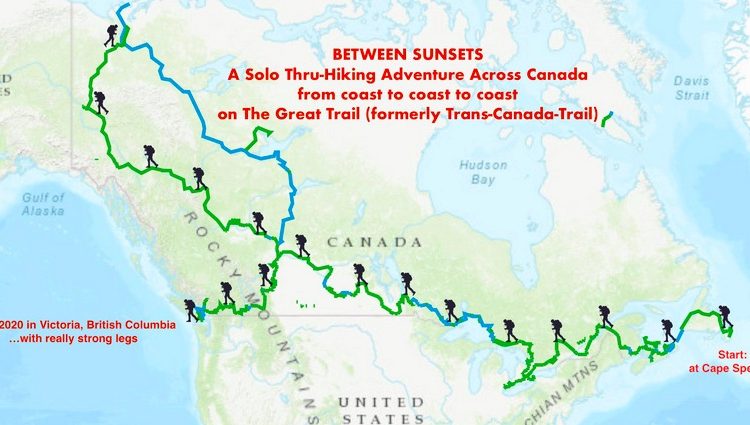 Mel's Story
Mel's story, day by day is well documented on her Facebook page Between Sunsets. Followers like myself got drawn into her life on the trail.  Mel also maintains a blog at betweensunsets.com.
Other social media feeds Mel maintained over the years:
There is still nothing like hearing directly from the source.
The Trans Canada Trail posted a great summary of Mel's journey: https://tctrail.ca/news/melanie-vogel/
Manitoba
I picked up word of Mel's journey when she walked into Manitoba in February of 2019. No one in their right mind would choose February to take a stroll through Canada's coldest Province, but here she was.
I don't recall who contacted me but it was a slightly frantic email. "This woman is walking into Manitoba this week and it's -35 C right now. Can you host her?" Sadly I could not. I was enjoying the balmy weather of the west coast at the time. I sent a message out to my trail group in Pinawa, The Pinawa Friends of the Trans Canada Trail.
They don't call it Friendly Manitoba for nothing. I followed her Facebook postings as she traversed the south and north Whiteshell trails with support from some of the warmest trail guardians in Canada. On her trek through Pinawa, the Greber's hosted her in their home and helped transport her sled. Mary Greber contacted people she knew on the trail ahead so Mel could find a warm bed for the night wherever possible.
Somewhere along the way in Manitoba, a dog started following Mel. She tried to shake him (she says). She tried to find his owner, but Malo was determined to adopt her. He may have been up for an adventure, but I bet he had no idea what he was signing up for. From this point on Mel was no longer alone.
The Yukon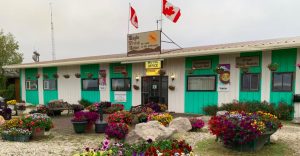 Mel and Covid reached the Yukon at about the same time. "Surely the pandemic will be over soon," thought Mel, "but it wasn't!" The North West Territory barred non-essential travel for a year and a half, while Mel waited to continue her hike.
She became a resident and employee of Eagle Plains Hotel. The Yukon left it's mark on her. Mel's future plans include living in The Yukon because "it is as wild as I am."
---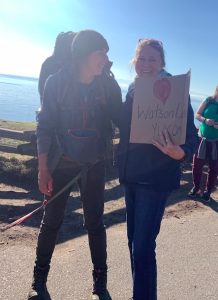 On Saturday Mel  talked a lot about the kindness of Canadians. I don't know if she is fully aware of the impact she's had on the Canadians she touched as she passed through our country. Someone was waiting on the path near the end with a sign from Watson Lake, Yukon. That's where they had met her and they'd come to watch her finish. My Pinawa friends watched with tears as I posted a live video of her finally splashing in the Pacific Ocean. Across the country people followed her journey, with curiosity of her adventure and concern for her safety.
The End
Every journey has a beginning, a middle and an end. The longer the middle, the more momentous are the bookends. I cannot imagine what a journey as epic as this might feel to complete.
Mel first thought she'd like to finish alone, the way she started. Near the end she agreed to allow her followers to join her on the last 6 k. Meghan Reddick, Communications Officer from the Trans Canada Trail organization flew out to honour her. The local news picked up the story. There was fanfare, but I hope not too much. I sincerely hope Mel finds the quiet fire on the ocean she had imagined finishing with years ago.
Good luck Mel, in whatever lies next for you. There had better be a book in it.