I tried to map this years journey on Google maps but I ran out of stops. How long does it take to drive from Manitoba to the west coast? Twelve days for us and at times that felt like a rush. #joyofretirement
A Tale of Two Homes
It's not something we planned. We'd like nothing better than to find one location that fits us perfectly. Pinawa comes with old friends, garden, river and wilderness; Victoria  with children, grandchild, ocean trails and craft beer laden patios.
I've come to relate with the geese. When the first day of fall arrives, we migrate, and we're getting pretty good at it.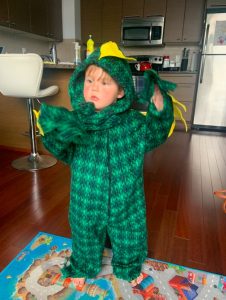 There are logistics to owning two homes, 2598 kilometres apart. A list is required, and even then hats and Halloween costumes can get left behind.  Thanks Kim for mailing T-Rex to us.
As organized as one can be, the morning of departure is a busy one. Even though the autumn weather is balmy this year, we must winterize our town home before we leave. The water is turned off, the pipes drained and filled with antifreeze. It could be easy to leave the furnace off on such a warm morning. Ray needs to drive through town waving good bye to everyone, as if we are on parade.
Road Trip Day 1 – Turtle Mountain Provincial Park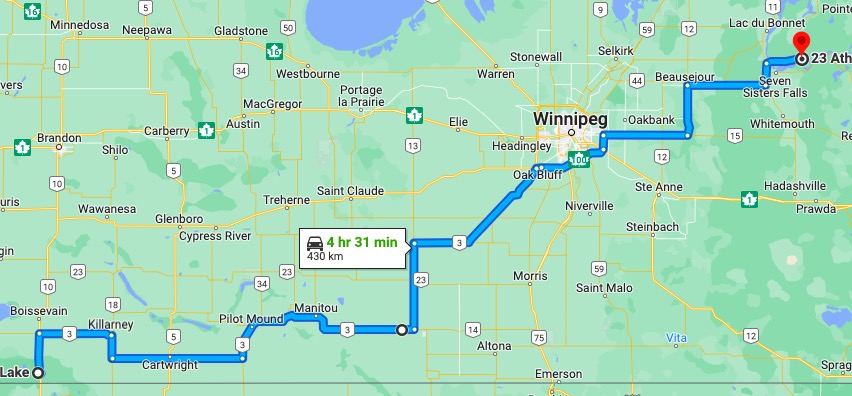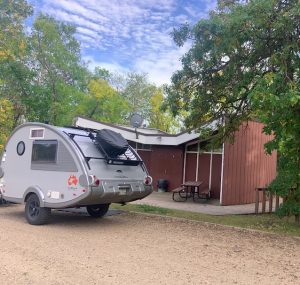 No one can accuse us of hurrying. We didn't even get out of Manitoba today.
There's no indication on line that the Adam Lake campground in Turtle Mountain Provincial Park would be closed this early in the season, but it was. What's up Manitoba? It's only September 22nd!  That just turned us into squatters, or boon dockers as we prefer to call ourselves.
The advantage of closed campgrounds are many, the first being they are free. Tonight we can park wherever we want, there's no one else here. It's cool and windy on the shores of Adam Lake so we elected to park in the shelter of the closed Visitor Centre above the lake.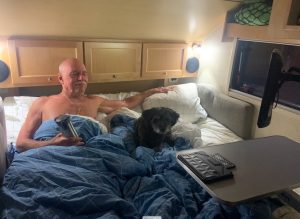 A few dog walkers showed up in the early evening, but after that we were alone. Tucker and I explored some of the trail system, and the abandoned campground. This spot won't go on the repeat list, and not just because of its early closure. It's nice enough, just rather unremarkable. We ate our simple meal of quinoa salad and snuggled into the Ritz early for movie night.
Day 2 – No Where Saskatchewan (St. Victor's Petroglyph Provincial Park)
We have decided to hug the Canada – US border across western Canada this year and so far that's been Highway 18. This is a new route for us. Without a Petro-Card, fuel is scarce and presenting challenges.  We will not be migrating again without one.


One of the disadvantages of boon-docking in a closed campground is the lack of washroom facilities. The Ritz does have a bathroom complete with shower but it doesn't really fit Ray. Our #iOverlander app alerts us to the Estevan Leisure Centre on our route and we decided to take in the pool, hot tub and shower there. Admission was a hefty $10 each (double the price of British Columbia pools) but still worth the stop. I got in some laps, the hot tub was wonderful and we emerged squeaky clean and ready for more wild camping.
Our goal for the night was to sleep in Grassland National Park somewhere, but fuel became the issue. When we accidentally arrived at a US customs port, the guards there advised us that the nearest fuel would be in Assiniboia. On the way, iOverlander guided us to an amazing overnight stop at St. Victor's Petroglyphs Park.
St. Victor's Petroglyph Park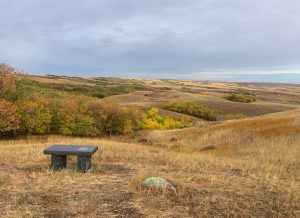 To divert 10 k off the already rather unbeaten track into nowhere Saskatchewan with an empty gas tank is what some nutters call adventure.
We are on the edge of Grasslands National Park now and the scenery is simply spectacular. The fields are in their full golden harvest. St. Victor's Petroglyphs are perched high on a hill, with 360 degrees of panoramic view of the valley. We are completely alone for as far as we can see, but there are animal fences to protect us from what? I'm not sure.
As the sun set, some distant lights emerged. Over wine and the last of the quinoa salad, darkness revealed a star-studded sky only Saskatchewan can deliver. Coyotes began howling and kept it up for hours – far enough away for safety by the mostly calm demeanor of Tucker. We are truly on the road now, and we all slept like zombies tonight.
Day 3 Val Marie
Grasslands National Park
Stepping back in time, Grasslands National Park are the prairies the way the first settlers would have found them. Almost 1000 square kilometres of preserved natural grasslands are here for exploration – if you can figure out how to get in.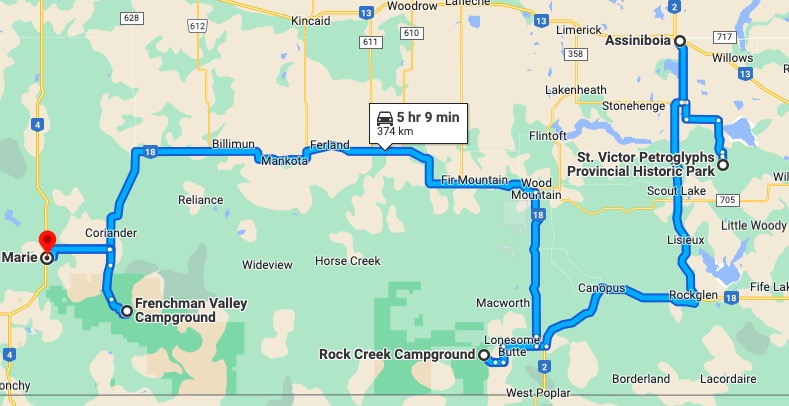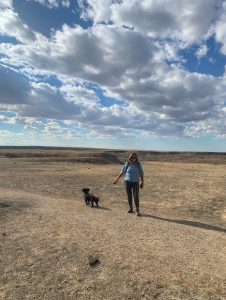 Today was a day of meandering in and out of the park. There are two entrances, neither looking terribly impressive. We felt lost most of the day.
We hiked among the gophers (poor Tucker) and took the shine right out of Ritz with the orange dust of the gravel roads. There is no pavement in the park.
We booked a campsite at Frenchman Valley inside the park but canceled it once we saw it. We spent the night on grass in the quiet community of Val Marie, where the free hot showers were most welcome.
Day 4 Cypress Hills Interprovincial Park – Alberta
We've made it to Alberta! Our goal of never touching the Trans Canada Highway had to be abandoned today. Highway 18 turned into gravel. Everything we own is now covered in dust, as it permeated the inside of the truck.  We need a Costco booze run anyway. We hopped up to the main road briefly to Medicine Hat before meandering back down to Cypress Hills Interprovincial Park, Alberta.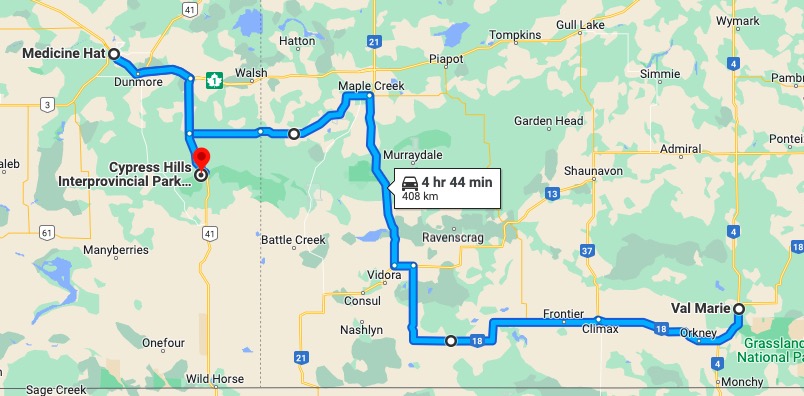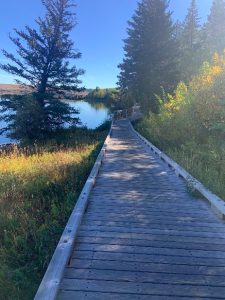 We almost didn't stay. First impressions were that we didn't have the right trekking gear to fit in. If not trekking gear then maybe we should tie sweaters around our shoulders, lah de dah.
But Ray was tired and it's only one night so we went in to book a spot. "I'll put you in a bay by yourself so the dog can be off leash,"  says the helpful clerk in the overpriced store. Not what I expected. "Is there a nice place to hike?" I asked? Everywhere apparently – the entire park is joined by intertwining hiking trails. It was fantastic!
We spent a beautiful evening exploring the trails and had pizza at what might have been a great brew pub, except that no one working there was old enough to pour us a beer. We hiked back along Elk Lake as the sun set.
In the morning, while Ray caught a few extra zzz's Tucker and I climbed Old Baldy and got just lost enough for a good morning hike.
Day 5 and 6 – Writing on Stone Provincial Park
"You must visit Writing on Stone", Lorna told us before we left. We'd never heard of it before she mentioned it, but suddenly everyone agreed this was a must see. Everyone was right.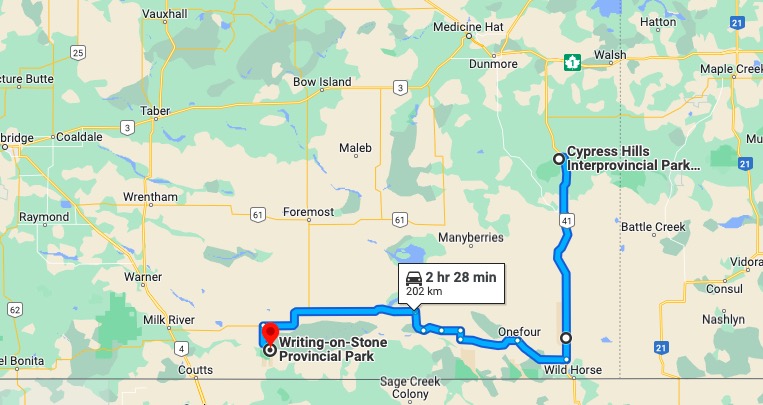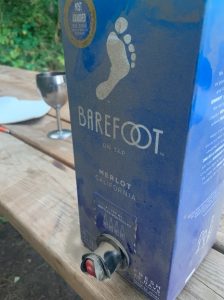 With a truckload of fine Costco wine and almost a week on the road, we've chosen this spot for a 2 night rest, and to celebrate our anniversary.
It is unusually hot in southern Alberta this fall; so hot I had to stop and buy shorts and a tee shirt in Medicine Hat. All my summers clothes are buried deep in the belly of the truck, inaccessible Ray tells me.
On arrival, Writing on Stone surprises. There is nothing to see on the interminably flat prairie of southern Alberta until you're almost on top of the  scenic Milk River valley. Suddenly an expanse of hoodoos and coulees open up before the dusty road.
We checked in at the modest Visitor Centre before heading down into the valley to camp.  It's quiet this time of year but you can see that the parking lot is big enough for a lot of tour buses. The campground is not that large – reservations would be a must any other time.
We parked the Ritz in a scenic spot with a backdrop of hoodoos, almost on the shore of the Milk River. There's a beach on the river, a great hiking trail through the hoodoos and even our first bonfire. The ban has finally lifted, although I don't know why. There's been no rain here for months.
Day 7 Waterton Lakes National Park
For some reason we can only travel for a couple of hours at a time now. At this rate we may never make it home.

Waterton Lakes National Park has unfortunately suffered through an expansive forest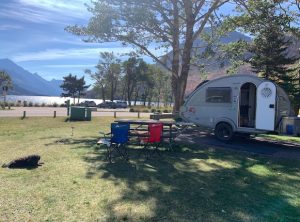 fire recently. The town site was saved but is currently the only campground open in the park.
As we drive through the park, we can't help but admire the stark beauty of nature, even when its fierce and destructive.  The blackened trees contrast with the bright red and yellow foliage on new growth already emerging to replenish the land. It is truly spectacular.
The camping here is fine, on the edge of Waterton Lake with great services – washrooms, showers and cleaning stations. It's a short stroll into town along the lake, where there are several blocks of restaurants and gift shops. Some businesses are shuttered for the season already.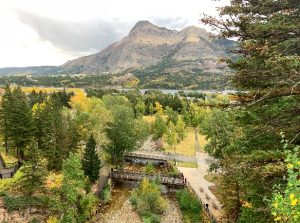 The tour boats on the lake are still running, but at reduced hours. We found a patio for dinner that welcomed Tucker and browsed through a few shops.
We hiked the Cameron Falls trail right from the campground in the morning, then went looking for propane.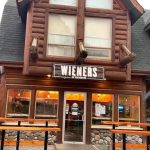 I got it into my head that I HAD to have a hotdog from  Wieners of Waterton, that was recently featured on Amazing Race Canada. We dawdled over the propane long enough for the place to open, and then drove up to the Prince of Wales hotel to dine with a view. The hotdogs were mildly disappointing and the hotel was closed. Time to look for British Columbia.
Day 8 – Salmo, BC
We're motoring now! Salmo you say? Where the hell is Salmo, and why are we stopping here?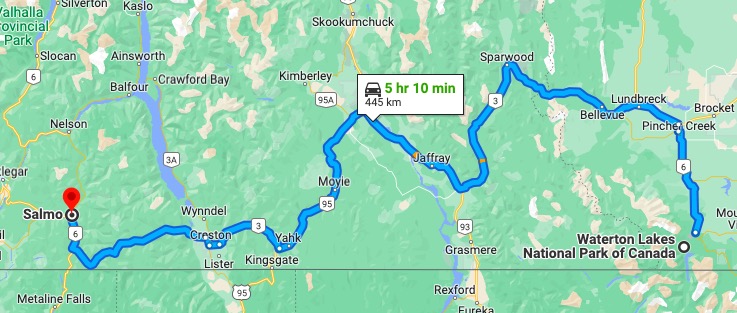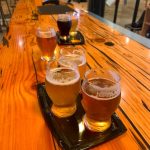 This is a great little town we discovered last spring. Nestled in the west Kootnay's, it's draw for us is the Eerie Creek Brew Pub and the wonderful $15 municipal campground on the edge of town. We enjoyed the free hot showers, a flight of beer at the pub and made some new friends. We all agreed to remember each other next spring.
It's just a stop for the night, but a very pleasant one.
Day 9 and 10 – Halfway River Hotsprings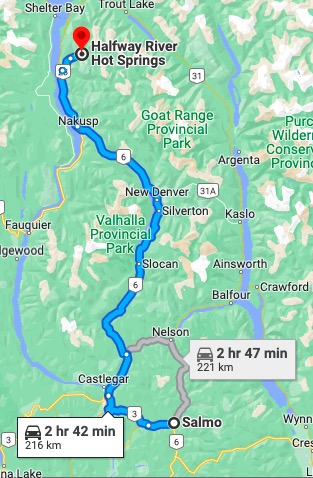 Time for a little R&R after all our hard work getting here. I won't go into much about the hot springs. I expounded on it extensively in the spring when we first discovered it.
I'll just say this; arriving on the Friday of a long weekend in September is quite a different experience than our early May on a weekday stay.
We squeezed the Ritz into a parking spot. Every camp spot was officially taken. Bob was great at trying to find a place for everyone. He even arranged for a picnic table and fire pit for us.
The pools were crowded, the air thick with smoke from all the campfires. It was different, but it was great.
Day 11 Penticton / Osoyoos
Time to ease back into the world.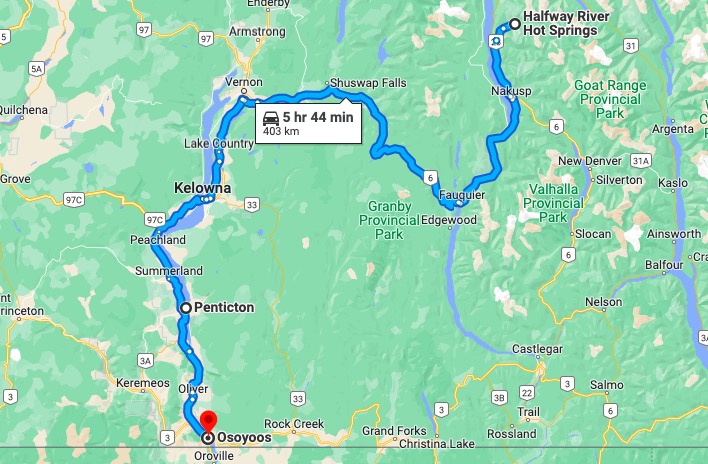 Today is about visiting friends and family. An all too brief stop in Penticton to say howdy to May and Kathryn was followed by another brief visit with son Pete in Osoyoos. Almost home.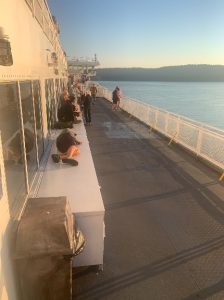 ---
When we arrived at the Tsawwassen Ferry Terminal Tucker went nuts. He stuck his head so far out of the window I felt the need to hold him to prevent him from falling out. What is he so excited about? Does he smell the ocean?  Has this become familiar to him? Does he know he's almost home? Do we?
Twelve days it took us this year. Life is the journey. Our annual migration is one beautiful journey, no matter the route.