My heart rate is slower, my blood pressure reduced simply by spending a few days in the forest with friends.  This is medicine I highly recommend.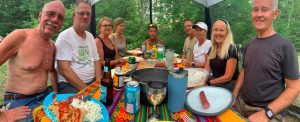 Way back in April when our Pinawa friends suggested booking a week of camping at Big Whiteshell Lake, I was skeptical. Campsites are tough to book and easy to cancel though, so we played along.
Why Camp?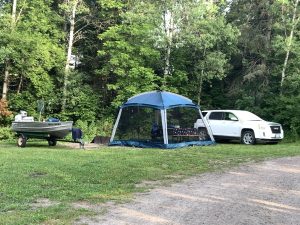 Why camp, indeed? It's the silliest thing. Judging by how hard it is to get a campsite, there's a lot of us doing it. We spend tons of money on equipment, pack for hours and drive for many kilometres all for the privilege of sleeping somewhere no where near as comfortable as our own beds. Our group isn't even escaping a concrete jungle. We are literally just visiting a different lake. It makes no sense. But camp we must, apparently.
The Big Whiteshell Campground lies along the shore of Big Whiteshell Lake just off Provincial Road #307 on Provincial Road #309, in the heart of Whiteshell Provincial Park.  A basic site will set you back about $13 a night and another $5 will get you electricity. Book sites on line at https://prsweb.gov.mb.ca.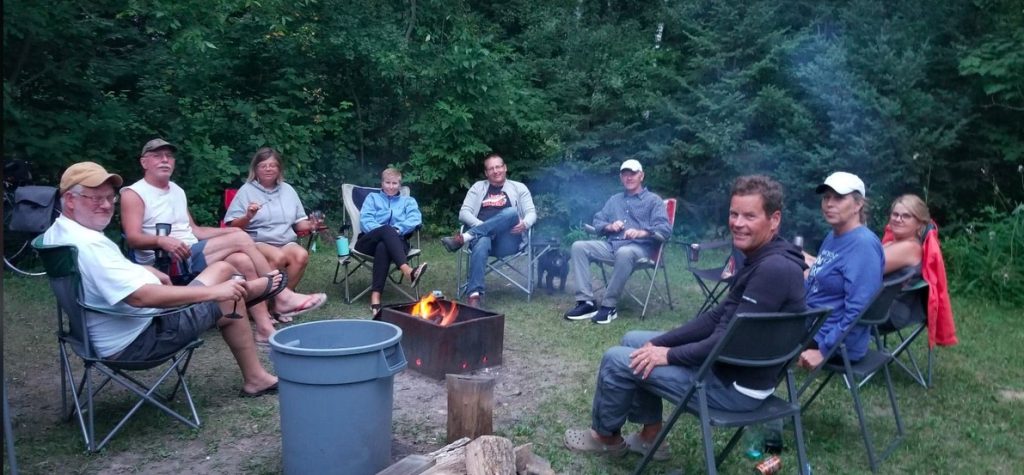 Things To Do
Fishing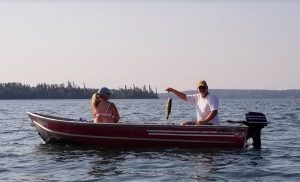 Big Whiteshell Lake is a stellar spot to spend a morning on the water angling for dinner. Mornings at the boat launch here are buzzing with action.  With over 17 square kilometres, you could get lost exploring all the bays and shorelines those fish are hiding in.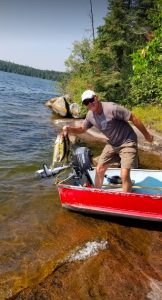 If this lake isn't big enough, try an energetic hike into neighbouring Crowduck Lake. There's a portage across the lake from the campground and many people store a second boat on the other side. Because of it's remoteness, the fishing is even better in Crowduck.
Ray and I are not avid fisher people, but luckily the rest of our camp mates are. Fresh fish was almost always on the menu. Barb and Christine get together to make the best fish tacos I've ever had.
Be sure and familiarize yourself with Manitoba's fishing rules before heading out by reading the 2022 Manitoba Anglers Guide.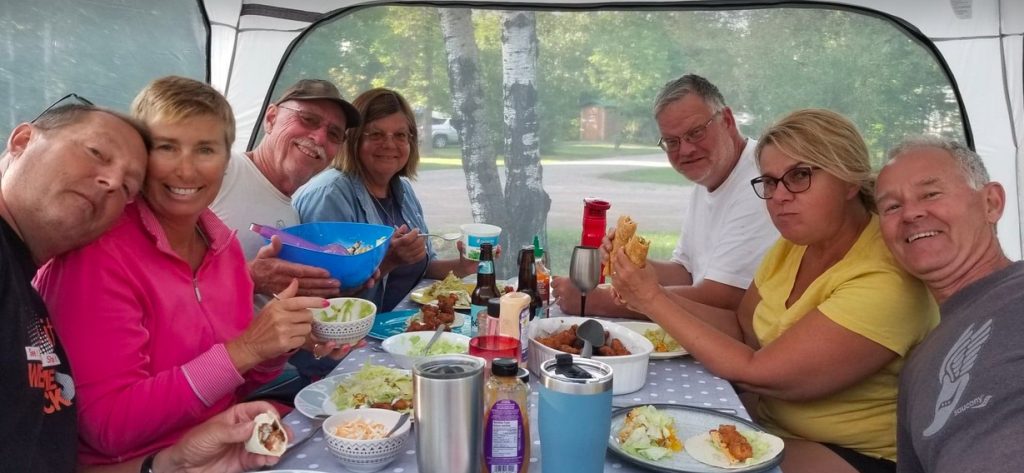 Water Sports
Whether it's the sandy beach or the rocky cliffs you want to swim from, make sure you submerge your body into the waters of Big Whiteshell somehow. Both are popular spots on a hot summers day.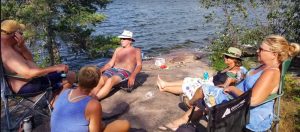 Tucker is not welcome on the beach so we hung out on a big flat outcrop we fondly named Happy Hour Rock. Families set up camp all along the shoreline. Older kids enjoy exhilarating leaps off the cliffs.
Paddle boarding, canoeing, kayaking and tubing are other fabulous ways to while away a hot summer afternoon.
Hiking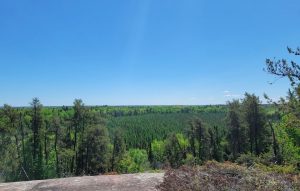 On the other side of the highway directly across from the fresh water station is the  Big Whiteshell Trail. This approximately 1.5 kilometre route meanders through the Canadian Shield up to a beautiful granite outcrop. Bring your camera. The view from the top is spectacular. If you're there at the right season you might want to bring a pail too. I had a breakfast of blueberries on my visit.
In case you're looking for a more intense adventure, the north trailhead for Mantario Trail  is nearby.  This 60 kilometre multi-day trail is intended for experienced hikers as it traverses the challenging precambrian shield.
Big Whiteshell Resorts
Just in case camping is not your thing, there are a couple of resorts with cabin rentals on the lake. Whiteshell Lake Resort would be the perfect choice if your friends are campers but you are not. Located right beside the provincial park campground, the resort offers lakeside cabins and a chance to try all sorts of water sports.
If you forgot your wine (or ran out even) Big Whiteshell Lodge can help you out.  Besides cabin rentals they also have a well stocked store with liquor and a licensed restaurant. The weekend we were there they were advertising live music. It's close enough to boat to, or in our case to paddle board.
Gateway to the Wilderness
Memories of past adventures flood over me as I watch the passage of small groups of canoes returning from the wilderness. Big Whiteshell Lake is the staging area for so many expeditions in my past.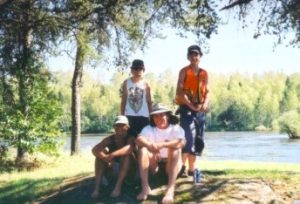 The paddle across Big White is always an adventure. It's a big lake and rarely easy. Wind and waves almost always deliver a challenge. Back in the olden days, scouts at the boy scout camp could come out to tow canoes that couldn't quite make it. Whether you're heading to Mantario, Caddy Lake or further afield, there is nothing like a few nights spent in the true wilderness.
I personally have canoed to Mantario more times than I can count. I have canoed through Big White on my way home to Pinawa from Caddy Lake. I've skied across the lake in January and hiked across the lake in March, listening to the creaking and groaning of the ice breakup under my boots. I've traversed that lake by canoe first with my Mother, then my sister, my husband and even with my kids.  Check out Paddle the Whiteshell elsewhere on this blog.
---
Camping season is almost over. The summer seems to have slipped away too quickly. We were camping here mid-August but it's been such a busy summer it took me until now to record the experience.  As I write, the geese are loudly amassing on the Winnipeg River. Like us, they are preparing for their great annual migration.  It's been a wonderful Manitoba summer.