The Ritz is packed and ready. Tucker has been watching and has worked himself into a stressed out frenzy. Its finally time to hit the road!
Every year we pick a different route to make our way from Vancouver Island to Manitoba, and back again. This year we added the iOverlander app to our navigation and found some spectacular spots to spend the night.
The Spring 2022 Route
The theme of this years crossing is people. Friends and family have always been an important part of our lives, but Covid has put this into the spotlight. The crossing is no longer a rush to get somewhere. It has evolved into a slow meandering excuse for hooking up with old friends and hopefully meeting new ones.  The journey was 2,841 kilometres through western Canada's most spectacular scenery.

Victoria to Surrey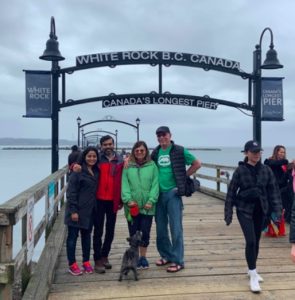 Day 1 and we didn't get far.  Our friends Gunjan and Farhan have bought a new house in Surrey, BC and we need to see it. The ferry service from the island has been notoriously unreliable lately so we were lucky to be on board the 11 AM sailing. A wonderful afternoon and evening of exploring White Rock, eating the best Indian food you'll find in this country and catching up with friends was the reward.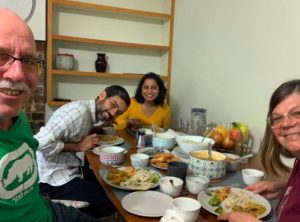 We squeezed the Ritz into their driveway for the night. No matter who we visit, they all say the same thing. "We have room in the house, you must sleep inside."
Here's the scoop on that. Visiting is wonderful, but it can also be exhausting. After an evening of food, drink and conversation there is nothing better than retiring out to your private retreat in the driveway. A week of packing has gone into making The Ritz as comfortable as possible. Share your WiFi with us, and possibly your bathroom but we are actually more comfortable in the driveway.
iOverlander
Gunjan and Farhan turned us onto  iOverlander,  a user driven travel app. They discovered it on the Arctic to Antarctic adventure. We used it prolifically to find free or cheap camp spots as well as a bunch of other travel related needs (like dump stations for instance) on the rest of our journey.
Surrey To Penticton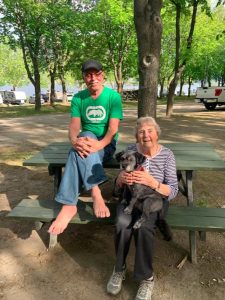 Next stop is a visit with May, our 90 year old pseudo Mom.  May still lives on her own in Penticton, a beautiful city with a lake on each end and surrounded by mountains. Being 90 is isolating enough, but throw Covid into the mix and an active old lady like May craves company. We enjoyed borscht and perogies together at the Polish Bistro in town and a visit with Tucker in the campground. Again we had to resist her offer of a bed for the night.
As beautiful as Penticton is, it is NOT friendly to campers like us. We paid $57 for one night at Wright's Beach Campground.  The camping was quite nice, right on Skaha Lake with a great hiking trail but not worth the price.
This was our first time The Ritz stayed in a full-service spot. We took the opportunity to hook her up to everything. Turns out the water pressure was too strong and she didn't like running her furnace on electric-only.  The Ritz shines in the wilderness. We did leave full of clean water and empty of the other stuff, ready for a few days of boon-docking.
Halfway HotSprings, Nakusp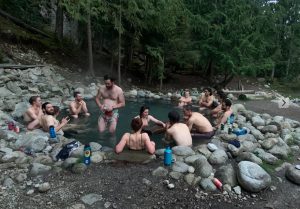 Day 3, Day 4 and we haven't made it out of BC yet. It's snowing in Pinawa, AGAIN. No point in rushing.
Our next stop is another short 4 hour drive to Halfway Hotsprings. This gem of a spot deserves it own blog post. If you haven't already, check it out: https://traillady.com/halfway-hotsprings-nakusp-bc/
Nakusp to Salmo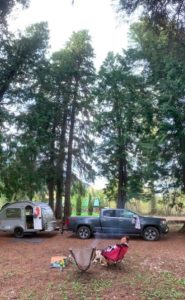 Day 5 and we haven't yet found the Alberta border. We put iOverlander to work to find this $15 stop in Salmo, BC.
After a two-day soak in the hot springs, the Warenko's are moving even slower than usual.  We could not simply drive through the town of Nakusp, so we dawdled and restocked the groceries here. Our only restaurant meal on the road was a great breakfast at the Cafe in town.
Nakusp is a wonderful little town surrounded by mountains. We planned our next stop for Nelson, BC at a campground that looked nice enough on iOverlander, but most importantly advertised good WiFi. It's games night tonight, an on-line ritual that began with Covid but will continue long past the pandemic. The Nelson site wasn't the friendliest for Tucker, though. iOverlander, what's next on your magic map?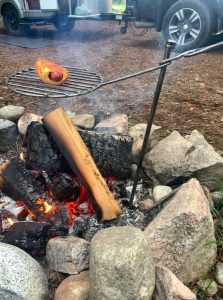 Salmo is a village nestled in the heart of the Kootenay's with a municipal campground. iOverlander says the fee is $15, there are picnic tables, firepits and showers included. We head for that.
While pulling into town we started to look for firewood for sale. We asked two men walking down the street, and one of them offered to deliver a load to us. Really? For $10 yet. I doubted it would show up, but never doubt the kindness of small town people. He had an ulterior motive though. He is a blacksmith, and he brought along a fire pit grill to try to sell us on. You can see more of his beautiful work on his Etsy site https://www.etsy.com/ca/shop/Salmoforge. This is one of the best grills we've even owned.
Salmo also has a microbrewery, the Erie Creek Brewery. It's a 5 minute walk from the campground. This place deserves a spot on our repeat list.
Salmo to Bow Island, AB
Time to get the lead out and find our way out of British Columbia. Navigating completely by iOverlander now we find a perfectly suitable stop in Alberta at the municipal campground in Bow Island. The fee has gone up from $15 to $20 for unserviced sites. It's an unremarkable but quiet stop for the night. It's location, just 60 km from the Medicine Hat Costco where we fill up with cheap tax-free liquor is it's best attribute.
Bow Island, AB to Wolseley, SK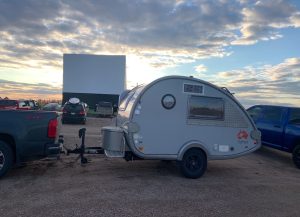 Hoping to put the miles on now, iOverlander forces yet another early stop. "Hey Ray, there a drive-in theatre up ahead that welcomes RVs." "That's cool," says Ray, "but it's way too early to stop." We drive right by it, then circle back. We could stop and make dinner first. Indecision reigns until Ray mentions the great blog post this would make.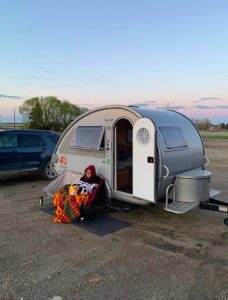 The Twilight Drive-in in Wolseley, SK has been in operation since 1954. The current manager inherited the place from his Dad, and has retained all the old world charm of the drive-in theatres we went to as a kid. He shows us where we can park for the night. When we arrive there are about a dozen cars, but by the time the movie starts I count at least 70 more. Admission is $10 a person to a max of $25 for a full carload. For us that includes the overnight parking.
It was a cold night in Wolesley. Too cold, it turned out to watch the movie outside.  We fired up the furnace, cleaned the window and snuggled into bed.
When we woke up, we found ourselves in a deserted drive-in parking lot. Tucker had a great time exploring.  The gate had been left open for us. We locked up on our way out.
Coming Home Again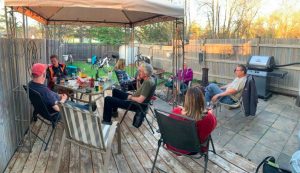 We pulled into Pinawa on the Sunday of the May long weekend, a little later than we'd planned. We always second guess leaving one paradise to head to another.
Our Manitoba friends have endured a harsh winter. A final, at least I hope its final, snowstorm just before we got back didn't help anyone's mood. We bring with us some warmth and sunshine. Our Pinawa friends come out with food and drink to greet us.
It's good to be home.