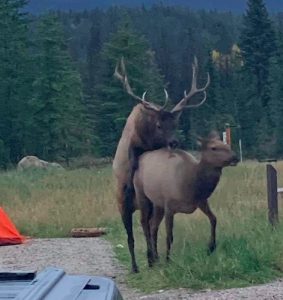 We slept to the eerie sound of bellowing bull elk resounding through Whistlers campground.  The horny beasts were everywhere, one standing guard right outside our campsite. It lasted 24 hours, and then just like that they were quiet.
We still had the unusually fierce Canadian Geese to contend with, as well as big horn sheep, female elk and the threat of bears. It was like an African safari minus the safety of fences. Fantastic!
This is October camping in Jasper National Park, Alberta Canada.
About Jasper National Park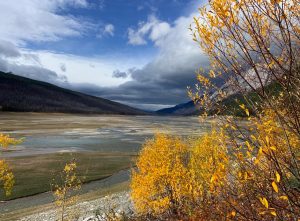 Jasper is the largest national park in the Canadian Rockies, covering over 11,000 square kilometres. Almost twice the size of it's better known cousin, Banff, what Jasper lacks in reputation and glitz is well made up for in it's wildness. Whether, it's hiking, cycling, kayaking, canoeing, camping, sight-seeing or just taking in the views over a glass of wine on a patio, Jasper really does have it all.
Almost a four hour drive from Edmonton, the nearest large city puts Jasper a little off the beaten track.  That doesn't stop almost 2 1/2 million people from visiting every year.
Things to Do in Jasper
Camping
There are beautiful hotels, rustic cabins and even a hostel in the park but the best way to experience a Jasper night is in a campground. There are 12 front country campgrounds and another 19 more back country to choose from in the summer, but only two remain open in October. Whistlers and Wapiti campgrounds are open all year long.
https://www.pc.gc.ca/en/pn-np/ab/jasper/activ/passez-stay/camping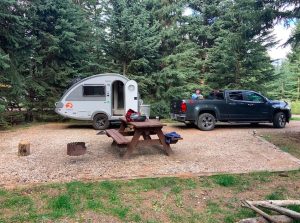 We stayed in the larger and newer of the two year-round places, Whistlers. It's been closed for two years for renovations so now it's virtually brand new. I wouldn't call this a great thing for a campground. With over 700 sites available, much of the serviced areas resemble a Walmart parking lot, frankly.  They ran out of the "free wood" that you must buy a burning permit to utilize, but we had no trouble scrounging enough for each of the three nights we spent there.
There are some beautiful sites available too and we lucked out and got one of those. We stayed in site 9k – unserviced, but our rig is designed for boon docking. It seems like choosing the back of any bay is a good idea. If you can use the on-line booking tool you'll find a photo of each site to assist you, but it becomes first come first serve at some point in October. The washroom facilities are also brand new, clean, heated but in our case guarded by spitting geese.
Wapiti is a couple of kilometres down the road (away from the town site of Jasper) and has about a third of the sites of Whistlers. Although older, the sites are no more treed than in Whistlers but the washroom facilities are older.  It's more of a cycle into town than a walk, but it's a great trail for either.
It gets cold at night in the elevation here in the fall. We welcomed our sophisticated heating system in the Ritze, but marveled at the number of tent campers still braving the below freezing nights.
Hiking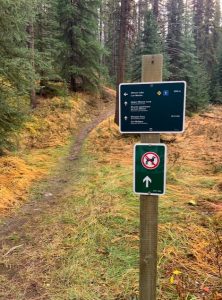 The opportunity for fabulous hiking is almost endless in Jasper. Choose short, easy day hikes or longer back country treks. Bring your bicycle for some amazing mountain bike opportunities. https://www.jasper.travel/things-to-do/hiking-walking-biking/
Beware if you're traveling with dogs as they are not allowed on most of the hiking trails. Considering the crowds on the trails in October, I can see why that's the case. Jasper trails are crazy busy all of the time. We managed to find enough dog friendly trails to exhaust all three of us.
Wapiti Trail
Wapiti Trail runs between the Wapiti campground and the town of Jasper. Sandwiched between the Athabasca River and highway 93A it is flat and easy, suitable for hiking or biking. It's about a 3k walk into town from Whistlers, about twice that distance from Wapiti. Our first day was spent exploring the town of Jasper via this trail.
Jasper Townsite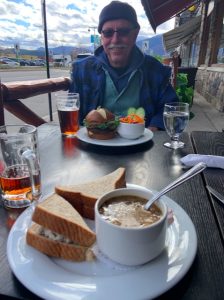 Don't miss out on a walk through Jasper. The town is hopping with bars, restaurants, coffee shops and gift stores. The restaurants are spreading out into the streets, dogs welcome on most patios. Enjoy a latte and croissant in the warm fall sunshine, or in our case a burger and a local craft beer.
This year you don't want to forget your documentation (vaccine passports and photo ID required in restaurants in October 2021)
Maligne Lake Trails
https://www.pc.gc.ca/en/pn-np/ab/jasper/activ/activ-experience/sentiers-trails/maligne
Our second day was spent driving the stunning 44 kilometre Maligne Lake Road and hiking pretty much every dog friendly trail up there.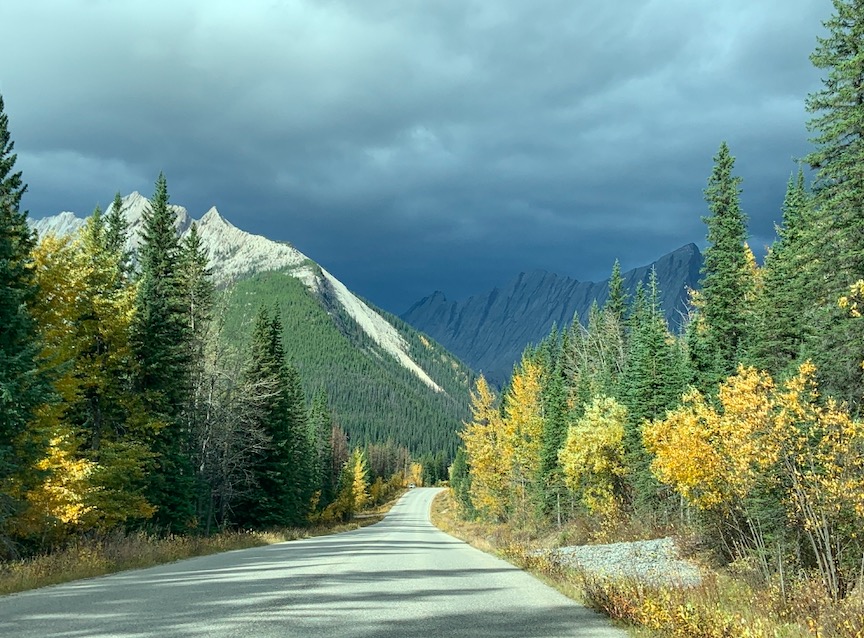 Moose Lake Trail
Under 3 k and relatively flat and easy, don't expect to find loneliness on this path. You might get lucky and find moose though. A local guide told us moose are spotted swimming in the lake about 20% of the time he comes out here. Great hike for families with their pooch in tow.
Mary Schaffer Loop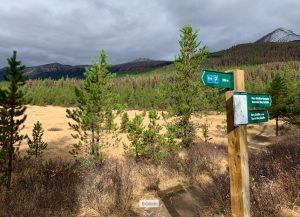 For the best views of Maligne Lake take the Mary Schaffer loop. At just over 3 k and a little lumpier than the Moose Lake trail, you might find yourself walking beyond the crowds. We found a private fallen log on the beach to have our lunch on. There are three different parking lots here so take note of which one you parked on. We did not.
Maligne Canyon Trail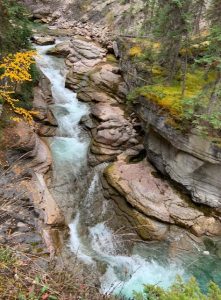 Our last hike of the day was on the way home. The Maligne Canyon trail is a little lumpier than the other two as you climb deep into the canyon itself. If waterfalls and stunning carved rocks are your thing, don't miss this one. We tried to hike the loop creatively called 7 but got a little lost. I think we came back via 7f or something like that.  Lots of people hiking the Maligne Canyon, even in October.
Columbia Ice Fields
Our plan was to leave Jasper on the Banff/Jasper highway and hike in the Columbia Icefields but October weather is unpredictable. We woke to a forecast of wet snow on the route and decided to go another way. For now exploring the Columbia Parkway remains on our to do list.
https://www.pc.gc.ca/en/pn-np/ab/jasper/activ/activ-experience/sentiers-trails/glaciers-icefields
Instead we turned towards Hope, to camp beside the Coquihalla River where the salmon are spawning. We drove out of the park right under a magnificent rainbow. One more night on the road.