Coronavirus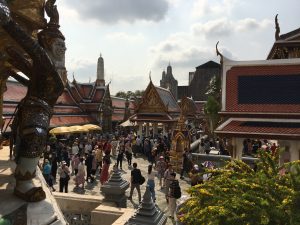 Did we get the coronavirus? It was a joke among the four of us, Ken Louise, Ray and myself. Maybe it wasn't that funny.
When we left on our south-east Asia trip on January 21, the coronavirus outbreak was just hitting the news. It had been around for  a couple of months, but no one outside of China had it on their radar yet. We arrived in Bangkok at the height of the Chinese New Year celebrations. That was somewhat on purpose, we thought it would be fun.
The Grand Palace
If we got coronavirus, this is where we got it. The day we visited the Grand Palace we were joined by thousands of Chinese tourists. I've never been in a crowd like that before. 8 million people a year visit this site, making it among the top most visited places in the world. The monument itself is spectacular, but the story of that day for us were the crowds. We were in danger of getting trampled in the Emerald Buddha temple. I was scared walking down the stairs because the crowds were threatening to push me down.
Sick!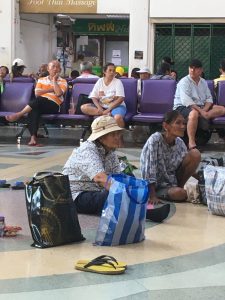 From Bangkok we took an overnight train to Chang Mai in northern Thailand, and met up with Ken and Louise. That's where Ray got sick. He wasn't very sick, mostly just a runny nose. He was well enough to climb mountains, bathe elephants and eat street food. In short order he got better, with a little sniffle that didn't want to go away. There were still throngs of Chinese tourists clogging the streets of Chang Mai, obliviously enjoying their New Years.
Then I got a little cough, that turned into a very annoying cough. Ken and Louise parted company with us, heading even further north to Sapa, Vietnam while we hung out in Hanoi for a few days. We heard that Ken got sick, pretty much a cough, nothing serious. Louise followed suit. We'd all hopped on airplanes by this time, no masks worn. My cough didn't even raise an eyebrow on the flight.
By the time we got to Hoi An we'd been on a cruise boat and a crowded overnight train, but news was starting to hit about the virus. My cough wouldn't go away, but now it was unpopular to be hacking. I bought some amazing over the counter pills that completely eradicated it, problem solved.
How Coronavirus Affected Our Trip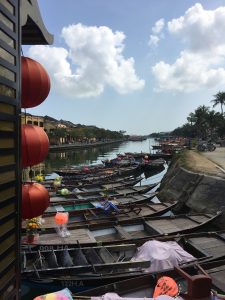 It was in Hoi An, Vietnam that we started to notice a marked difference in our travels, because of the virus. It's hard to tell when you've only been somewhere once, but the shop and hotel owners were telling us the town was empty. It certainly wasn't crowded. The tour boats on the river sat mostly empty. Our hotel was offering discounts.
We met up with Ken and Louise again here, all of us healthy now. We joked about having coronavirus, but it was all just in fun.
Where are the Travelers?
The next leg of our journey required a flight to Saigon. When we walked into the Da Nang airport it was like walking into a ghost town. There was no one there but the staff, all now wearing masks. We walked through the empty maze that should have been a queue full of people and checked in for our flight. When it was time to board there were others that joined us on the plane, but only because it was a domestic flight. No one was showing up for international flights any more.
In Saigon we booked a last minute tour to the Mekong Delta, 50% off. All 20 of us showed up for it, but not a single person from China. The tour company was happy to have us.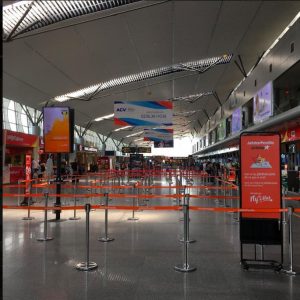 A few days later we found ourselves on a van heading to Cambodia. Yo and his son were on the bus with us. They were from Beijing and had started a Chinese New Years trip to Vietnam a couple of weeks ago. His wife was supposed to join them, but she's been unable to leave China. Vietnam is no longer flying to China, so these two are heading to Cambodia to try and get home. One of the largest countries in the world is under complete lock down.
We completed our trip with a vacation on the southern beaches of Thailand. There's not a single person from China to be found. The beaches are far from deserted as Europeans favour this area, but I imagine everything was likely much quieter than usual.
It's important to note that while we travel we are aware there's a situation going on and are somewhat informed, but we are getting the information sporadically from a few notifications on my phone when I have WiFi. There's been no English news to read or watch.
Coming Home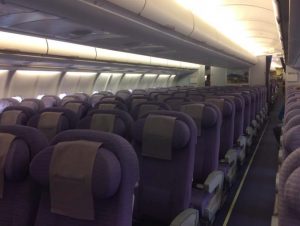 We flew home through Taipai and our first China Airline flight was canceled. We weren't told why, but when we boarded a later flight the reason was obvious. This plane was almost completely empty. No one is flying around Asia these days. The flight to Vancouver was full. Everyone, it seems is getting out of Asia.
We boarded four flights to get home. In every airport in Asia we passed multiple temperature scanners and quarantine check points. We signed declaration forms that we had not been sick in the last 14 days. Not in the last 14, but …
When we landed in Vancouver, on February 26 things were quite different. We were in a large jet landing at the same time as another large jet from Taipai. We were all in the immigration line together. There were no temperature scanners or quarantine stations. When we went through immigration the officer asked us "how was your trip?" but not one question about our health.
Did We Have Coronavirus?
Did we have coronavirus? Probably not. I called BC Health Links this morning and explained our travel and our symptoms. My main question was "is there anything we should do about it now?" The answer was no. We may have caught colds or another flu, or we may have had coronavirus, but it doesn't matter now. We're all healthy and past the 14 days of infection. We might be the safest people around. I think you can only get it once?