For people who just don't know when to quit,there is Fisterra,the Camino to Finisterre and the end of the pagan world. This is the most western point on the European Continent,and when you reach this,you must stop walking.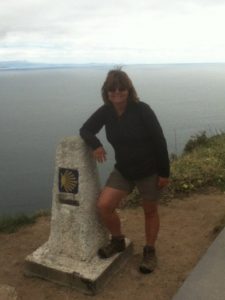 Ray and I had a leisurely 10 or 12 km walk to the town of Finisterre this morning. We arrived around noon to a gorgeous beach on the Atlantic. With boots and socks off we dipped our feet in the salty water,mine well scarred from blisters. I collected a bag of scallop shells and walked the entire length of the beach barefoot.
After checking in to yet another great hotel we went out for lunch,meeting our pilgrim buddies again and sharing wine with Heliana who was waiting for the alburgue to open. This town is also full of familiar faces.
After lunch it was time for a walk,3.5 kms up the road to the lighthouse,and the true end of this pilgrimage. It was very moving. There is a tradition to burn something here –your hated socks or a filthy t shirt. I wrote a note and burned that.
When we reached the marker that read 0.0 km I took a picture,and my camera said "memory card full". How fitting. We asked someone to take a picture of us together with Ray's camera,and as soon as she did his battery died. All signs that it is time to stop walking.
What a fantastic adventure I have had. So glad Ray could join me for the final journey.
The End