Jocelyn Hill – Gowlland Todd Provincial Park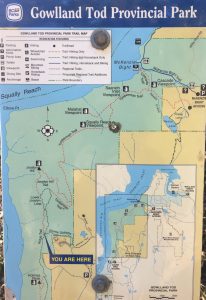 We are hiking in Gowlland Tod Provincial Park again, this time to Jocelyn Peak via Caleb Pike. There are several ways to reach Jocelyn Peak. We are hiking the Ridge Trail. Total hiking distance is 4.4 k one way with a very partial loop. My Fitbit registers 9.4 k round trip.
Getting There
On a Tuesday morning in January, the parking lot at the Caleb Pike trailhead was almost full.  We are only 20 minutes from home, and that's via the scenic route. To get there, leave downtown Victoria via Highway #1. About 10 k out of town take exit 14 onto Millstream Road for 7 k. Turn left onto Caleb Pike Road and find the trailhead parking lot 600 m on your left.
The Trail
The trail begins on the right hand side of the third parking lot, just past the picnic area.  You are looking for directions to the Ridge Trail, Holmes Lookout and Jocelyn Hill. Signage is excellent. Head down briefly, and then mostly up for the rest of the hike.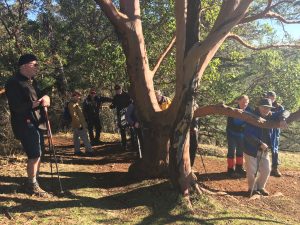 The trail will climb up through gorgeous arbutus and oak trees for the next 4 k.  Most of the track climbs at an easily managed incline, but expect steep areas that will get your heart pumping.
This trail follows the Saanich Inlet hundreds of metres below, opening up to scenic lookouts all along its length; every one more dramatic than the last. There is no need to hike this entire trail to enjoy the day. Picnic spots abound everywhere. A great spot to aim for is Holmes Peak, just 1.2 k from the trailhead if you're short of time or energy.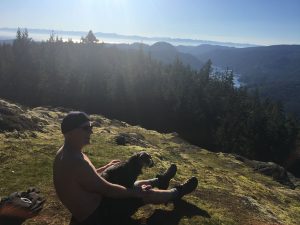 The view from Jocelyn Peak is absolutely breathtaking, worth the effort to get there and the perfect lunch spot. The way home is back the way you came, to Caleb Pike trailhead. You can shorten the hike by just a few metres by taking the Holmes Peak bypass. Alternatively, if you can manage the transportation issue, you can continue 5.5 k on to the McKenzie Bight trailhead.
It took us 1 hour 45 minutes to hike up to Jocelyn Peak, and 1 hour 30 minutes to come back down via the Holmes bypass. While up is work for the heart and lungs, the way down will tax your knees and hips. My altimeter app registered an elevation gain of  210 metres, and the Fitbit counted 144 flights of stairs. We used hiking poles.
People on the Trail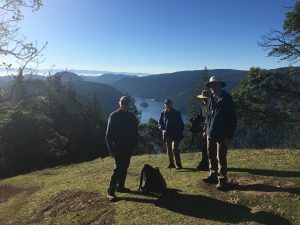 Manitobans hiking in January have a tendency to expect to be alone. That is never the case here on Vancouver Island, especially this close to Victoria. One of the joys of hiking are the people you meet on trail. We met a group of 13 men hiking together. They are a newcomers men's group, and they told me there's a corresponding women's group. I never would have guessed it, but I was told they were all over 70. I asked them what their favourite trail within an hour of Victoria was, and this was it.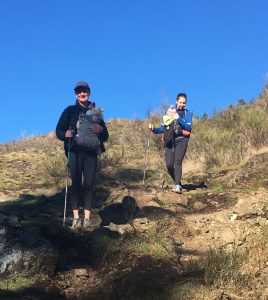 We met smaller groups out for their morning walk. Tucker enjoyed plenty of meet and greet sniffs with lots of dogs accompanying their families. At one scenic viewpoint, we paused for the view, and to catch our breath and Ray pointed out a young couple hidden on the shelf below, enjoying a romantic moment.
The last few metres to Jocelyn Peak are the most difficult of the trail. Loose rocks on the steep incline are somewhat technical. Who do we meet on this particularly challenging section? Two young women with almost newborn babies swaddled to their chests. What a wonderful way to spend a morning for them!
For more information on this trail visit https://www.victoriatrails.com/trails/jocelyn-hill-caleb-pike/