Railay Beach, Thailand
Located about an hour by long-tail boat from Krabi, Thailand Railay Beach is a backpackers dream.
We are arriving on a large ferry from Koh Lanta. Within view of Railay a long boat met us to take us to shore. Jumping out of the boat right into the ocean, we waded to shore with our backpacks. The beach is stunning, surrounded by tall magnificent cliffs.
Sand Sea Resort
We are here because of a late night error on my part. When I'm in planning mode I book all sorts of things, always with free cancellation. I often have several things booked for the same days.  I booked the Sand Sea Resort on Railay Beach during one of those nocturnal planning sessions and made a rookie mistake. Not only was I unable to cancel it, it was in US currency so way out of my budget. So here we are, in paradise in a beautiful resort.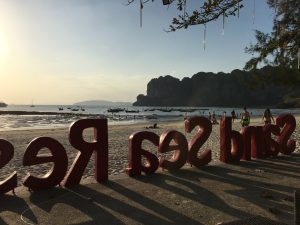 My feet are still in the water when I spot our hotel, right on the beach. We were dropped off almost at reception. They showed us to a gorgeous room, breakfast included and we have two pools and a waterfall. Our room is well equipped, including mats and umbrellas for the beach. $249 CDN for two nights is starting to feel reasonable.
Railay Beach
First impression is that Railay Beach is gorgeous but small and crowded. We've arrived just before sunset, so West Beach is the place to be. As far as we know on arrival that's all there is. First things first, Ray finds outstanding seats in a bar facing the sunset and a glass of chilled wine for me. I knew I brought him along for something.
What's missing are any lounge chairs or umbrellas. Everyone is just sitting on the sand, or on towels or mats. I don't know why I find this refreshing. What else is missing? Cars! There are no roads here. We aren't on an island so I thought we could take a taxi from here, but I was wrong. There are a few golf carts, but mostly it's just a pedestrian place.
As we congratulate ourselves for being here, who do we bump into? Yes, Sara Horton. If you recall I first met Sara in Hoi An when she walked in to have a pedicure beside me. We met again in Saigon, The Mekong Delta, The Killing Fields, Angkor Wat and now here at Railay Beach. We gave up those sweet seats for a spot on her mat, and enjoyed the sunset together.
Turns out there's way more to Railay than just west beach.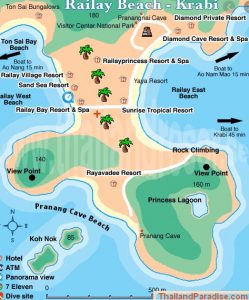 West Beach
The sunset over west beach is spectacular. The beach is crowded with people all day, but at dusk everyone is here. Kids are playing while distant music from the strip wafts down onto the sand.  It's a place for lingering long after the sun goes down.
Just after sunset, and before darkness settles in an amazing thing happens. Bats, who live in the caves in the area wake up and take to the air. At first it's just a few but suddenly the sky is black with them. I've never seen anything like it.
Just off the west beach is a fantastic strip of restaurants, bars and shops. Live music is everywhere. There's food at all price ranges, fancy places on the beach to food boats selling fast food, and everything in between. One bar even advertised happy brownies.
West Beach is home to a few fancy resorts, including ours. The strip just off the beach offers a few hostels.
East Beach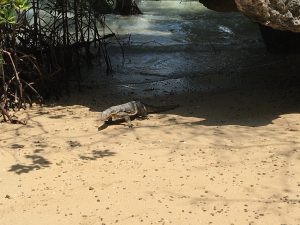 Walk through the tourist strip and then beyond on the paved trail and you find east beach. We only saw east beach at high tide when it's no beach at all really. It's wild, trees underwater and big waves washing over the board walk, soaking everyone. There's a whole other party strip over here.
We came to east beach to buy cheap liquor from the convenience store, and then accidentally wandered into a weird girlie-boy show. From there we were lured from bar to bar, each one chiller than the next. Every place we stopped had some kind of live entertainment. Railay has a fantastic night life experience.
Don't Feed the Monkey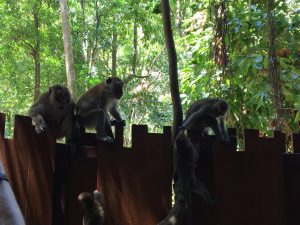 There are signs everywhere: "Don't Feed the Monkey". It didn't take long for me to see why. The monkeys first showed up on our walk to the east beach, and stopped to put on a show for the tourists. The tourists did not disappoint, amassing with their cameras and goading them to get sillier. I'm personally not a fan of monkeys, having had a few run-ins with them in India and Africa, but they are awfully cute.
Later, I was laying by one of my pools when a monkey ran right over my legs. A whole family showed up to give the kids in the pool a show from the hotel roof tops. Like the bats, the monkeys are one of Railay Beach's eccentricities.
Pranang Beach
It's a beautiful walk over to Pranang Beach, on a paved trail through the Pranang caves. Along the way you can climb up to the view spot, a strenuous scramble up a rock cliff, ropes provided. I was wearing flip flops and that's my excuse. Pranang is another small beach tucked between the tall cliffs. There's a food court set up at one end of the beach, all cooked and served from a row of long-tail boats.
Tonsai Beach
Tonsai is isolated by an hour's hike most of the time, but at low tide you can walk through a hole in the wall from west beach. We almost made it there. There's a hotel there that would probably be an amazingly quiet place to stay. I actually had it booked for a while during my planning.
We are spending our last couple of days in Thailand here at Railay Beach. It's the perfect epitaph for our southeast Asia adventure. If I could, I'd stay longer. Of all the places we've been, this is one I'll come back to. We start our long trek back to Canada on a long-tail boat packed high with backpacks to Krabi. We have an early morning flight from there and 32 hours of travel ahead of us.