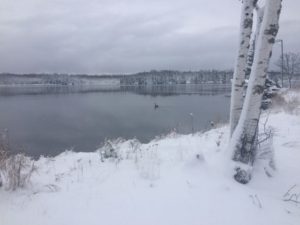 I'm not sure I'm a snowbird type. We're off to our winter home in Victoria, BC today. Yesterday Tucker and I took one last long walk on the Ironwood Trail, watching the river freeze and missing my Pinawa already. Tucker doesn't know what's up, but he knows something is, because we've cleaned and packed for days.
My home here is a winter home. I can cross-country ski out to the fabulous tracked trails right from my back door. Apres ski is the outdoor hot tub, slushy wine and frozen hair a given. In the evening I'll start a fire in the fireplace and work on a project. Our condo in Victoria was rented for the winter and I was looking forward to staying here, but the nice young couple bought a home and we've let them out of their lease.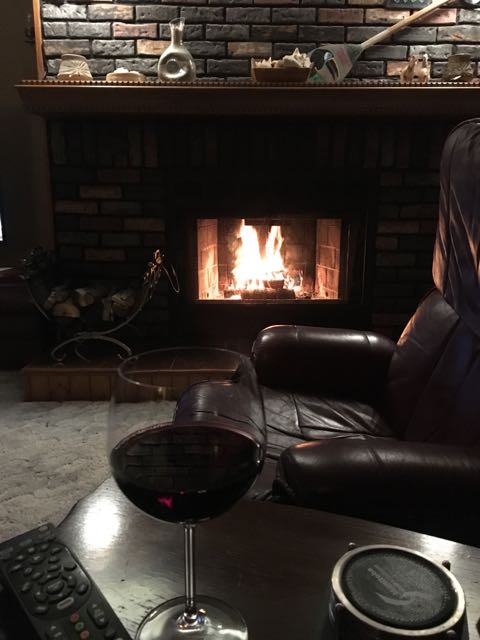 We'll miss our friends the most. It's really wonderful to live in a place where "everyone knows your name." The people  that warm our threshold regularly; the ones that force me into a game of pool, that I compare fungi stories with and cycling adventures, and so much more will all be missed. Most of them are off on their own adventures anyway.
Don't Feel Too Sorry For Us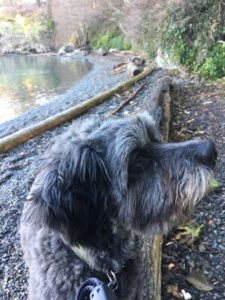 I know what's on the other side for us. I know we'll be living in one of the most beautiful cities in Canada. In December we are taking part in a Christmas paddle down the Gorge Waterway with the Victoria Canoe and Kayak Club. Tucker has his choice of several off leash dogs walks just blocks from our place, all of them scenic strolls along the ocean. What strikes one most arriving on the island in December is the green! While all of Canada has been plunged into black and white mode, we will be in the one exception – Vancouver Island.
We will hike the rain forests, enjoy restaurants and bike trails, ocean walks and University classes.  It might even snow, it did last year – twice, once on Christmas Eve. I'm joining a ladies golf league that starts on December 1, and we've brought our backpacks and tent to do a little back country adventuring. It won't be all bad.
Son number one lives two blocks away. Five months of Sunday dinners is golden.
House-sitting
We're trying something different with our Pinawa home, too. A house is not a home when it's dark and cold and empty. We were lucky this year to find a house sitting arrangement. We have a like-minded couple moving in that will keep the fires burning, and fill our home with love, laughter and grandchildren. We've left the Christmas tree stand out for them.
Decision Time
This will be our Love It or List It year in Victoria. We are better prepared toy-wise this year than last, and we don't need to spend a month furnishing the place. I've packed the Christmas decorations. Son #1 has reportedly bought himself a whole bunch of firewood, so I can walk over to his place when I need a fireplace. We are signed up for University classes, ocean kayak certifications and have our Esquimalt Rec Centre memberships ready to go.  The whole idea of the condo was to eventually move there permanently. With a foot in both places, and an open mind we will make a decision this year.
So Manitoba, I hope your winter is milder than last and you all enjoy the season. We are island bound this morning.