This is the thing we wouldn't do. Boon-docking in Mexico is great, safe and legal – just never camp alone.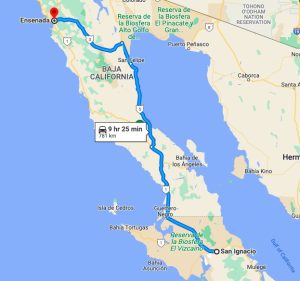 It's time to make tracks for home. The Mexican auto insurance is running out in a few days. From San Ignacio to Ensenada is a distance of almost 800 kilometres, too far for a days drive. There are some obvious stops along the way, Guerra Negro for some whale watching, or possibly Bahia de Los Angelese for a great beach, but we have been there and done that.
Somewhere near Catavina, we find ourselves driving through a most magnificent desert. This is the land of the 20 foot cacti. Huge boulders are piled into mountains. We spend the road hours speculating on what geographic catastrophe might have created this stark landscape.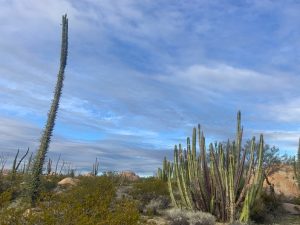 iOverlander lists 4 campgrounds in the vicinity, all pretty mean sounding but cheap at least. As we pass one and then another, we start to resign ourselves to paying 100 pesos to sleep in someones parking lot.  Turning on the wild camping filter of the app tempts us though, revealing dozens of nooks and crannies that others have found.
When Ray needed a pee and pulled off the highway, I took the opportunity to stretch my legs and Tuckers, too. We strolled down a sandy road that led from the pullout.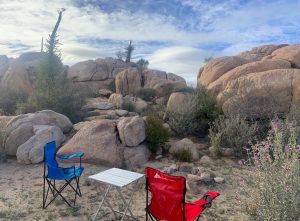 Hidden behind a huge boulder, I found the camp spot. There was space for The Ritz, a pullout to allow us to back in and a fire-pit. Although close to the highway, we would be completely hidden from it by the big boulder.
I came back to tell Ray about my discovery."We said we wouldn't do this," "Just come look at it," I pleaded. Long story short, we debated and swapped positions a few times but obviously decided to spend the night here. Ray even pulled out three beautiful mesquite logs for our final Baja fire.
For some reason Tucker hated this spot. He was spooked all night. Dog owners know you should pay attention to this. I listened for coyotes but there were none. I imagined the snakes and scorpions that might have been giving Tucker the heeby jeebies.
As night fell we lit the fire. The sound of the highway died off. Hardly anyone drives at night here. The stars came out to impress. Tucker elected to cower safely in The Ritz, but Ray and I sat long around the fire, late into the night reflecting on this Baja journey that has turned out to be so wonderful. When we finally did turn in, the silence of the night lulled all three of us into a long, hard sleep.
Tucker felt better in the morning and joined me for a nice long walk in the desert. This turned out to be one of our most special Baja nights.