No Baja visit would be complete without visiting the wine region of Valle de Guadeloupe. It's chaotic Carnival season, so why not throw in a city tour of Ensenada while we're at it.
Camping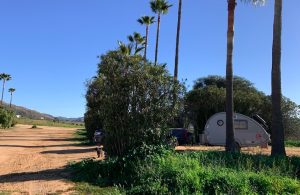 Finding a suitable place for the Ritz proved harder than usual here. This was the first time in the Baja that we thumbed our noses at campgrounds. The first one we checked out didn't exist anymore, and the next two were so far down long rutted roads it would be hard to explore the area from them.
Tired and grumpy, we finally went to the one place everyone had recommended, the Guadeloupe RV Park some 30 k out of town and in the heart of wine country. It was beautiful. We parked right beside a vineyard. For 400 pesos a night we had power, water and sewer if we needed it. Princess Ray especially appreciated the clean bathrooms and free hot showers. The proceeds from this park go towards funding a mission for the deaf located somewhere across the street from us. We are now just 54 k from Tecate and the border crossing into the US.
Ensenada
We could have given Ensenada a pass, but since we're here we decided to drive in and give it a good walking tour. A stroll along the Malacon is usually sufficient to get a feel for any Mexican city.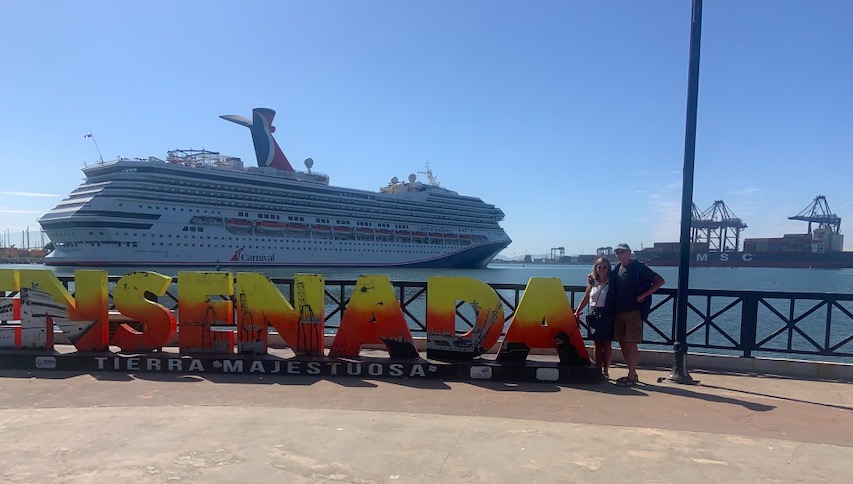 Ensenada's Malacon is disappointing. A cruise ship dominated the shoreline, so we started our walk there. There were just a couple of blocks of shops and restaurants, and almost no art. Cruise ship passengers were getting onto ATV's and driving off into the city traffic. Weird! A restaurant trying to vie for our business lamented to me about some new rules preventing patio dining here – on the Malacon!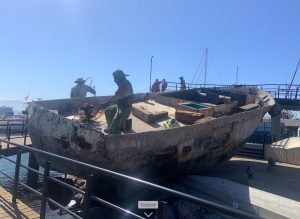 We actually walked back and forth a couple of times, thinking we must have missed something, then we turned inland. From here we pinpointed a landmark roof that looked from a distance like an elaborate church. There's usually a plaza or tourist district surrounding missions in Mexico. Nope, that was a hotel posing as something historic.
Eventually we found Lopez Mateos, the 5 block tourist district just a couple of blocks off the seaside. It's a Monday, mid-morning yet every restaurant is packed with locals. What's going on here? Doesn't anyone work? No, they don't. It's Carnival time! When we finally tried to drive out of the city we discovered the parades. Almost every street was blocked and there were fragments of floats all over the city. I'm sure at some point they will all find each other, but it seemed too chaotic to us to stick around and find out. I need some wine tasting!
Valle de Guadeloupe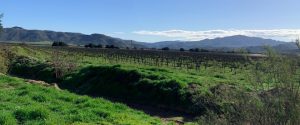 You might have an opinion about Mexican wine. I know I did. But I was wrong. Mexico produces some incredibly great wines, and 90% of them come from right here in Valle de Guadeloupe. There are almost 200 wineries in the region, and almost as many fine dining experiences.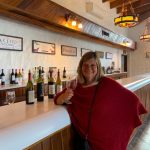 We discovered the expense of wine tasting. Almost every vineyard we visited charged quite a lot for the privilege of a very small sip of wine. You might as well be in the Okanagan Valley. Good for Mexico, I say as I empty most of my last pesos here.  We spent the rest of the day and into the evening hopping from one vineyard to the next, ending with a romantic trio of red wine in plastic glasses accompanied by a charcuterie tray. We were only minutes away from The Ritz.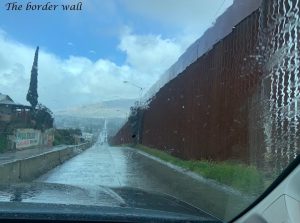 The trip is over, we leave the country through the border crossing in Tecate. We spend our very last pesos on a fill up of diesel and a bag of kibble for a derelict dog at the gas station.
For some reason the border wall we all hear about seems larger and more looming here than in Mexicali. Maybe it was the cold rain that made it feel more foreboding.
This is a fine way to say adios to the Baja, but we will absolutely be back – sooner than later and with a much longer time budget.