Just an hour and a bit east of Winnipeg, in Whiteshell Provincial Park, discover the Bannock Point Petroforms.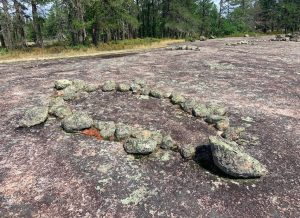 I have driven past this site many times, but only once before have I stopped.  Many years ago, while researching for a website in what feels like a different lifetime, I wandered through this site alone at dusk. The memory of that visit lives on as the rock formations and the spiritual offerings take on a ghostly hue when the light is fading.
Today's visit was an afterthought, a place I thought Ray should see. And we had sandwiches and needed a place to picnic with them.
The Bannock Point Petroforms
Petroforms are arrangements of rocks over flat ground representing various spiritual and educational entities.  While walking across the immense flat granite rocks of this eastern edge of the Canadian Shield it is easy to see why ancient people would have chosen this spot for such a display.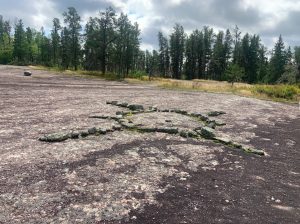 Unlike many old sacred sites, the petroforms here are incredibly revealing. There are at least dozens obviously man-made mosaics, many easily identifiable as something from our natural world. There are turtles and fish and snakes and one Ray felt certain represents a compass. The park offers a guided tour. You can call a Whiteshell Park interpreter for more information at 204-369-3157.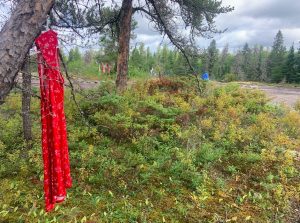 Research has left a lot of mystery yet to be discovered about these formations but it's estimated they have been here for about 1500 years. Who exactly may have arranged them is unknown but they are of indigenous origin as that's who lived here then. Today the Anishinaabe and other First Nations people consider this a sacred site intended for the benefit of all visitors.
Besides the petroforms, you can't miss the offerings left here. Colourful clothing and scraps of cloth hang from the trees. One lone red dress hangs from a hanger in a tree near what looks like the main sacred site.  There are places that seem to be alters filled with other gifts; tobacco, coins, painted rocks and much more.
Bannock Point Trail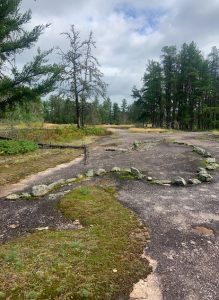 The hike into this petroform site is short and easy, walk-able for just about anyone, fancy footwear not required. The opportunity for getting lost once you're out here is high. Stick to the large flat rocks and you should be fine. Wander into the bush and you might never be seen again. The Canadian Shield is famous for lost souls.
Today there was a bus idling in the parking lot, but not the typical crowd associated with bus tours. There were some elders enjoying the peace among the formations. They had wisely brought lawn chairs. I stopped to ask them if they had some special insight, but this was their first time visiting.
Respect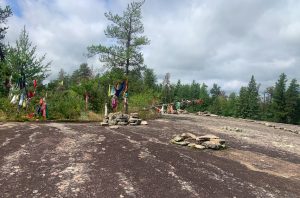 The forest is always spiritual for me, but one can feel a collective spirit here.  When you visit, bring with you respect and an open heart. That we are allowed to wander through such a place unsupervised is a true privilege.
Leave no trace of your own exploration, save perhaps for an offering of your own.
Links
To learn more about the petroforms visit this beautifully written website Where the Spirit Sits.  Download the Bannock Point Guide prepared by the Manitoba governement before you go. I think they are meant to be available at the trailhead but the box was empty. Explore all that the Whiteshell Provincial Park offers.