District Wine Village
the only way to sample Okanagan wines
By now readers you might be aware of my penchant for wine,wineries and wine tasting experiences.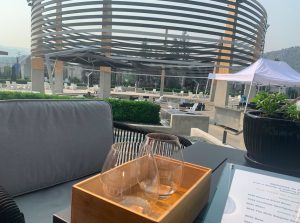 I have had the good fortune of visiting some of the best wine regions in the world, including Stellenbosch, South Africa and most recently Valle de Guadeloupe, Baja Mexico. One of my favourite wine tours is right in my own back yard in the Okanagan Valley in central British Columbia.
Unfortunately the cost of one of my favourite hobbies has soared, and not just in BC. Last fall we paid $20 each for a tasting in the Okanagan, and no amount of purchase could negate that. Sadly, we couldn't afford more than one stop at that price.
District Wine Village
Thanks to my friend Christine – who also happens to own Gumbo Limbo Jungle Resort in Belize (you should check the place out) – I discovered a whole new way to enjoy the Okanagan wine tour experience. She replied to my bitchy remarks on Facebook about spending $20 for a sip of wine with "there's a co-op in Oliver you should visit." And so we did.

Located 7.5 kilometres north of Oliver just off Hwy 97, The District Wine Village is a must-stop destination of any Okanagan tour.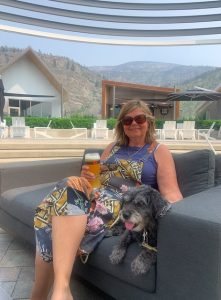 The centre of the hub is a relaxing restaurant, food provided by Ward's Kitchen. Surrounding the dining area are 12 different wineries, a brew pub and a distillery. After lunch, walk through the cooling misters that enclose the dining pit and pick your first winery. Every tasting hut is fronted with a cooling water feature.
At every winery but one, the $10 tasting fee was was waived on purchase. Naturally we walked out with lots and lots of wine. The one winery that didn't waive the fee donated it to a women's shelter instead.
The best part? The entire place is DOG FRIENDLY! I know, as it should be but sadly not always the case in Canada.
We spent an incredibly relaxing 5 hours here, dining and tasting our way through 4 wineries. We discovered the limits of our palates. Our day was done and we found a free spot in the forest very nearby to spend the night. This is one of those places that has earned a permanent stop on our annual migration.