The shock of India is wearing off already, and I remember why I love this country and wanted so badly to come back.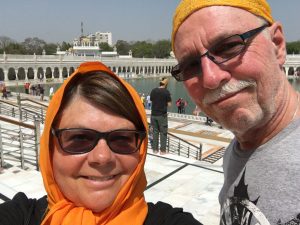 We woke early today after a solid zombie-like sleep. Our hotel has breakfast included and this morning the restaurant is full of tourists. The breakfast includes some recognizable foods, like an egg omelet style thing and some water melon. There are also about half a dozen other trays of who-knows-what Indian food. Some of it is hard to determine how to eat, with all of the intricate sauces. Ray eats everything and I try everything. It's all delicious, but a few of the dishes are just a tad too hot for me. Indians use their spices liberally, in case you didn't know.
Thanks to our steripen, we are drinking the tap water – even in Delhi, and fingers crossed we are both still healthy. There's enough plastic in this country already,
It's time for us to hightail it out of the main city and travel to Gurugram or Gurgaon, as it used to be called. This has made for some confusion with taxis. We hire a driver to take us there but also spend half the day with us. It is a fabulous morning in Delhi!
It is Mahavir Jayanti here in India, a religious holiday celebrating the birth of Mahaveer, the twenty-fourth and last Tirthankara of Avasarpiṇī. The streets are full of people enjoying the start of a long weekend. I'm thinking that's possibly how the date of the wedding was planned. We decide we would like to see the Red Fort, The Sikh Temple and the Lotus Temple all before it reaches the heat of the day.
Old Delhi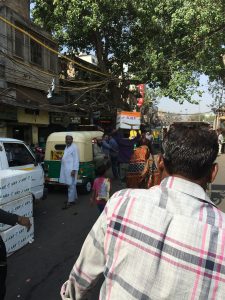 To reach the Red Fort we had first to navigate through Old Delhi, and our taxi is too big to get inside so we transferred to a rickshaw. For about an hour we just sat back and slowly enjoyed the sights, sounds and smells of beautiful Old Delhi, while our poor rickshaw driver sweated up hills and cobbled streets in the heat, sometimes even having to get off and push. We felt guilty about that big breakfast we'd just both enjoyed.  We stopped at a spice store, and you could tell we were about to stop at more shops, but shopping is not on our agenda today. I had to be firm, "no more shopping, please."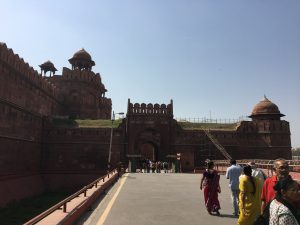 When we finally arrived at Red Fort it was huge and 500 rupees each to get in. We walked all around but then skipped off across the street to a colourful little Hindu Temple. This was not the big tourist draws one usually tours, so it was a pretty cool visit. Our rickshaw driver was hidden among a sea of other rickshaw drivers when we got back to our meeting spot, but he found us immediately (we haven't paid him yet).
The Sikh Temple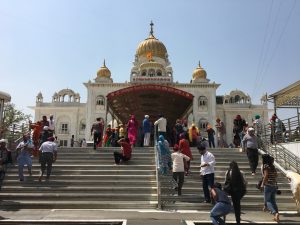 Our next stop is the lavish Gurudwara Bangla Sahib, a Sikh Temple. Wow, is all I can say. Maybe because of the holiday today, the temple is alive with people. Somehow this temple is related to the Guru Hari Krishan, built around 1664. I say around because it coudn't possibly have been built in one year.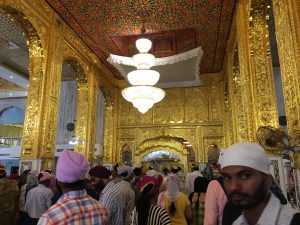 There is no parking available so our taxi drops us off and circles while we visit. We walk along a marble walkway with bright white marble walls surrounding us, monkeys playing overhead among throngs of other visitors. As is the custom at all Hindu temples, shoes are not allowed. Here there is a huge shoe-check room, with at least a dozen check-in windows to handle the crowds. We leave our sandals in exchange for a metal tag. I am number 4562. We walk through a cleansing water bath and up the marble stairs to the temple. We are handed scarves for our heads here, the first temple that requires this particular grace.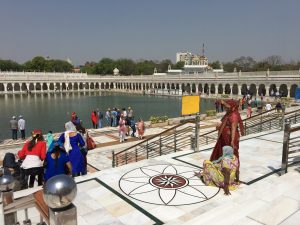 These Temples we visit are hardly museums, or tourist attractions. We are among hordes of worshipers here. There is music playing, chanting, praying, all among visitors like us taking it all in. It's lively and spiritual and beautiful all rolled into one.  Behind the temple there is a huge pool, where bathers are cleansing themselves. We did not give ourselves enough time to fully enjoy this stop, our taxi is waiting. We stretched it as long as possible.
A Touch of Luxury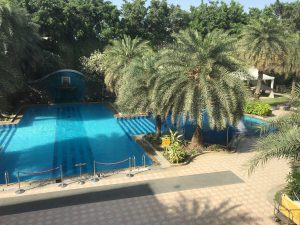 Now the heat of the day was upon us and our next hotel has a pool, We instructed the taxi to skip the Lotus Temple and take us to Guragram. The highway is clogged with holidayers, so the trip was long and hot. Luxury awaited us tonight though.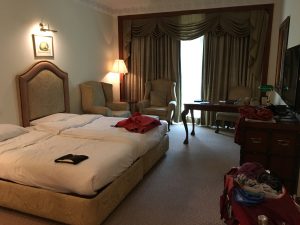 We arrived at the Palm Golf and Country Club in good time for a long leisurely, and incredibly refreshing swim in the pool. We'd run out of money but finally got an ATM to work here so we don't have to steal Gunjan's wedding card cash (it was getting slightly desperate). We ate in a British Pub tonight. This place is opulence the way only India can do it. We may stay here again before we go home, as it's not too far from the airport.
Somehow our biological clocks have shifted, but not quite enough. We both fell fast asleep, helpless to stop it, at 8 PM. Hopefully we are shifting in the right direction for tomorrow's wedding.
Security
India must be the capital of metal detectors, and I still haven't figured out exactly what they are looking for. We do not enter a temple, a hotel or even most restaurants without passing through a metal detector. I never noticed them, but Ray pointed out that whenever we pull up somewhere in a taxi, the underside of the car is screened by mirrors. We will not be allowed into the airport without our passports and boarding passes and will be screened by security before we even get though the door.  It is unsettling at first and then quickly becomes invisible, and almost reassuring.
Wedding day has arrived.