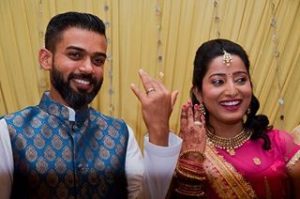 When the invitation arrived it was not unexpected. We had, in fact, been anticipating it for years. "I've heard Indian weddings are amazing," I mentioned to Gunjan one wet day in the flooded Amazon jungle lodge, where we first met.  "When I get married I will definitely invite you." And here we are.
We arrived in Delhi about 24 hours ago, late evening here but early afternoon in our body clocks. The 14 hour flight was uneventful. Somewhere on that flight I sucked on several melatonin pills and that seems to have worked on the jet lag. I don't know the science behind it, but it is always harder to go the other way.
Scammers
Delhi is notorious for it's scams and the city welcomed us accordingly. The driver we were expecting was no where to be found, not where he should be and not anywhere else. An Uber driver befriended Ray while I continued looking. Our telephone doesn't work here so he used his to call our hotel for us, even handed the phone to Ray. The 'hotel' told Ray "all of our cabs are broken and you should take a taxi. We will reimburse you." We knew this sounded fishy, so we took a different cab. We paid him 2000 rupees ($40 CDN). Seemed like a lot. When we got to the hotel they said "no one called us and our man has been there with a sign for 2 hours. We would have charged 400 rupees." Liars every one of them. Triple-scammed in our first hour on the ground. Good work, Delhi.
For your informatiin, the correct thing to do is go to the government run taxi stand and get looked after. But beware, the third guy redirected us rather cleverly.
Smog
Delhi is startling. 11 million people call this city home. The air is thick with poison. I don't know how they live here. We are taking the city in small doses, and retreating to an air-conditioned hotel room frequently. The roads, clogged with traffic and completely ignored lane lines are exhausting. "Honk, honk", everyone is constantly beeping. I This morning was better but by this evening, just after the rush hour our eyes were watering in the tuk-tuk. The air quality number was 240 – I'm not sure what that means but it comes with the warning that this is dangerous to health.
Shopping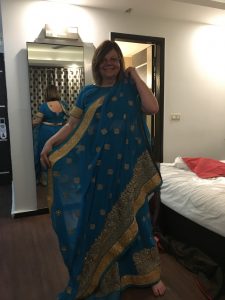 We had business in Delhi today. We needed to go shopping, buy clothes for the wedding. Gunjan offered to help but I am sure she's too busy. We'll figure it out and we did, with plenty of 'help'. We got what we needed but probably not in the optimum place or for the best prices. Did I mention they lie here? "Take us to Connaught Place, please" I told the tuk-tuk driver this morning. He took us somewhere else. "Is this Connaught place?" I asked "Yes, yes, other places all closed today because of the strike." "The strike, you say?" This did not look like the largest market in the world to me. "Yes, look here it is in the newspaper." So not exactly true and not exactly Connaught Place, we bought three outfits, one for Ray and two for me. My custom-made sari was delivered this evening as promised, and I will need help and an army of safety pins to wear it. I'll be going bare midriff apparently. Ray looks awesome in his Indian attire. There was no real bartering on prices but delivery and altering were free.
Site-Seeing
Although the heat was starting to settle in after shopping, we decided to tour at least one temple today and found ourselves at the beautiful Laxminarayin temple in the heart of the city. It's quite amazing to see the quiet temple and surrounding serene gardens in among such chaos on the roads. These Indians need a place to come for solace from the mayhem, I think. The temple is highly decorated with swastikes, elephants and monkeys, the significance of which I do not know. I tried to surreptitiously join in with a tour group, but the guide was boring even to his legitimate clients. We could tour the grounds and gardens, but to enter the temple we had to pass through metal detectors and leave our shoes, parcels, cell phones and camera with the guard, who required a tip to get them back. By the time we were walking in the sun on the hot marble of the temple it was 40 degrees. There were carpets rolled out for us to keep our soles from scorching. Photos are not allowed inside, but it was worth the heat to visit.
We paid a brief visit to the famous India Gate. Bravely we pushed through the army of touts, remnisceient of our visit to the Taj Mahal a few years ago.
Forgetting about the time, we headed back to our air-conditioned room, showered and went to bed like it was night-time, since it kind of was for us. A solid 2 hour nap was exactly what we needed. We headed back into the heart of the city for a dinner of curried cottage cheese, as it turned out, a couple of beer and a band (karaoke?) that got the crowd up dancing – on a Wednesday night.
Tomorrow we will tour a few more temples and head off to a more luxurious hotel. I've found us a swimming pool, but we'll see what we really get. This is India, after all. Two more sleeps until the wedding…