We are woken this morning to the sound of quatro leaf blowers, clearing off the pickle ball court we were sleeping beside. It's 6:30 AM. This is the fanciest, and most expensive place we've stayed so far – the Rio Bend RV Park but we are staying in the poor end of town, the parking lot they call Ramada. This is staging mode. The Mexican border is just 40 miles away. We had a pool and hot tub last night and a fabulous shower. This morning we will fill up everything we have with water and diesel and dump the tanks in trailer. It's time for Mexico!
The I-5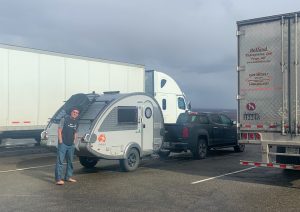 For 5 long and dare I say boring days we have been driving due south along Interstate 5. There's been no veering, no sight-seeing – just a beeline for the Mexican border. It's been 2400 kilometres of cool, dreary weather, passing skyline after skyline. Seattle, Portland, Sacramento, Los Angeles all passed by my window in a blur.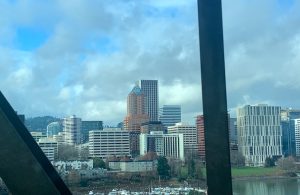 Every night we paid as little as possible to find a bit of grass for Tucker for camping. We ate the soups and salads I had prepared before leaving home.
We found the rhythm of the road. It's dark by 6 so we were in bed with a movie by 8 every night. I was usually making coffee by 6 am. Our anal dog Tucker has stopped whining and started exploring. His nose works overtime at every stop. He doesn't know ANY of these other dogs. He's quite satisfied with the 8 PM bedtime.
Can You Say Expensive?
So I knew the diesel would be expensive but never did I think I'd see almost $7 US a gallon. Luckily we didn't need to fill up there but we averaged about $5.60. Camping was about the same price as renting a piece of grass in Canada, but in US funds. We scouted out the free places, rest areas and truck stops, but none were suitable for King Tuck.
The most ridiculous sticker shock were a couple of Subway sandwiches. We thought it might be nice to supplement our soup with a sandwich. $27 US dollars later we had two simple subs in the fridge. Thank goodness I'd made meals!
With nothing else to do, I've documented every penny spent so far. It's taken almost $1500 Canadian dollars to get here.
Where we stayed
iOverlander has been an amazing resource yet again. We've used it exclusively to find places.
Day 1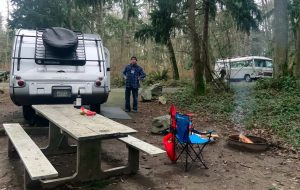 Found without the aid of the Internet, our first night was in Dash Point State Park. We enjoyed a fire before firing up the furnace in The Ritz.  The showers were fantastic and free. $28 included a bundle of wood.
Day 2
Somewhere near Curtin, Oregon there's a municipal campground not even worth remembering. Pass Creek was a whopping $35 for a bathroom I didn't bother looking at and a patch of grass beside the Interstate. It had a nice little walking trail for the dog, though. 2 out of 3 showers were out of order and the 3rd, said Ray was not worth using.
Day 3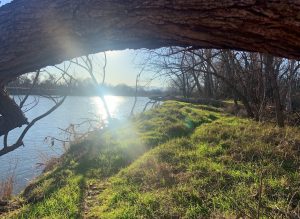 Sycamore Grove campground lies on the banks of the Sacramento River. It's beautiful paved nature trails run for miles, long enough to get lost on. The $25 fee is a bargain for the wonderful stay all three of us enjoyed here. The sound of birds instead of trucks lulled us to sleep here.
Day 4
Perched on the edge of the USA, we spent last night at the Rio Bend RV Park, in the parking lot they snidely refer to as Ramada. This is a 55+ place filled with Canadian snowbirds. There's an activity list posted at the office that makes me tired just reading it.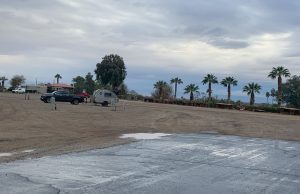 We have everything we need here to stage for the next adventure that is the Baja. We negotiated the $40 for the parking lot. Some vanners from Oregon we met in the hot tub last night wanted to know why no one offered them the Ramada choice. Although we were rudely woken up with leaf blowers, we did spend all night listening to the hooting owls all around us.
And now for something completely different
We are crossing into Mexico at the Mexicali border crossing and heading for some much need rest in San Felipe. We have no idea what to expect, and that's exactly how I like it.  The radio station is already Espanol as I try to train my brain for the new language.