The sunrise over the beach is blinding as I try to write this morning. Tucker and our other 3 Mexican dogs are all laying sleepily at my feet. I see Garry, one of the campers here at the Palapa RV camp returning from his walk. He must have left in the dark.
We are Baja camping.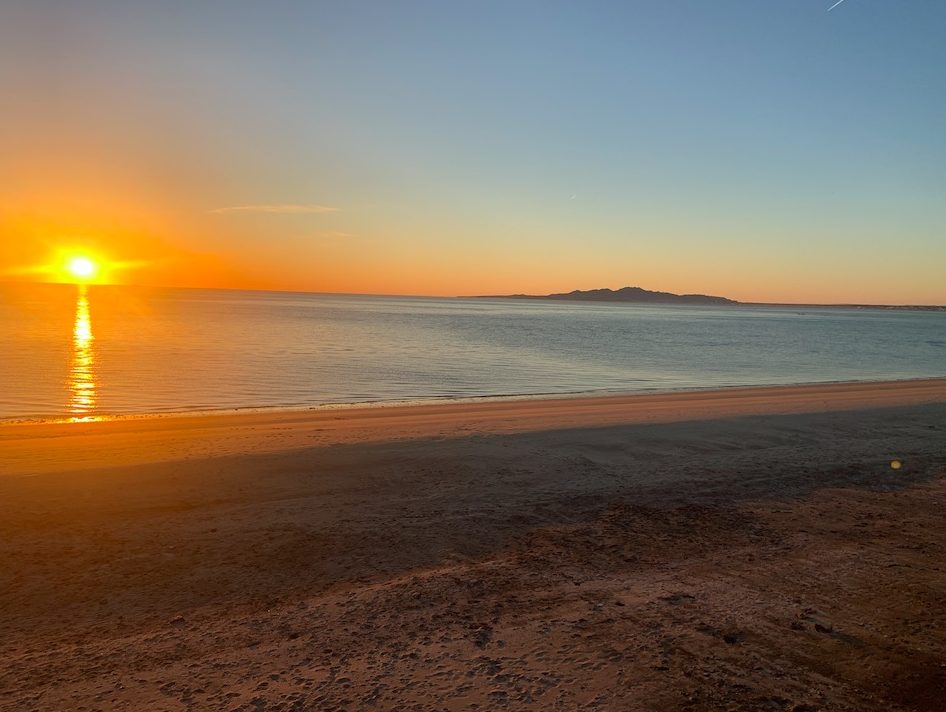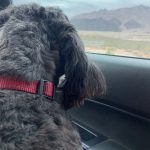 San Felipe is a common first stop for those crossing into Mexico at Mexicali. It's located on the east coast of the peninsula about 2 hours south of the border. The drive here was beautiful, quiet and smooth.
San Felipe
San Felipe is a city of just over 17,000 people whose main industries appear to be fishing and tourism. It's quiet here at the beginning of February, but the locals tell me it will get busier as the month goes on. Carnival is coming on the 19th. California's spring breakers will arrive in March.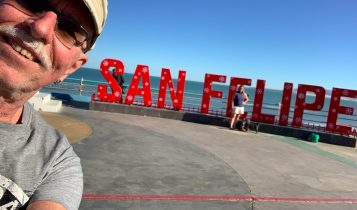 The Malacon is as typical as any Mexican boardwalk can be.  For five or six blocks you can walk along the seaside, or cross the street to the shops and restaurants. Tacos and trinkets are everywhere.
The Federales are conspicuous. Trucks full of militia clad, heavily armed police – with dogs – parade the Malacon menacingly. I asked to take a photo with them, but they said no. I did get a friendly smile and a buenos dias, though. They are a reassuring presence.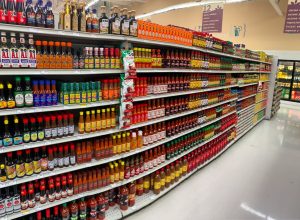 We went supply shopping at the local Calimax, one of Mexico's largest grocery chains. I absolutely LOVE local grocery shopping.  We wondered up and down every aisle, buying some products that will likely completely surprise us. There's one entire aisle dedicated to hot sauces.
I came home and washed and chopped and mixed for an hour. The fridge is now satisfyingly full again, this time with Mexican delicacies and taco ingredients. We bought a bag of coals and bbq'ed for dinner.
Camping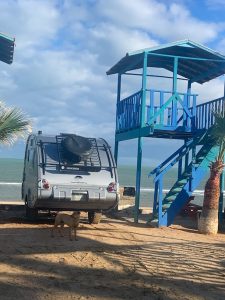 We are camped at one of a string of campgrounds just north of town within walking distance of the Malacon. We passed quite a few camps out of town to the north and I've heard there are many more to the south. For a beach front site we are paying 500 pesos a night, or about $35 CAD. We have electricity, water (although not potable), a picnic table, a viewing platform and a BBQ. The camp has washrooms, showers and apparently WiFi but not here by the beach. My cell phone is providing service for blogging.
The beach front sites are narrow here. All the other campers are vans. The Ritz would have been facing the wrong direction for our palapa if we had backed her in. Luckily she's small enough to push. We unhooked her, swung her around and pushed her into place. I've loved The Ritz for a while now, but she is really shining on this trip.
We may leave today, we may not. The decision will be made over the next cup of coffee. Next stop might be Guerrero Negro, where apparently the gray whales amass in droves this time of year.