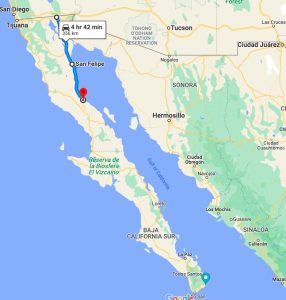 Gonzaga Bay is 2 hours south of San Felipe along highway 5.  This is the second stop on our Baja, California road trip.
Water!
Three days in San Felipe has almost drained The Ritz's water tank. Before heading out into who knows what, we need to get more. Everyone knows you shouldn't drink the tap water in Mexico. This was one of those problems I didn't know how to solve, until today.
We found Israel in San Felipe, but apparently we'll find water stores like this everywhere. You can back up the trailer and fill the tank with nice, clean potable water. The cost to fill Ritzy's tank? 20 pesos, or about $1.40 CAD.
Gonzaga Bay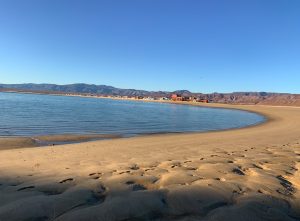 This is just a beach; one long fine-sand beach on a protected scenic bay.  A couple of families of fishermen live on one end of the bay. Alphonsinas, a pretty, red eco-hotel and restaurant frame the other. It can be a 2 hour stroll between the two. In between there is our camp and a few dozen cottages. Nothing else.
Things to Do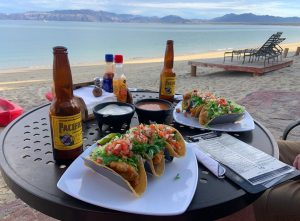 There's nothing to do here. That's the point. We walked the beach from one end to the other.  We ate the best fish tacos in Mexico at the hotel. I'm not saying I've tried every fish taco in Mexico, but I've had a few.
By the time we got home, the sun was setting and the temperature dropping. The moon is almost full. We poured wine, wrapped ourselves in a blanket and watched an amazing night sky unfold before us. The moon reflected on the calm sea.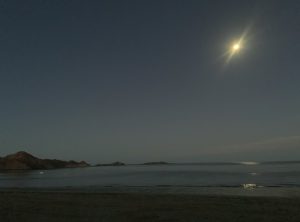 It's not cool here at night, it's cold. By 8 PM we were tucked into the Ritz with the furnace on. All the better to wake up to the sunrise.
Paddle boarding, kayaking, fishing, shell collecting and reading novels by the sea are the other likely activities you might indulge in at Gonzaga Beach.
Reviews
iOverlander, our guiding app on this trip gives this place mixed reviews – and so do we.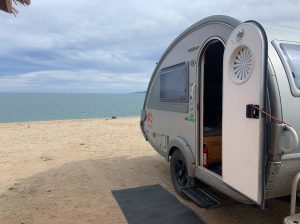 Princess Ray would like more amenities for his 400 pesos. He likes his flush toilets and the pit toilets here leave a bit to be desired. The "palapas" are rather industrial. There are no other services.
I'm a beach walker. I agreed with Cheryl, from Salt Spring Island who we met here. I could stay forever. We met a lot of cool travelers and chatted the morning away this morning. When the sun came out it was calm and warm and hard to leave.
The Dog Story
It must be Tucker attracting all the Mexican dogs, but boy do they love us. On our beach walk here we picked up a beautiful, black dog over by the fisherman's homes. No matter what we did he would not stop walking with us. He had no collar, so we thought he could be a stray. Other campers tried to lure him away from us but he was determined.
Blackie walked all the way to the other end of the beach with us. We ordered both dogs water when we sat down for dinner.  He was so tired he was limping by the time we approached the camp.
We were greeted with such enthusiasm! The owner of the dog was frantic to find him, and the other campers knew he had been with us.  Everyone was worried he would not return with us. Our neighbour actually put Blackie in his jeep and drove him home. The family was thrilled to get him back. Good karma all around.
Next stop is Bahia de Los Angelese, I think. We heard of a nice campground there.