We are staying in Camp Archelon, on the shores of Bahia de Los Angeles. This is a 45 minute drive off the main highway which has now become the number 1, and  2 hours south of Gonzaga Bay. I'd show you on a map but google has no idea where this place is.
The drive in is spectacular! As you near the coast you start to see the weird Dr. Seuss cacti which the area is a tiny bit famous for.
The town itself looks a bit sorry, most likely recovering from Hurricane Kay that hit hard here last September. Still, there is the familiar aroma of roasting meat to greet us from a taco stand as we pull in. The vendor gives us a friendly wave. At night I could hear music playing from some bar or night club.  We did not spend time in town but it does look worth exploring.
The Beach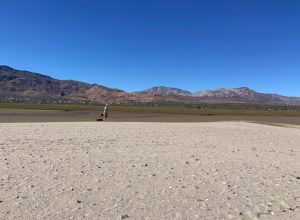 The whole idea of a Baja road trip is beach camping. The stroll along this beach is long and eventful.
Birds
Just to the south of our camp is a huge bird sanctuary. At least I think that's what it is. The sign is all in Spanish. At low tide there is an entire marshy bay full of cranes, pelicans, seagulls, sandpipers and I don't know what else. You must stay out of the marsh but are allowed to walk the beach to observe.
The birds from the sanctuary spill over our way, making this beach a bird watchers paradise.
Turtles
There's an active turtle hatchery marked off at one spot. Our camp is named after giant sea turtles that used to inhabit the area 70 to 80 million years ago. You can find out more about the field research done here: https://www.campoarchelon.com/about-us/
Sea Life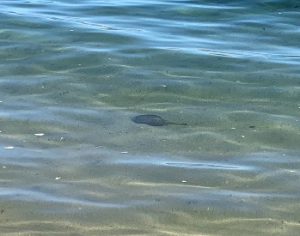 There is a poster on the ladies bathroom wall, "Do the Sting Ray Shuffle" it warns. Sure enough, we spotted a sting ray on our first beach walk. We also saw several puffer fish, and this is all from shore.
Once Ray saw a fish jump right out of the water. Then he saw another. We started watching and something must have been feeding. Suddenly a whole school of fish were swimming and jumping down the shore line.
Camp Archelon
Camp Archelon is perfectly situated for us to enjoy the beach life here right from The Ritz. It's just north of town, too far to walk really but there is a restaurant on site if you need one. There are beach front sites with cabanas, covered flat tent sites and cabins – that you can book on AirBnB I see. Besides the restaurant they offer WiFi, flush toilets and quite a nice shower experience. Princess Ray approves.
The place was booked solid when we arrived but they let us park beside someones home who was away. We were steps from the beach. They gave us the home owners WiFi password, which is how I'm blogging right now. We used their established fire pit to cook dinner. We stayed two nights and probably could have moved up to a beach front cabana, but we liked our spot so much we stayed.
Weather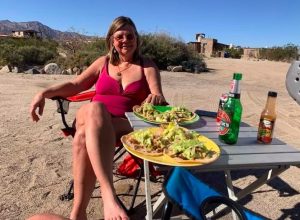 For two days the weather FINALLY started to feel more like Mexico. It's been a lot cooler than expected so far. One morning it was so warm I did some yoga in the sun and followed it up with a cool swim in the sea. I've got a bit of colour on my skin.
We did need that fire last night, though. Those without fires were inside by dark, which is six o'clock still. The wind has picked up now and the temperature is dropping yet again.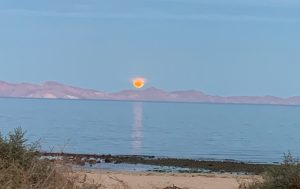 We hit this place at full moon, and wow did that not disappoint. Last night we watched from our cook fire as the huge orange moon rose over the ocean. This morning the sun was rising in the same place, but behind me was that moon, still high in the sky at 6 AM.  Tucker, on the other hand seemed to get full moon fever. He spent one full night of insomnia, constantly scratching at the door to go for a walk, at 1 AM, 2 AM … I got to see quite a lot of that moon.