We watched Westie drive away down Admiral's Road last week, her new owner Amanda giving us the "toot,toot" as she passed. We waved good-bye but Tucker didn't understand and he whined and tugged on his leash,  trying to chase her down. Sometimes he behaves the way I'm feeling.
The Westfalia Culture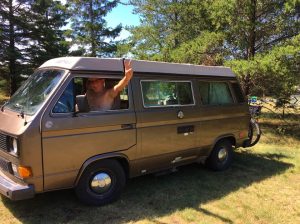 For those that have never felt it, the Westie culture must be confusing.  We couldn't let our kids inherit this vehicle because we've never considered her safe enough for them.  I barely wanted to let the dog travel long distances in her. She's too loud on the highway to listen to the radio. I pee in a bucket and have shivered through too many cold nights in her unheated chassis.
And yet there's this  https://traillady.com/the-westie-a-love-story/. We've had some pretty epic road trips in her, fifteen years of them. For some ethereal reason she is worth every, single inconvenience she comes with.
The Move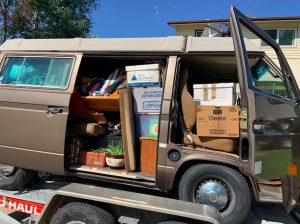 The last time Westie came across the Canadian Rockies she road in style on top of a flatbed, towed by the truck. We used her as a moving van, cramming everything we owned into her.  I have no doubt she enjoyed that trip immensely and I'm glad we were able to do that for her. Instead of clinging to pavement and huffing and puffing up the mountain passes, she sat back and enjoyed the view for the very first time.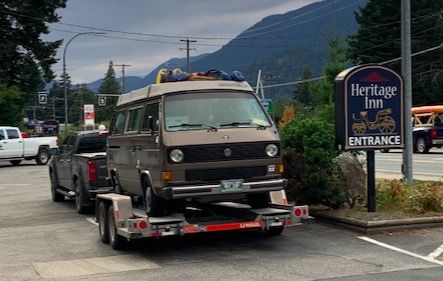 Van Life on Vancouver Island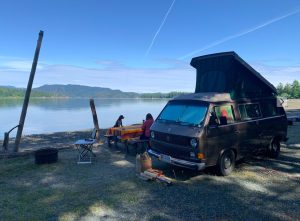 There are a LOT of Westies here on Vancouver Island, for good reason. They are the perfect camper here. Westie has almost identical look a-likes living all around us. She gets onto ferries for the same price as a car. We capitalized on that and visited most of the Gulf Islands with her. We took her north to Port Hardy, west to Port Renfrew and east to the gritty streets of Vancouver. For this she was perfect. Protesting old-growth logging at Fairy Creek was what she was born to do.
Westie gets replaced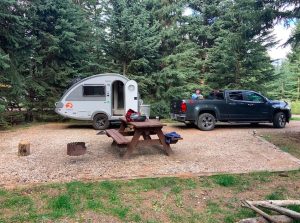 Despite her youthful appearance, Westie is no spring chicken. There were places we hesitated to take her, Cape Scott for one, over the Rockies for the summer in Manitoba for another. We found Ritzy, a 320S NuCamp camper to tow back to Manitoba last summer. We picked her up in Alberta during last summers crossing. She is shiny and newer, with all the trappings. The bed is big enough for Tucker, there's a real bathroom for me. The furnace will be sweet on the island, the air conditioning useful in Manitoba.
But Ritzy doesn't outshine Westie. In a perfectly selfish world we would pull Westie out once or twice a year for a boot around the island and let her retire in style in the underground garage. We seriously considered this.
Selling a Westie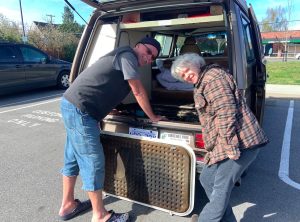 This spring we took her to see the mechanic to have an expert diagnose her hot flashes.  A new radiator is what she needs, he said rather definitively. Armed with this info we posted her on Facebook marketplace for what is now our third try at letting her go.
The response to posting a vehicle like this online should not be under-estimated. "Bing, bing, bing" my messenger app started to blow up, again. The viewings were scheduled. Within a week the deal was done.
The Adoption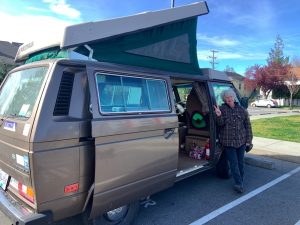 Westie has gone off with Amanda, a life-long adventurer who happens to have a much older version of her in a field in Ontario that she hasn't been able to part with.  She too had tried the tow behind camper and was now returning to the Westie fold.
We almost did pull out of the deal again. The day before the deal was completed we suffered the anxiety of separation and went back and forth on how to get out of it. When the dreaded morning came we were ready. I left a bottle of wine in the fridge and the specialized bedding in the back.
But it seems like a great home for Westie. I think they'll look after each other. I hope they have their own love affair, the way we did for 15 years.
The End

of an era