Rincon de Guayabitos
Ah Guayabitos, I miss you today. The damp, gray day outside my window reminds me of our days in the sun sipping cocktails on the beach with friends old and new. If I had a transporter machine …
True story, a couple we met there actually did just hop on a plane and go back last week and I'm so jealous of them.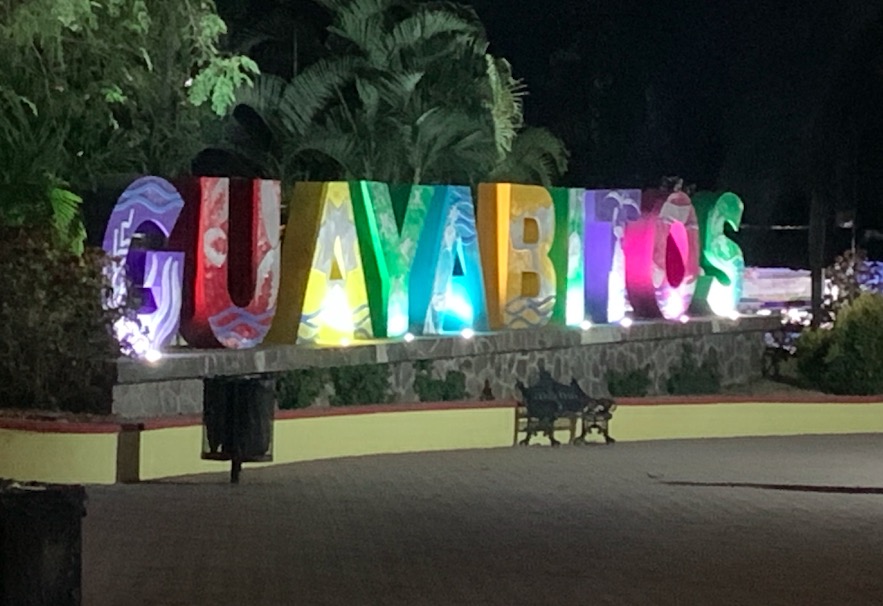 Friends have extolled the virtues of this place over the years, some spending every winter here. From all reports, and by the landscape of construction along the beach, this town is undergoing quite a renaissance. I've heard it used to be a sleepy Mexican village. Not so sleepy any more.
Guayabitos is both the playground for Guadalajara, and a Canadian tourist hot spot. Its located on beautiful Banderas Bay, just a 3 1/2 hour drive from Guadalajara and an hour north of the Puerto Vallarta airport. We happened to arrive just before a local long weekend and the south end of the beach was so crowded it was hard to walk at times. The crowds thin out as you head north.
Casa Kimberly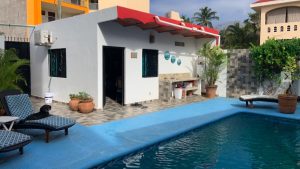 Rarely does a traveler define a location by an accommodation, but Casa Kimberly was such a place. Chosen last minute and with little thought, Kimberly's place turned out to be very special for us.
Guayabitos was a bit of a WestJet bonus. They canceled our direct flight home. Instead of a stopover in Vancouver we elected to catch the next available direct flight. That meant an extra eight days in Mexico. We nabbed this gem of a booking on someone else's unfortunate cancellation.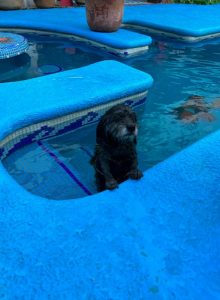 "Will the dog be okay here?" I messaged Kimberly before finalizing my booking. "You are in the casita. It's perfect for dogs. He just needs to get along with the cats." And she was right. We all fell in love with our little casita by the pool.
Besides our casita there are four rooms with a large shared living space in the main house. Every morning here begins with a freshly prepared breakfast shared with all the guests.
Tucker did get along with the cats. He sneaked into the big house regularly to eat their food. Benny the sociable cat watched the door of our casita carefully, waiting for his turn to get in and scarf Tucker's kibble. Misto was more aloof. Ali, another guest's dog rounded out the menagerie of our casa.
Tucker's obsession with the pool eventually got the better of him. My apologies to Gary, who spent a considerable portion of his day keeping the pool and yard maintained.
The Rhythm of Guayabitos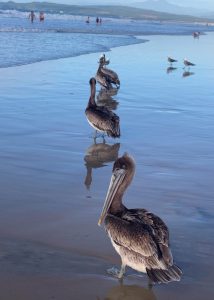 After our long communal breakfast at the casa every morning we three: Ray, Tucker and myself, would join in the daily ritual of walking the entire length of the beach. This might just be the best walking beach I've ever hiked. North to south is about 2 1/2 kilometres. Tucker absolutely loved it!
The north end is quiet, but as you head south the families and the vendors combine to form a festive atmosphere. Ice cream trucks play loud music, fishermen set out their catch of the day, bars and restaurants line the shoreline.  People are climbing onto banana boats for a thrilling ride through the waves. It's a wonderful cacophony of beach sites.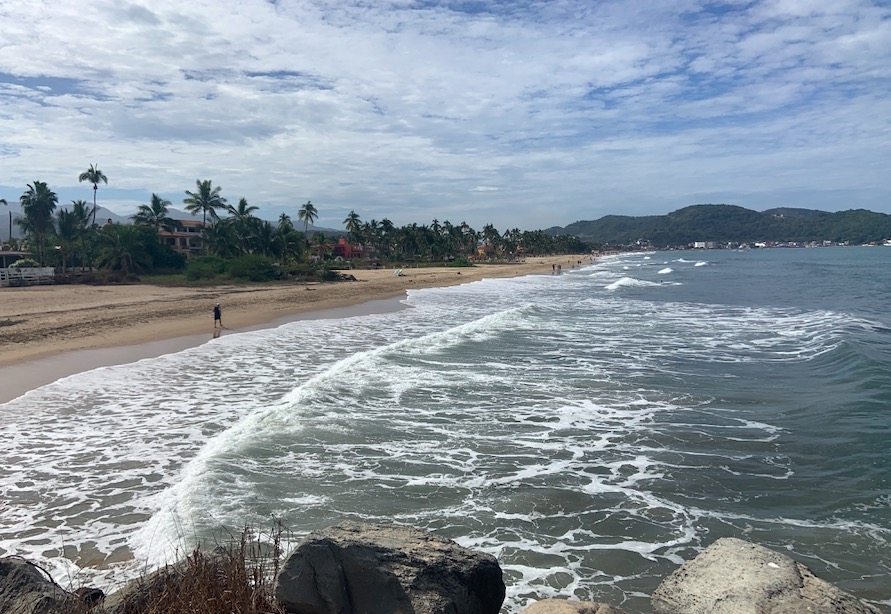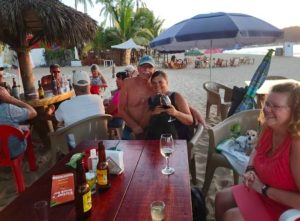 By early afternoon we could usually be found between Juan's and Victor's – two beach restaurants near Casa Kimberly's that offered all day happy hours. Juan's 25 peso cervesa, piña coladas and marguaritas went down way too well in the hot Mexican sun. Getting hungry? The tacos and ceviche were fabulous here. Win a shot (or two) of tequila at one of the nutty games going on at Victor's. For some reason I was particularly good at them.
Every day ends with a spectacular sunset. It's time to head home to cool off in the pool and get ready for dinner in town.
Gauyabitos townsite
A walk through the town of Guayabitos is endlessly entertaining. This is no sleepy village. Av Sol Nuevo, the main road through town is lined with shops, restaurants, bars and food trucks. Finding your spot for dinner is not easy but just because of the myriad of choices. We usually relied on recommendations but ended up finding El Rodeo as one of our faves.
There's an inordinate number of toy stores, of all things along the main drag. Toys and trinkets can be had everywhere. There are also dozens of little hole in the wall taco spots, every one looks worth a try. The dessert crepes from the food truck at the north end of the boulevard as we walked home after dinner were fantastic.
Surrounding Area
One of the greatest things about the location of Guayabitos is the exploration of other nearby towns that can be reached by foot or inexpensive taxi rides.
La Peñita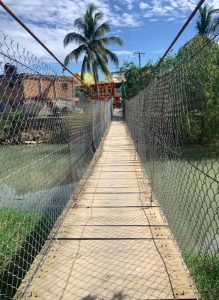 Less than an hours walk north along Sol Nueva, and across the Arroya Guinea via a rickety swinging bridge is the city of La Peñita.  Almost 10 times larger than Guayabitos, it is the "working city". The streets here are still lined with shops and restaurants for the tourists, but there's also an electronics district, a textile area and substantial grocery stores.
Every Thursday there's a ridiculously huge and colourful market you don't want to miss. It seemed like the entire town of Guayabitos was walking in the same direction that morning.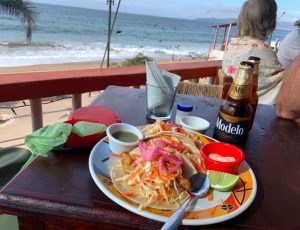 After a hot walk through the market a stop at Tiki del Brisas for refreshments is in order. Located above the beach in La Peñita you might find yourself embroiled in a rousing game of trivia. If you have too many refreshments, a taxi back to Guayabitos should cost you 40 pesos.
Los Ayala
A walk in the other direction takes you into the village of Los Ayala. You do need to walk along the busy highway 200 for a hundred metres or so. That's no big deal for anyone except Tucker, who would not cooperate with safety rules and had to be carried.
Los Ayala is much smaller than Guayabitos, only about 300 residents. It's got a great little beach, a few restaurants and is worth the visit. It's also where Ray needed to go to get the PCR test for Covid.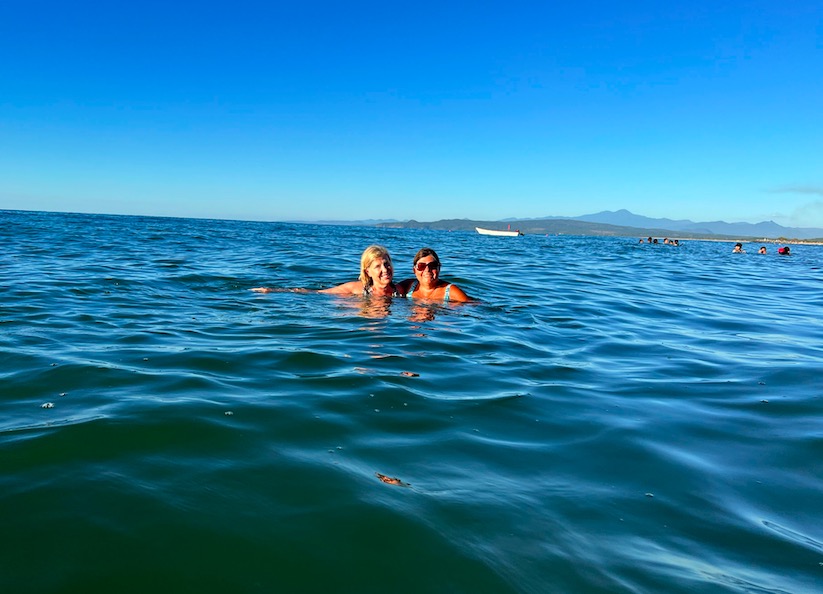 I have already started planning our return visit. Sadly, Casa Kimberly has changed it's booking policy and I now need 3 groups to join me to book the whole place. Any takers? We will be back here somehow, someday.