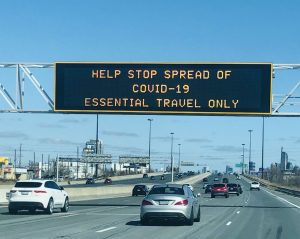 Help stop the spread of Covid-19 – essential travel only, read signs everywhere along the Trans Canada Highway. I think coming home is essential, but I'm not completely sure. Weeks before leaving Victoria, my anxiety level surrounding this road trip increased the closer we got to the date. We delayed a week, but that didn't really help. We're here, in Moose Jaw, just one day from home and I think I might sleep a few hours tonight.
Canada is Listening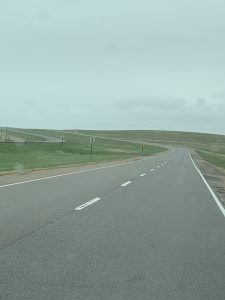 It is mid-week after a long weekend, but Canada seems to be listening to the warnings. The highway has been ours, shared almost exclusively with semis and other work trucks. Most hotels are shuttered but the ones we did find to stay in are almost deserted (and thankful for our business). We've found all the services we've needed along the way. Gas stations are all open, and those with washrooms have them open to the public. Since Vancouver we've yet to see an open restaurant patio, but there's been plenty of take-out and drive-through fast food places.
Alberta
Almost right on the BC/Alberta border the weather took a turn. We drove into dark clouds and pouring rain, the temperature plummeting to 5 degrees, matching my mood perfectly.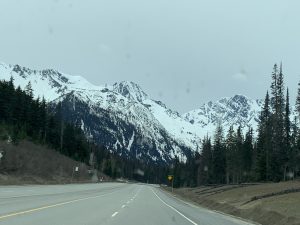 With 6,700 cases of coronavirus confirmed, Alberta has the highest numbers of the Provinces we need to drive through. Rest areas had no hand sanitizer or soap available in the washrooms, but someone had time to post a note on the door apologizing for it. The dispensers were there, just empty. Of course we have our own, but still.
We spent the night in Canmore, usually an idyllic place for an evenings respite.  We hit up the Safeway deli, which was mostly empty, but we managed to find a roast chicken and cole slaw for dinner. The Rundle Inn had a rowdy work group staying there, but was otherwise deserted.
We drove through over 500 kilometres of solid rain, that didn't abate until we were well into Saskatchewan.
Saskatchewan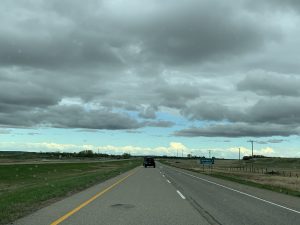 As every Province passes my anxiety lessens. We had even more of the highway to ourselves in Saskatchewan. The sky cleared but the wind was howling through the prairies, threatening to rip the doors of the truck off when we stopped at rest areas. We are stopping as infrequently as possible, only for gas and the truck has a thousand kilometre range. In between, Tucker and I stop for brief pee breaks, sometimes sharing the same piece of grass.
We've checked into Capone's Hideaway in downtown Moose Jaw tonight. It's a hole in the wall motel for sure, but it's right downtown, accepts dogs and has everything we need – which is a fridge and microwave.
A walk through town reveals some glimmering hope as many stores have removed their "Closed for Covid" signs and reopened. One retail clothing shop had their doors wide open, inviting us in. We had Tucker so we just stuck our heads in. Employees only inside, they reopened on Tuesday. Like Canmore, Moose Jaw is another town that relies heavily on tourists and there are none of those here tonight. We bought a couple of samosas from the Indian Restaurant, still open only for take-out and supplemented our dinner with deli leftovers.
Traveling through a Pandemic
We sure never intended to be those people – the ones who traveled through a pandemic around the world. We've had a chance to observe this crisis through a lot of different cultures. I'm SO glad I live in Canada, and double down happy to have a home in British Columbia.
In BC we have a bit of a folk hero managing this crisis, our Provincial Health Officer Bonnie Henry. There's a song written for her and a pair of shoes designed in her honour.  Her primary message throughout all this has been "Be Kind". You don't know others stories.
Do your best but above all, be kind.