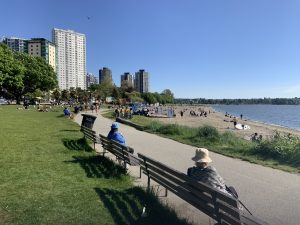 Our first stop on our Covid-19 road trip home to Pinawa is the beautiful Sylvia Hotel in Vancouver.  This heritage hotel is located right on English Bay, on the edge of Stanley Park. My very pregnant (but you wouldn't know it) and beautiful niece Chelsea, her partner Louie and Foxie their husky met us on the beach. We enjoyed a wonderful 3 hour walk through Stanley Park that ended with take-out on the beach as the sun set over English Bay. To round out the  evening, our old buddy Jack came for dinner, too. If we'd wanted to, we could have hit a patio for dinner. Way better stop than I was anticipating.
BC Ferries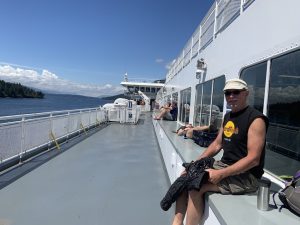 Reports were that the ferries were packed all last weekend, so we arrived an hour early for ours. The ferries are currently running at 50% capacity. We waited until the Tuesday after the long weekend, and on this brilliantly warm, sunny day the ferry is quiet. Good thing the weather is good. There is no food service or souvenir shop open, and most of the indoor seating is locked off but the washrooms are available. We found a pod in the sunshine and settled in. If we wanted we could have stayed in the car.
In the olden days (before Covid) this ferry would be packed with tourists this time of year. Today the smattering of travelers are all Canadians, all suffering from different levels of guilt for even being here. One family has stolen away from Kelowna to visit friends, pre-booked vacation days that could not be changed. It was a quiet crossing.
Vancouver
In Vancouver it's possible to pretend nothing is happening. It's refreshing to step out onto Beach Street, closed to traffic to make more room for social distancing and walk out among the crowds of walkers, cyclists and beach goers on English Bay. As we drove up to the hotel we saw people sitting on patios drinking beer! I think they've just opened today. The patio at our hotel will open Friday. It was still pretty easy to maintain a healthy personal space on our walk, but I have to trust Bonnie Henry when she says its safer outdoors.
The Sylvia Hotel
But there is still a pandemic. There are other guests here but very few. I booked the cheapest room but we are staying in a beach-side queen room. Why not, no one else is here. The outside doors are locked, no one in but registered guests. We have to ring a bell. Chelsea needed a bathroom but she couldn't use ours. Tucker inspected the room and found it suitable. That's all that really matters. $109 for the night and no pet fee for this gorgeous stop.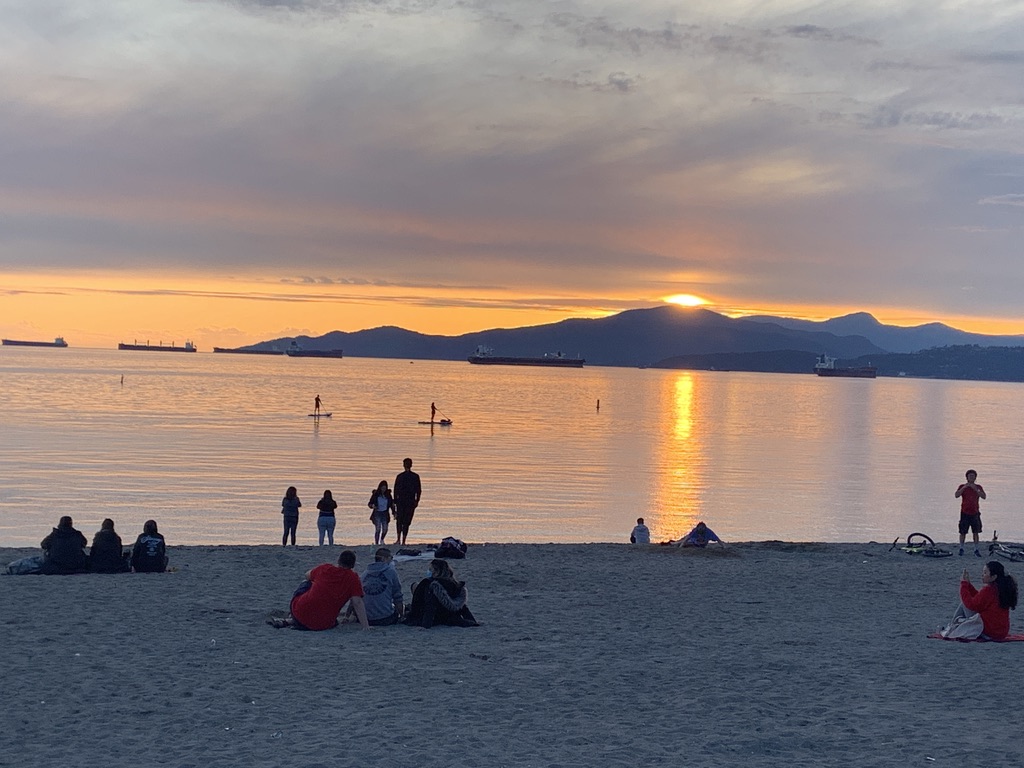 Next stop, Canmore. Looks like a beautiful day for a drive through the Rockies.